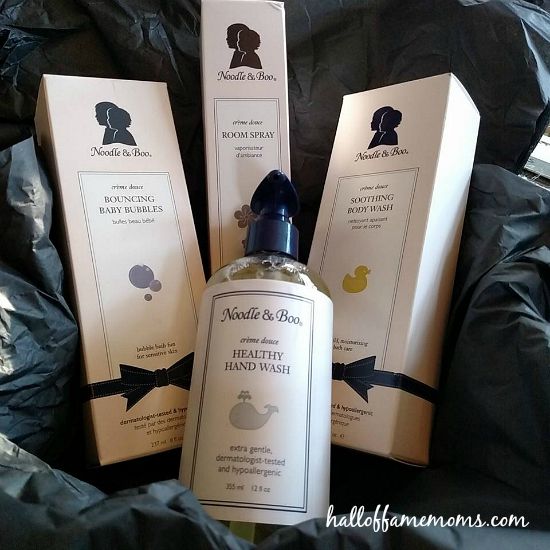 One of my PR friends asked if she could send me the following four products from the Noodle & Book luxury baby/toddler skincare "creme douche" line to try: Bouncing Baby Bubbles, Soothing Body Wash, Healthy Hand Wash, and the Room Spray.
Even though I do not have a baby in the house, I said yes. I do have kids and ... by the way, who says you have to be a baby to enjoy baby products, right? All opinions are mine and I was not compensated for this post; I simply received the products free to review. I am using my Amazon affiliate link at the end of this post to share a couple sets for your consideration.

I'm glad I said yes! These have been a treat. I LOVE the scent of the creme douche line, it reminds me of powder. According to the fact sheet I received, Noodle & Boo is a favorite of certain celebrities like Angie Harmon, Liv Tyler, Gwyneth Paltrow, Sarah Michelle Gellar, and Selma Blair. Even Courtney Cox and David Arquette's 8 year old daughter CoCo is said to be a fan.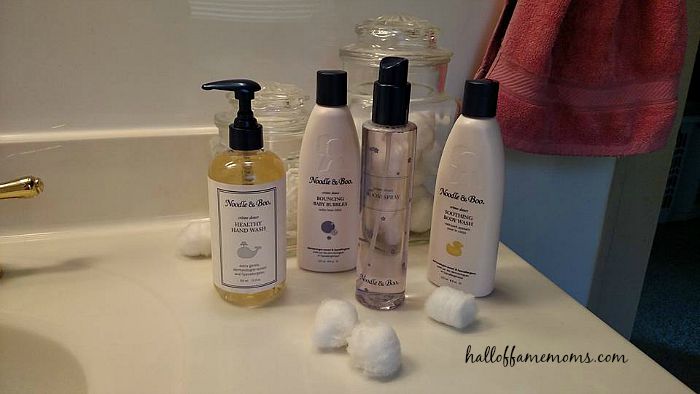 So, see? If an 8 year old can enjoy it, I sure can 🙂 .
Beyond the the lovely light and airy scent, let's look at the fact sheet some more. Noodle & Boo is…
clinically sound and FDA Approved (see below)
socially responsible (no testing on animals and all packaging is recyclable and biodegradable and a portion of sales goes to charity)
Christine Burger, mother of three as well as Founder and President of Noodle & Boo says, "Our exclusive creme douce formulas are carefully blended with extra gentle, hypoallergenic and dermatologist tested ingredients to minimize the risk of allergic reaction."
Noodle & Boo's luxury for sensitive skin includes baby and mama friendly products that do not include any harmful ingredients:
body washes
shampoos
soaps
sunscreens
room diffusers
lotions
diaper ointment
cleansing cloths
(for mom) pre/post stretch mark care
(for mom) firming/toning gel
(for mom) candles
Look for Noodle & Boo products at the following:
Nordstrom
Saks Fifth Avenue
Lord & Taylor
Neiman Marcus
Von Maur
and NoodleandBoo.com
Amazon
Additional Noodle & Boo products found on Amazon (affiliate links):
8 oz. Noodle & Boo Starter Set/Gift Set