Last fall I told you about Spirit Airlines moving into our local airport and their AWESOME Bare Fare prices before we hopped on a Spirit airplane ourselves and flew nonstop to Fort Myers, Florida. This post is sponsored by Spirit Airlines.
Well, at the end of April Spirit added new routes going to Las Vegas and *Myrtle Beach from the Canton-Akron Airport! The Myrtle Beach route is seasonal, meaning it will end in early November after the summer/fall season. These are daily, nonstop routes!
And, because an announcement like this calls for a giveaway, Spirit wants to give one of my readers a yellow Spirit Bare Fare Bag prize package!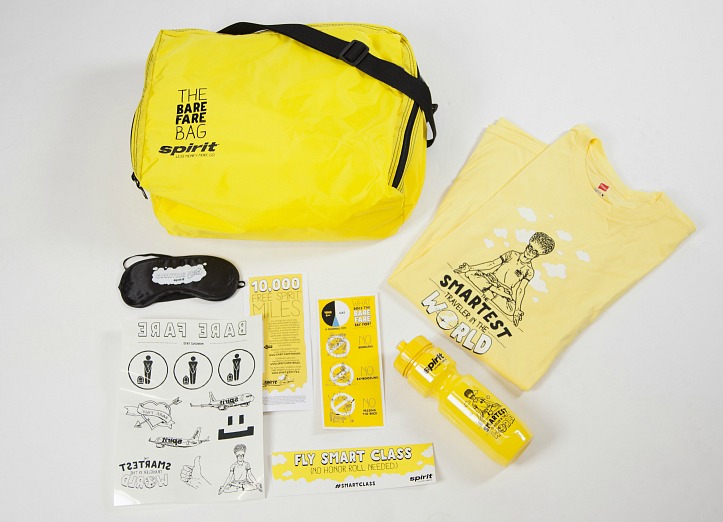 The Spirit Prize Package Giveaway
The place to enter will be at the end of this post! Here is what my winner will get in their kit:
10,000 Free Spirit Miles
Eye mask for comfortable dozing
Water bottle for free in-flight drinks
Spirit T-shirt
Spirit temporary tattoos to show your love for ultra-low fares on your sleeve – or wherever else you want…
All contained in a Spirit size-approved carry-on bag in dashing yellow

My son Jack will demonstrate this bag below.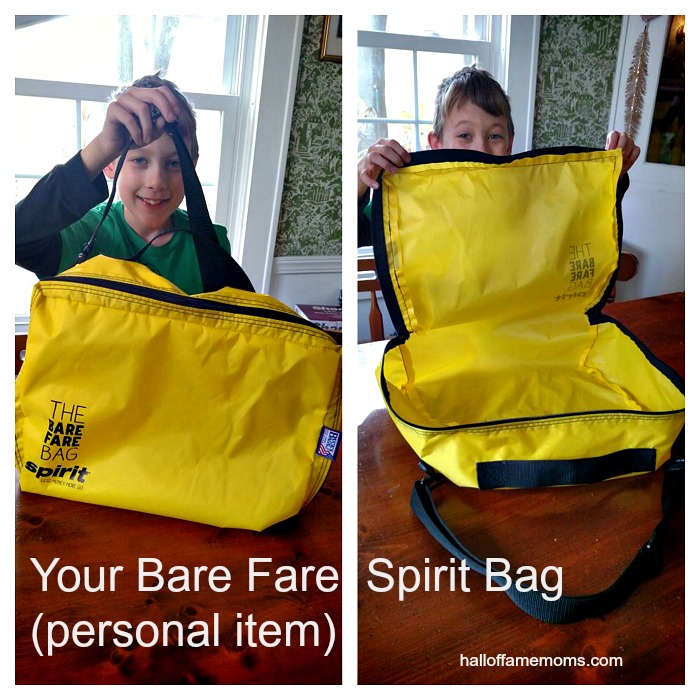 About The Bare Fare Bag
This yellow bag is your "personal item" that is included in the price of your flight ticket. If you can fit what you need to take in this bag (don't over-stuff, of course) you won't be paying for a carry-on and luggage that needs to be "checked". You are saving money!
Be aware that a purse or small backpack may also be counted as a "personal item" and you only get one "personal item" included in your price. You do not have to use the Spirit yellow bag.

How to Prepare for Your flight with Spirit
If you do need a carry-on or a checked bag go ahead and pay for this online and EARLY to save money.
To help save you time and money while traveling with Spirit here are some additional things to keep in mind:
We're light on legroom: We're a cozy airline. We add extra seats to our planes so we can fly with more people.
Get the big front seat: For a little extra cash you can secure the Big Front Seat.
Print your pass at home: Save yourself some money and print your boarding pass at home. It costs you $10 to print at the airport at the counter.
Refreshments for purchase: Your Bare Fare doesn't include refreshments – even water. Beat the system by filling up a water bottle after security. (We filled our water bottles before getting on our flight).
Travel insurance is available: We don't give refunds if your plans change. Insurance is available to protect you from the unexpected.
Join the $9 Fare Club: Looking to save even more? Join the $9 Fare Club for access to exclusive travel deals and special bag prices.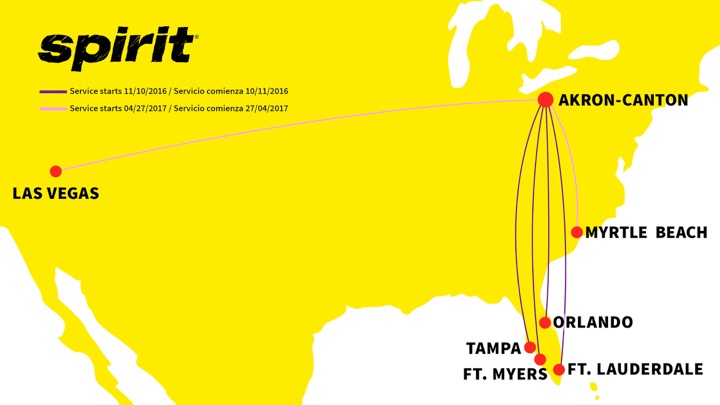 Flying from the Akron-Canton Airport
Let's talk about what's so great about the Akron-Canton Airport!
Akron-Canton is positioned in the heart of Ohio's Northeast corridor, servicing multiple populated communities.
The CAK airport offers many affordable parking options that allow you to choose affordability and convenience without compromising. Free shuttle buses will pick you up at your car and drop you off at the front door.
Free WiFi and power towers throughout the terminal keep you and families connected and entertained.
The CAK airport offers the lowest average fare in Ohio, which makes traveling for less even easier.
Less time getting there and less time in lines means more time for vacation.
For families, little ones can burn off energy in the CAK airport Step2 Play Port located just through security. Moms can also take advantage of the privacy of the breastfeeding room located near the Play Port.
About this Giveaway
Just follow the Rafflecopter instructions below. This giveaway is in no way associated with Facebook, Twitter or Instagram. Winner will be picked randomly and emailed. If winner does not respond within 48 hours of email a new winner will be picked. Spirit's representative will ship package. Winner's name will show up on the widget below. Entering this giveaway means you agree to these terms.
After you enter this giveaway feel free to check out our first family trip to Florida flying Spirit Airlines. I wrote a series about the main places we stopped and you can start at the beginning here.
Save
Save