Over the winter I added something to our homeschooling life to make my role a bit easier. I took advantage of a special price drop and signed up for a yearly membership to a Christian website that provides lots of online curriculum including some video lessons for the whole family! I am using my affiliate links in this post.
Schoolhouse Teachers is a Christian "curriculum/homeschooling helps" provider. My yearly membership covers all the kids in my home and they even have courses for my husband and I! We're all covered under one affordable yearly price.
While I don't plan to use them for most of our homeschooling I have used them for science and some language arts so far. They have video courses and non-video.
Just the other day I printed off some shorter science lessons to use this month to make sure we are covering some of the basics that I think we may have missed.
Shortly after signing up at the end of December I had my fifth grader do the dinosaur course that you'll see below.  I've had my seventh grader try some different courses as well.
Dinosaurs and the Bible
Below is a peek at some of the highlights of the dinosaur course.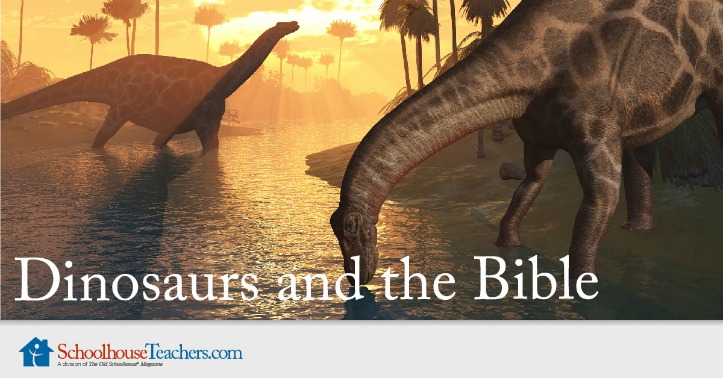 Weekly audio slideshow and downloadable worksheet.
Lesson 1: Myth or Mystery?
Lesson 2: Dinosaur Fossils
Lesson 3: Classifying the Dinosaurs
Lesson 4: Classifying the Dinosaurs, Continued
Lesson 5: Identifying the Dinosaurs
Lesson 6: The Dinosaur Hunters
Lesson 7: Famous Dinosaurs
Lesson 8: Feathered Dinosaurs?
Lesson 9: Science or Philosophy?
Lesson 10: The Science and Philosophy of Dinosaurs
Lesson 11: Noah's Ark and the Dinosaurs
Lesson 12: Dinosaurs and the Genesis Flood
Lesson 13: Dinosaurs and Extinction
Lesson 14: Dinosaur "Firsts"
Lesson 15: Big Paleontology Mistakes
Lesson 16: The Dinosaur Soft Tissue Controversy
There's More
Besides the science, I've also printed off some daily language arts printables for the boys to do. My homeschooling method is really a mix of traditional, classic, delight-directed and eclectic. Maybe I should just say "eclectic" – ha! We probably have a little unschooling and Charlotte Mason in the mix, too.
But THAT is one of the MANY reasons why homeschooling is so AWESOME. I can teach according to what works for me and them.
Changing topics a bit…
And, you know what, speaking about the awesomeness of homeschooling? I was pleasantly surprised when I had my seventh grader take the CAT (California Achievement standardized Test) to get an idea of how we were doing in our homeschooling for him.
This was a big deal because I don't test my kids, as a rule, except for on a rare occasion and for spelling and I don't grade as a rule. I don't even record any of the occasional grades I may put on their paper. In fact, the only times I may put a grade on their paper is if they get everything right. It's really just for "them".
Anyways, back to the CAT.
The CAT "Complete Battery" only tests reading, math, and language which includes specific areas like vocabulary, spelling, punctuation, comprehension, capitalization.
At the time of this post you can save $5 OFF on a minimum purchase of $10 when you click on my link above and at the end of this post!
This is a timed, fill in the bubble test. I ordered the test for my private use and will not be turning in grades to the school system. I just wanted to see where he was academically so I did not enforce the "timing". I wanted him to have enough time to answer as much as he could.
Did he answer everything? Nope. Almost everything – but I counted nine questions with no colored in bubbles. And, you know what? His results blew me away even though we struggle to get through Saxon 6/7 Math. Perhaps Saxon teaches higher level concepts at lower grades?
His results showed he is high school level in every category he was tested for. His lowest performing category was math and he was ninth grade for that. Not bad for a kids who struggles to "have to do" math almost daily.
He measured for tenth, eleventh and twelfth for the other categories.
So what did I "take away" from this?
Firstly, that it's okay that we aren't going to finish Saxon 6/7 by the end of May. It's okay because he is getting enough for his grade level.
Secondly, his results reaffirmed the value of reading.
This past year the boys have mostly "read" books to cover science and history: books about the states, books about scientists and other historical figures, books about missionaries in foreign lands. My oldest even read a text book about astronomy.
If you want to learn more about either of these homeschooling resources you can find them at the links below as well as a list of some of the books my boys are reading this year.

Save $5 OFF at Academic Excellence on a minimum $10 purchase at this link!
Books:
Vocabulary Cartoons  — Additionally, I use their vocabulary words as their spelling words.
Fifty States (I couldn't find the book we have online but you can find a selection of "Fifty States" here).