#advertisement I received compensation from Dr. Scholl's® to write this post. All opinions are entirely my own. #CustomFitRelief #DrScholls
I know I'm not the only mom who deals with aches and pains but still trudges through with all that life requires.The older we get the more we can expect the aches and pains to stick with us through our days after all and my days are busy…like super busy.
Not only am I in my eighth year of homeschooling our boys who are a teen and a tween now, but for nearly the same number of years our family has been traveling Ohio and beyond so I can write about it online.
My feet have carried me countless miles over the years as we've visited places like amusement parks, water parks and taken countless field trips year after year.
I'm not getting any younger and I know that as I age I can expect that the wear and tear on my feet will eventually threaten to limit my strength. I already deal with frequent pain and discomfort for being fairly fit and I want to be able to keep on going on strong!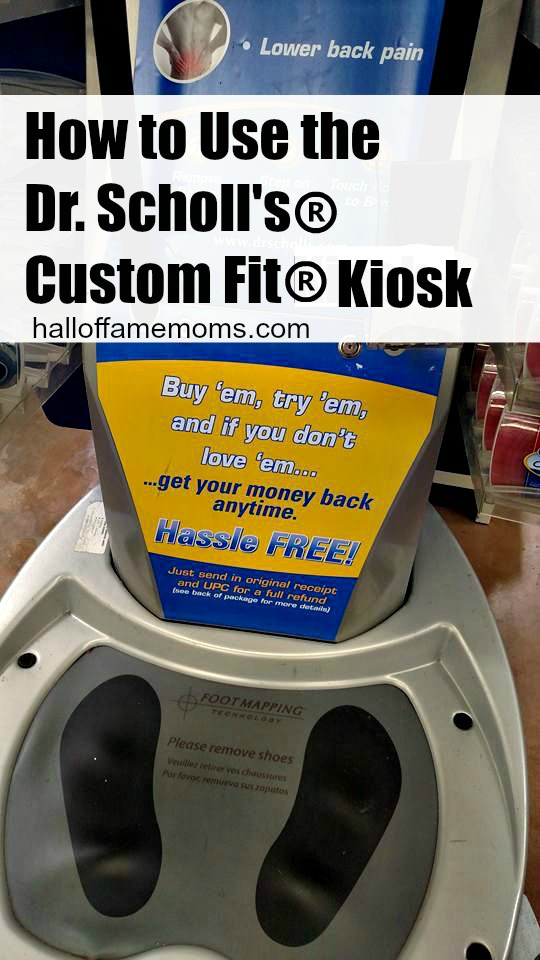 Knee pain? Lower back pain? It's a part of life.
As I said, I am a busy, active homeschooling mom and blogger/influencer. A big part of my writing centers on homeschooling and Ohio family fun, which at times requires lots of walking at the different places we travel to.
Some number of years ago, I realized that it was time to start taking the quality of my shoes or the need to buy inserts more seriously. And, I have bought inserts in the past.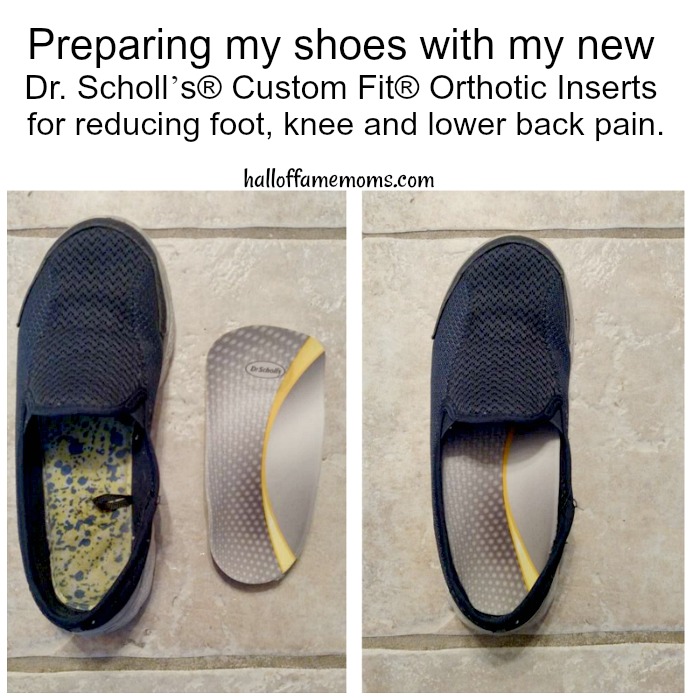 Recently I got to experience a product I never have before: Dr. Scholl's® Custom Fit® Orthotic Inserts and they feel so good. I love having the extra support for my high arches.
Today I'm going to take you through the process of getting a pair for yourself so you can see how quick and easy it is for you to get Custom Fit Orthotics, too.
How to use the Dr. Scholl's® Custom Fit® Orthotic Kiosk
Getting fit for your Dr. Scholl's® Custom Fit® Orthotic Inserts is easy and quick.
My Dr. Scholl's® Custom Fit® kiosk is located right in front of the pharmacy at my local Walmart. Check online for a Custom Fit® Kiosk near you at this link. I'll have some information about a $10 rebate for you as well at the end of this post. Don't miss it!
How to Get Fit
So now that you have arrived at your Dr. Scholl's® Custom Fit® Orthotic Inserts kiosk, here's what you do.
Step 1: Take off your shoes and stand on the footprints.
Step 2: Next you simply answer the questions by tapping the screen. Follow the prompts. At one point you'll be asked to lift one leg and then the other. You'll see your foot's pressure points on the screen.
Dr. Scholl's® uses advanced FootMapping® technology in the Custom Fit® kiosk to create your Custom Footmap which will identify your arch type, your foot length and your unique pressure points. This takes less than two minutes.
Step 3: You will get your results and select that product from the side of the kiosk. See image below.
Don't forget to get your rebate! Get $10 savings after purchase on the Custom Fit® Online Rebate Center here.
Now I have a pair of Dr. Scholl's® Custom Fit® Orthotic Inserts to help limit the pain so I can enjoy my days more. Who has time for unnecessary pain, right?
Did you know there is a money back guarantee as well? Visit Dr. Scholl's® Money Back Guarantee Page here for more information on our 90-day guarantee.
Dr. Scholl's® Custom Fit® Orthotic Inserts feel so good and they fit perfectly. I didn't need to trim them.They slip in and out easily and they don't slide around. They're made with a durable quality that I haven't had in other inserts.
If you suffer from tired achy feet or lower back pain be sure to look for a Dr. Scholl's® Custom Fit® Orthotic Inserts at your local Walmart and get your results. It's free and quick to get your results and the product is right there so you can pick it up and purchase it at check out.
Save or bookmark my post so you can come back to get a $10 rebate via the Custom Fit® Online Rebate Center here. Find a Custom Fit® Kiosk near you at this link.
Save
Save
The following two tabs change content below.
Owner/Editor
at
Hall of Fame Moms
Tracy writes about homeschooling and just about anything related to family life in Ohio here on the blog. Strong honest views will surface from time to time on topics related to truth, faith and freedom. **Check out my notebooks and Bible Memory Coloring Notebook workbooks for Adults & Teens by clicking my name.
Latest posts by Tracy Zdelar (see all)