Get the science museum membership that will pay for itself over and over with free and discounted admission to hundreds of other museums.
Do you wish you knew more than you did about how to save money on science museum memberships in Ohio, or anywhere for that matter?
How about saving money on science museum memberships around the USA and maybe around the world? This post is for you!
UPDATED to share that as of  March 22, 2019 – I found out that the McKinley Museum in Canton (where we have our membership) is now part of the Time Travelers Reciprocal Program – a program that offers free or reduced admission and other benefits at over 300 history museum around the country!  I counted 30 different museums in the list just here in Ohio that are in this Time Travelers association! This is in addition to the ASTC program that I talk about in this post below!
What you need to know about this post.
First, I'm writing this post in July of 2017. The reason I want you to know this is because some of the information may change over time and you'll see why below.
Second, you'll get the most bang for your membership buck by buying a science membership that is part of the ASTC Travel Passport Program which includes around 250 other science museums/centers and information changes over time.
There are limits with the ASTC program.
You don't pay extra to be part of the ASTC program. You get that benefit whether or not you use it because certain museums are members. Some museums offer you free general admission as you'll see is true for all but one place I looked up today out of the nine museums/centers in Ohio while others will charge you 50%.
There are location limits…something like being 90 miles "as the crow flies" away from certain museums. Just another reason why I say you should call the science museum you plan to use your ASTC benefits at BEFORE you drive there.
There are nine Ohio Science Museums/Centers in Ohio participating in the ASTC program as of today, July 2017.
Keep in mind that the info I'm giving you is what I was told or I read today as I'm working on this post. I had one museum/center ask me for my zip code which tells me that even if you have the same museum membership as we do (McKinley Museum in Canton, Ohio) if you live in another zip code you may have to pay 50% (?). Another reason to call ahead and make sure you know what to expect.
Based on where we live and our membership to the McKinley Museum (Canton, OH) we get…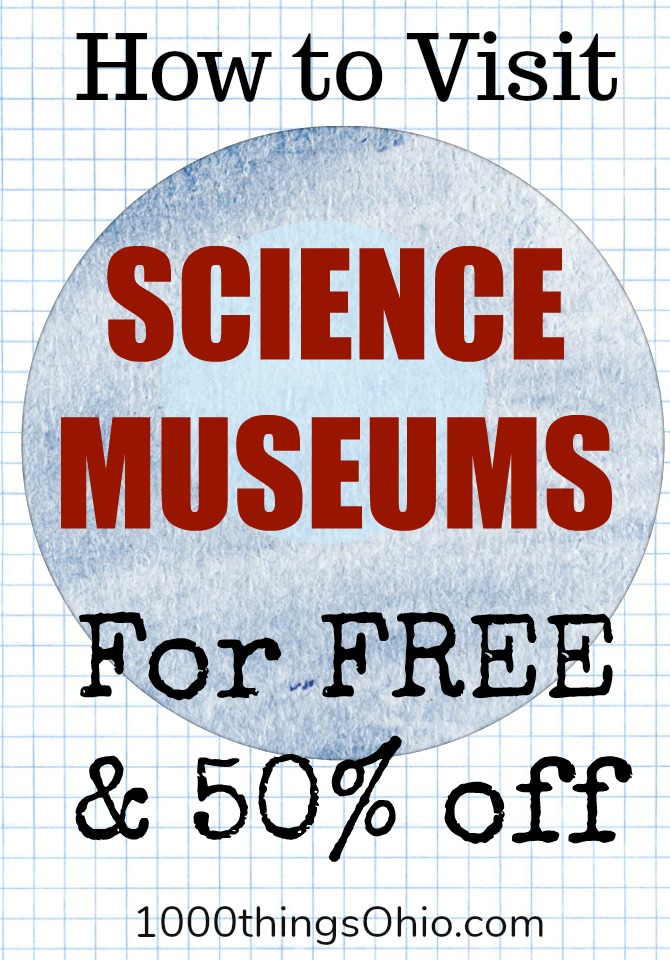 FREE general admission to these science museums in Ohio:
Boonshoft Museum of Discovery in Dayton, OH 937-275-7431  www.boonshoftmuseum.org
*NOTE: Boonshoft is a zoo and science center and they offer a combined zoo/science ASTC/AZA reciprocal program where you can get 50% off other zoos in Ohio while some zoos may be free in other states with this benefit.
Cleveland Museum of Natural History in Cleveland, OH 216-231-4600  www.cmnh.org
COSI in Columbus, Ohio 614-228-2674  www.cosi.org
Imagination Station in Toledo, OH 419-244-2674  www.imaginationstationtoledo,org
McKinley Presidential Library & Museum in Canton, OH (where we bought our membership) 330-455-7043
The Works: Ohio Center for History, Art and Technology in Newark, OH 740-349-9277  www.attheworks.org
Currently free general admission but may change: Science Play-Space Initiative in Mt. Vernon, OH 740-398-8643 www.SPISpot.org
Cincinnati Museum Center is going through a lengthy building restoration so only the Children's Museum section is open right now but it is free general admission. 513-287-7000  www.cincymuseum.org
We have to pay 50% for admission to the Great Lakes Science Center in Cleveland, OH 216-694-2000 www.greatscience.com
Are you traveling outside of Ohio? There are LOTS and LOTS of other science museums/centers participating in the ASTC Travel Passport Program. You can find the link to download the entire current list of participating museums/centers from the McKinely Museum's membership info page here.
NOTE: Call ahead to the reciprocal museum you are planning to visit to be sure their info is still current.

You don't want to assume admission is still free if they've changed their terms to something else since the list was made.