As I mentioned in this post, our family made quite the trip to the greater Sandusky area last month! If you read that post you'll see all the places we visited that I am planning to tell you about in this series. I mark each post at Part 1, Pt 2, etc.and by doing it that way you will know if you missed one. However, each post will be informative and can stand alone to give you a good idea (I hope!) of what we experienced and if it would be a good fit for your family, too!
Another thing, I'm sharing this series in the chronological order of when we visited each place. So, naturally I started with the Lake Erie Shores and Islands' office where you can pick up brochures and talk to an employee about where the fun stuff around Lake Erie is located.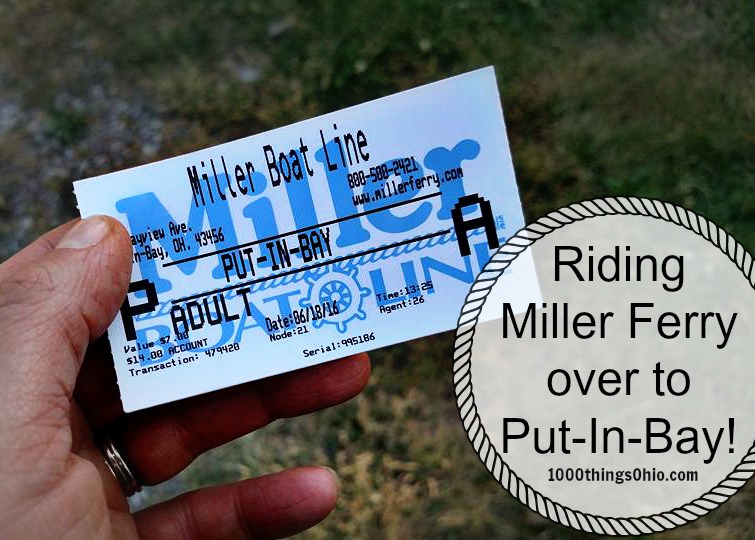 Thank you to Miller Boat Line for providing transportation for our family across Lake Erie to Put-In-Bay, Ohio. This is not a paid post and opinions are mine.
3 Tips about Traveling to Put-In-Bay
This post will be about our travel to Put-In-Bay via the Miller Boat Line Ferry. Which is how the whole trip got started! Katrina contacted me about coming out again to cover some area interests and Jill from Lake Erie Shores and Islands coordinated our visits and some passes to different places and put our itinerary together. Those two have been great to work with over the years. This is the second or third trip to the island our family has made.
Oh, and in case you're wondering, our boys are in the tweener-years (under 13). That may help you gauge if the attractions are a good fit for the ages of your children.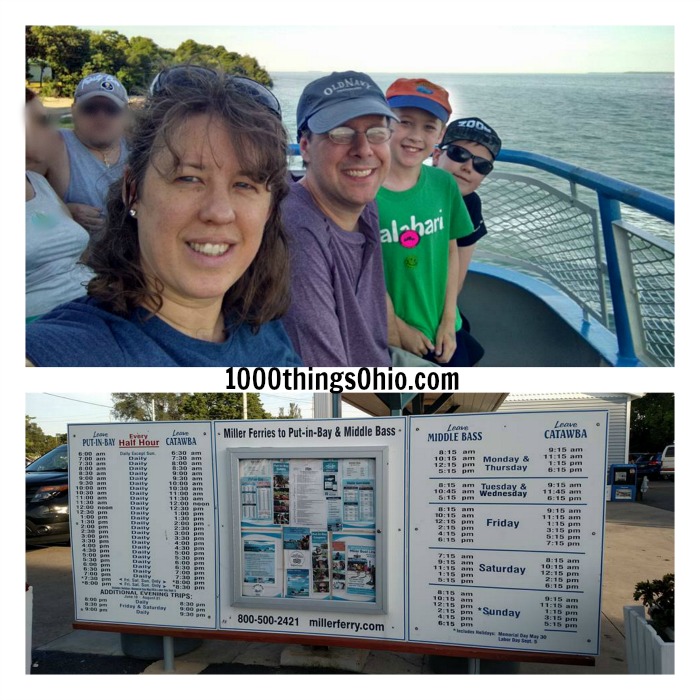 The four of us ferried over to Put-In-Bay without our car, though you can take your car.  By the way, they do have a "free" parking lot near the dock so before you pay anyone for parking be sure to drive through the "free" lot first! We happened to choose a very busy weekend to visit and it may have been a small miracle that we found a "free" parking spot. This particular weekend there were two festival type events going on and it was Father's Day weekend.
Tip #1:  Before heading out on your adventure check with Lake Erie Shores and Islands'  to see what events are scheduled and plan accordingly for crowds.
For your interest, I'll share the one way prices at the time of this post for ferrying over to Put-In-Bay:
Adults             $7.00
Kids 6-11yrs   $1.50
Kids under 6   FREE
Taking a Bike  $2.00
Taking a Car/Motorcycle $16.00 (see website for vehicle guidelines and all other fees, etc.)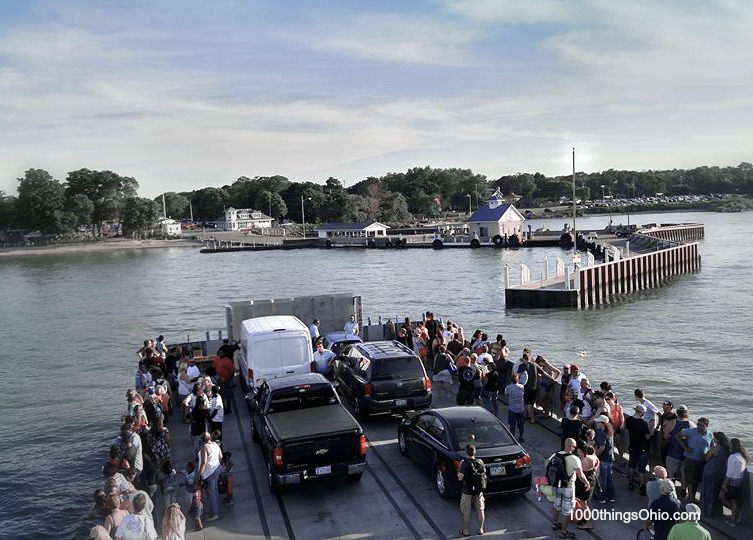 Speaking of "planning ahead" and being aware of a potentially super-busy crowded day…
Tip #2:  If you need island transportation on Put-In-Bay, i.e. golf cart, make sure to RESERVE a cart before you arrive. You'll see why in my NEXT post. And, that brings me to the next important point.
Tip #3: Know the weather forecast and plan accordingly. If you don't have "wheels" and it rains…well, you're going to get wet.
That reminds me, most of the seating on the ferry is uncovered, but there is a somewhat small enclosed area you can sit in. If it's a busy day you may not find a seat "inside" so keep that in mind, too. Maybe bring a poncho or a hoodie.
Visit the Miller Boat Line/ Miller Ferries website here to find dock locations, schedules and pricing. Plan that trip to Put-In-Bay via Miller Ferry! I'll give you a few reasons why in my upcoming posts (in case you need some encouragement). You can follow Miller Boat Line/ Ferries on Facebook here.
Be sure to check out the other posts in our trip series!
Pt 1:  Lake Erie Shores and Islands will show you where the fun is!
Pt 2:  3 tips before visiting Put-In-Bay with Miller Ferry.
Pt 3:  Finding family fun and history on Put-In-Bay, South Bass Island.
Pt 4:  My favorite things about the Catawba Island/Port Clinton Holiday Inn Express.
Pt 5:  Perry's Victory and International Peace Memorial
Pt 6:  Our day at Perry's Cave Family Fun Center on Put-in-Bay
Pt 7:  Visiting Lake Erie's Marblehead Lighthouse
Pt 8:  Lake Erie's Johnson's Island Confederate Soldier Cemetery
Pt 9:  Visiting the Historic Lyme Village and the Firelands History
Pt 10: Touring the underground Seneca Caverns
The following two tabs change content below.
Owner/Editor
at
Hall of Fame Moms
Tracy writes about homeschooling and just about anything related to family life in Ohio here on the blog. Strong honest views will surface from time to time on topics related to truth, faith and freedom. **Check out my notebooks and Bible Memory Coloring Notebook workbooks for Adults & Teens by clicking my name.
Latest posts by Tracy Zdelar (see all)