(Originally posted in Dec. 2017) I've been talking about our visits to the Ark Encounter and the Creation Museum lately, here on the blog, but our very first destination and where we'd be calling "home-base" was at the Homewood Suites by Hilton in Florence, Kentucky! Thanks to DAT Travel for securing our stay and tickets. Opinions are my own.
As I mentioned in one of the previous posts about our Kentucky trip we were able to squeeze in a couple other stops on our own in southern Ohio: Serpent Mound and the Hopewell Indian burial mounds. I'll have links to all these posts below after they are published.
My Review of the Homewood Suites 
After a l-o-n-g drive to Kentucky from our home in NE Ohio it was great to finally be able to settle down and rest. We did squeeze in time to hit the hot tub and my husband and boys did some swimming. We needed our rest as we were about to spend a LOT of time on our feet over the next couple days visiting the Ark Encounter and the Creation Museum.
Besides, we were also going to do some shopping in Florence, Kentucky. As it turned out a few of us didn't pack enough clothes so a stop to Walmart was in order. We also made time to visit The Christmas Tree Store and Half Priced Books – two stores we don't have nearby at home.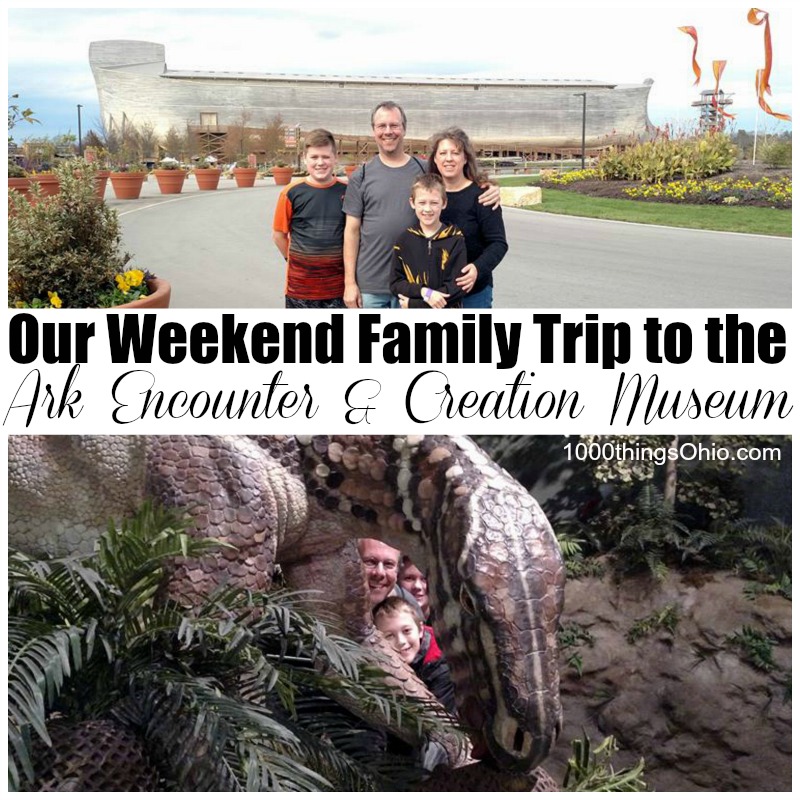 What really struck me about Homewood Suites is that it really is like being in a hotel of little home-suites…a home away from home. I'm afraid my pictures won't do it justice.
The lobby and dining room are beautiful with a two sided fireplace. A hot and cold full breakfast are included in your stay and on certain nights there are drinks and I think snacks offered.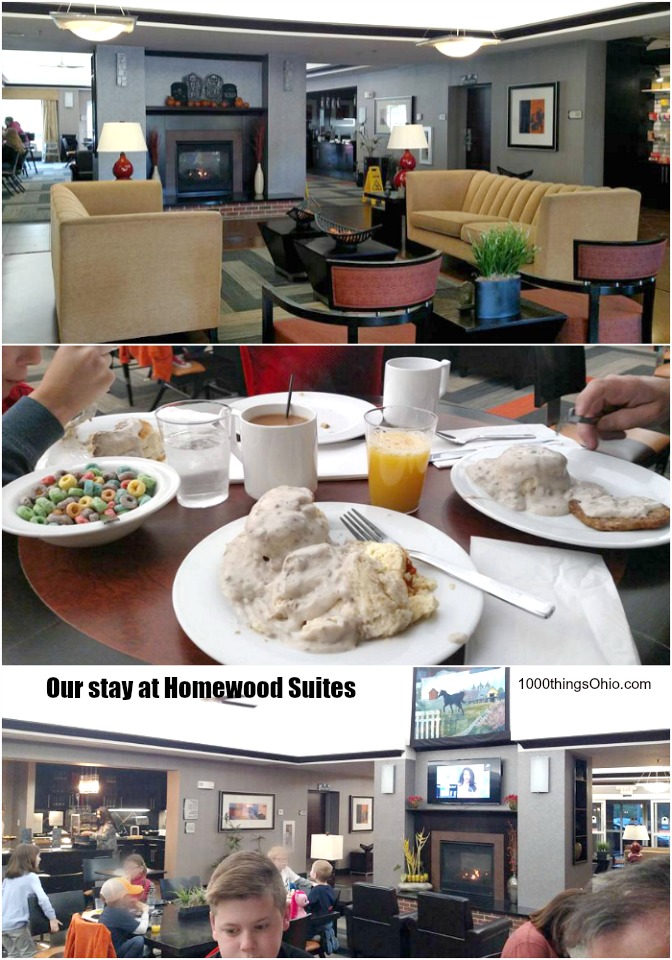 Our suite reminded me of some sort of mini-condo. We had a living room, small stocked kitchen and a small table and chairs between the two rooms. Through a doorway and in the next room were two queen beds, bathroom and sink area separate from the bathroom.
I had a desk to work at and we had two tvs, one in the bedroom and one in the living room.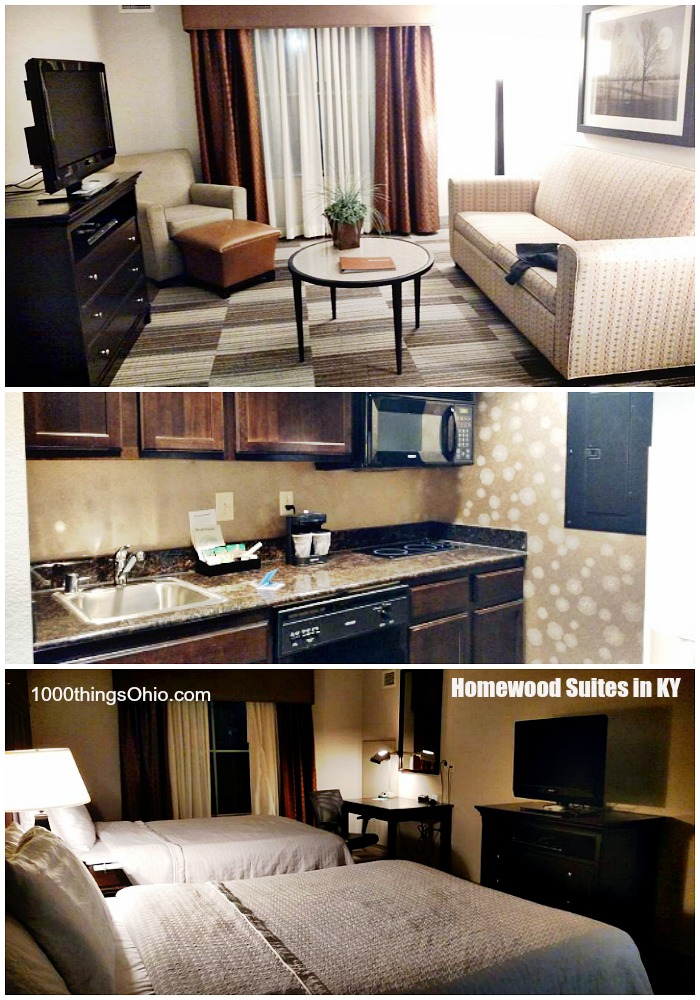 We had free wifi in our suite and there was a business room with computers for quick access near the lobby downstairs. As you can see the pool was on the first floor just a short walk from the lobby.
I liked that the workout room had windows to the hallway.
This was our first time staying in a Homewood Suites by Hilton and I would certainly stay there again! You can learn more about the Homewood Suites by Hilton at their website here. 
About DAT Travel
DAT Travel is The Official Hotel Booking Agency for Creation Museum and The Ark Encounter.  At DAT Travel, we believe in good old fashioned customer service, and our services for booking hotels and purchasing tickets are complimentary/free to the guest.
"Every time a customer calls us, whether to book a hotel, purchase Combo Tickets for the Ark Encounter and Creation Museum (or other Christian attractions), to create a personalized itinerary for their trip, or for questions about visiting the Ark and Creation Museum, we listen to the customer.  We determine the reason for their call, and we do the work of booking lodging and purchasing tickets for them.  
"We strive to go above and beyond in our efforts to serve the needs of our customers.  We try to make their overall experience with DAT Travel a pleasant one, and we also make every effort to ensure that a guest's entire trip is enjoyable and worry-free!
"We also share information regarding other attractions nearby their destination, as well as great restaurants and other family-fun activities nearby.  When we help you plan your trip,  if you have questions that need answered, we can answer them.  If we do not already have the answer, we will find that answer for you."
Contact DAT Travel, the exclusive hotel booking agency for the Creation Museum and the Ark Encounter, for help planning your next visit to the northern Kentucky area at their website here or call at (330) 614-7219 9am to 5pm EST.
******************** See the other posts in this series.
Part 1: See Inside our Visit to the Ark Encounter
Part 2: Inside our Visit to the Creation Museum
Part 3: Our Visit at Homewood Suites & DAT Travel
Part 4: Visiting Serpent Mound – still to come!
Part 5: Visiting the Hopewell Indian burial mounds – still to come!
The following two tabs change content below.
Owner/Editor
at
Hall of Fame Moms
Tracy writes about homeschooling and just about anything related to family life in Ohio here on the blog. Strong honest views will surface from time to time on topics related to truth, faith and freedom. **Check out my notebooks and Bible Memory Coloring Notebook workbooks for Adults & Teens by clicking my name.
Latest posts by Tracy Zdelar (see all)