(Disclosure: I may earn a commission if purchases are made through some of the links in this post. See my disclosure here.)
Before you know it camping season will be here! Families can benefit in many ways from a few days in the great outdoors! Tent camping is typically a lot cheaper than traditional hotels or lodging. Camping with kids provides families with ample opportunities to spend time together and connect. And let's not forget the time enjoying the great outdoors!
BUT, one thing that deters many people from camping is the kids. I mean could it really be fun camping with kids? The answer? YES! You just need to plan ahead and be prepared.This post does contain my affiliate links.

Tips for camping with kids
Preparation is KEY:  Start off small. Don't plan a week long excursion the first time you camp. A good way to ease into camping is a small non holiday weekend trip.
Once the trip has been planned it's time to prep the kids! Most kids will love the idea of camping, but some may need some coaxing.  Consider camping books with pictures and easy to read words for the little ones. Do a practice camping trip by pitching a tent in the back yard. Purchase glow sticks or new child sized flash lights before the camping trip.  Go for a walk in your neighborhood at night to get your children used to night sounds.  
Consider a location that is kid friendly. Check out the website of the camp grounds you are looking at. Look for things like a play ground, place to swim, games like putt putt golf, actual shower houses and small streams for wading and playing. Many camp grounds offer children's activities like guided nature hikes, a nature center and outdoor movies.
Safety First:  When you plan a camping trip with kids you want to make sure safety is a priority! Here are a few things to remember to keep your family safe.
Have a well stocked first aid kit. This will include everything from bug bite remedies, to Tylenol. You can buy prepackaged first aid kits for minimal costs, or make your own.
Be sure to check for ticks: The Centers for Disease control and prevention recommends inspecting the entire body for ticks after being outdoors. You can prevent ticks by using a child safe spray (or consider this tick removal tool). Also be sure to have your children wear light colored clothing and tuck their pants into their socks or boots while in the woods or tall grass.
Poison Ivy: Do you know how to identify poison ivy? It is important that the answer to this question is yes! Teach your children the phrase "leaves of three let them be". If your child does come in contact with poison ivy have them shower off with soap immediately.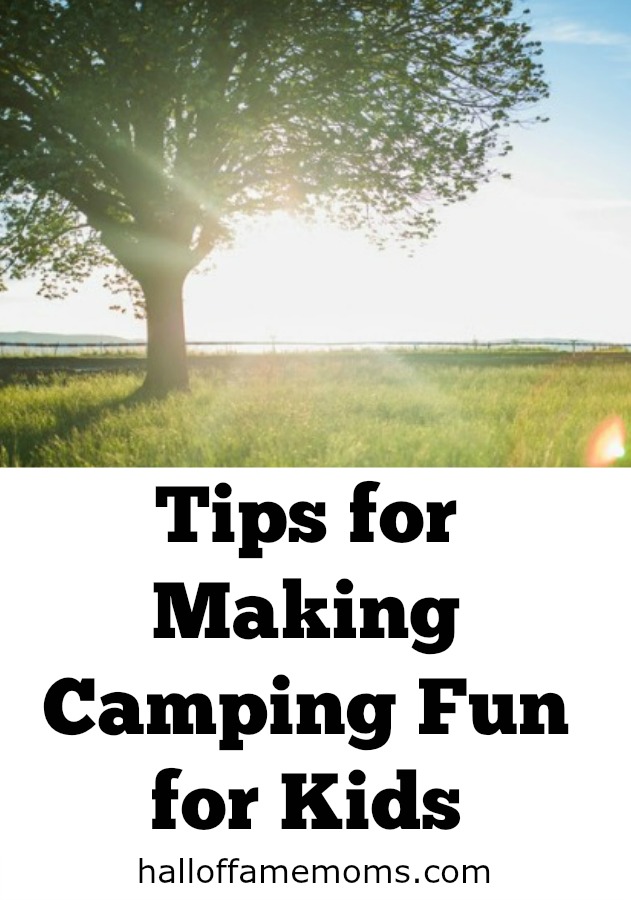 Plan for Family Fun
If the kids become restless plan a few games that everyone can enjoy together.
Cloud Watching:  What do they see in the clouds? What do you see? Pick an item to watch for in the sky and you'll be amazed how quickly one of the kids "sees" what you mentioned!   
Scavenger Hunts: There are tons of printables online but there are also premade scavenger hunt books. See who can find everything on their list first and let the winner pick a treat from the camp store or another fun prize you may have in mind!
Rock Painting: This is a fun and free activity that can get the kids out and exploring nature. Did you know that some rocks can be broken into pieces, mixed with water and used to make paint? It's true! Kids love this! Let them pick a flat rock for their picture then use smaller dark colored rocks and pebbles for the paint. They can leave messages for others to find later, or make a painting for them to take home as a keepsake of their first camping trip!
When it comes to quality time together as a family there really is no better vacation than camping. Camping with kids allows parents to experience time away from the hustle and bustle of everyday life and just enjoy nature with their family. So, if you have been considering camping with kids but wasn't sure if it was you, what are you waiting for? Grab a tent and sleeping bags – be sure to look for warm weather sleeping bags if you're camping in the summer months – and head out into the great outdoors!
Misty Baily is a work at home homeschool mom. She resides with her family in Southern Ohio.  She shares her struggles with time management, becoming unglued, homeschooling and finding joy in the everyday moments on her blog Joy in the Journey.  You can also find her on Facebook,Pinterest and Instagram.
The following two tabs change content below.
Owner/Editor
at
Hall of Fame Moms
Tracy writes about homeschooling and just about anything related to family life in Ohio here on the blog. Strong honest views will surface from time to time on topics related to truth, faith and freedom. **Check out my notebooks and Bible Memory Coloring Notebook workbooks for Adults & Teens by clicking my name.
Latest posts by Tracy Zdelar (see all)