Note: This post originally appeared on my 1000thingsOhio.com website which is coming down soon. We visited this Tall Ship in 2016.
The U.S. Brig Niagara was reconstructed for the third time in 1988. It is a reconstruction of the original vessel that Commodore Oliver Hazard Perry commandeered during the Battle of Lake Erie in 1813, a battle part of the War of 1812. Perry and his crew were then victorious over the British Fleet.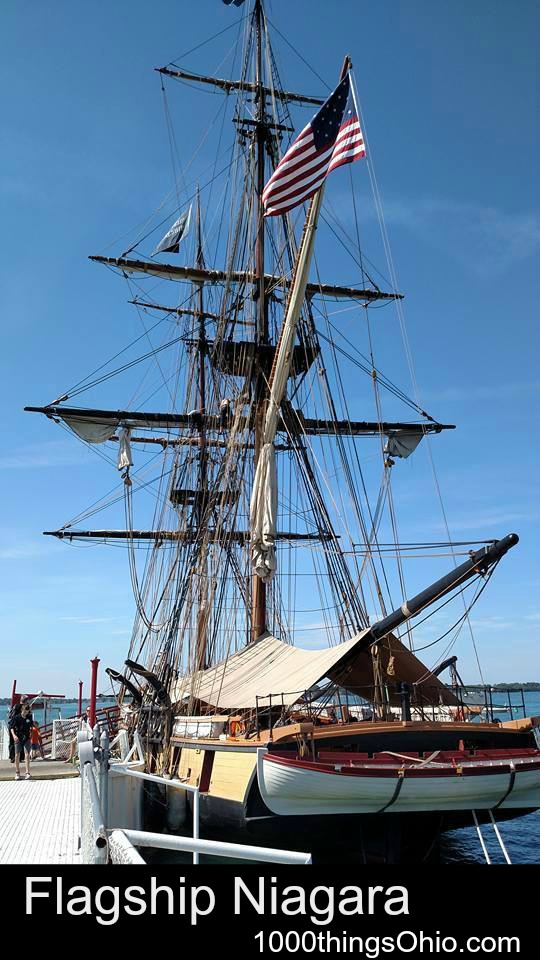 "We have met the enemy and they are ours."
– Commodore Oliver Hazard Perry.
"On September 10, 1813, nine small ships — six of them, including Niagara, constructed at Erie – defeated a British squadron of six vessels in the Battle of Lake Erie. A pivotal event in the War of 1812, it led to regaining Detroit, lost at the war's outset, and lifted the nation's morale." (Quote is from the website; link will be at the bottom of post).
See Perry's International Victory and Peace Memorial here. You can view Canada from the top!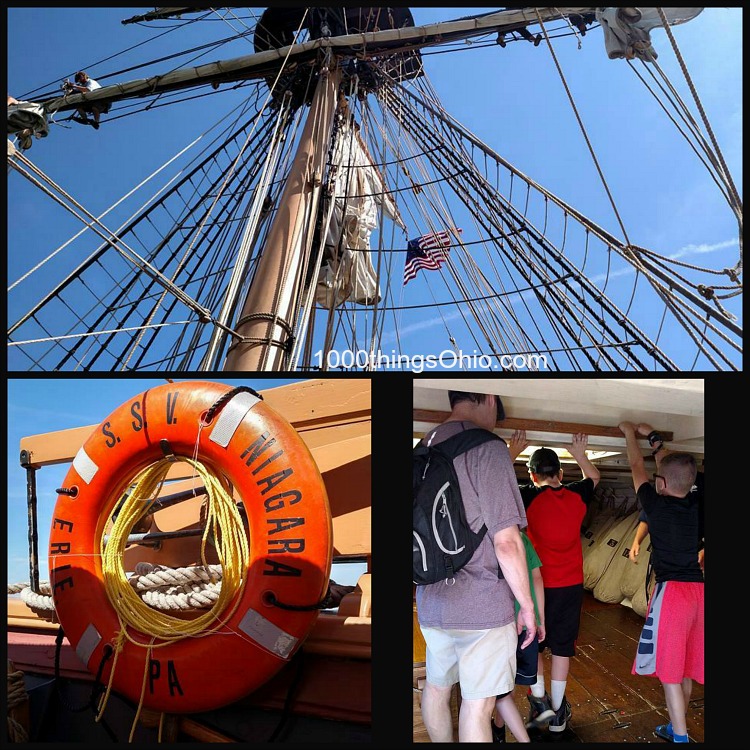 Also called Flagship Niagara, this ship, I'm told has a bit of the wood from the original ship (located in an area we were unable to observe) and is a certified Sailing School Vessel according to their brochure. We had the opportunity to tour this ship while visiting Put-In-Bay, Ohio just several weeks ago in June.
Read more about the Flagship Niagara at their website here."Flagship Niagara is not accessible to persons with disabilities due to the historic nature of her construction. A video tour is available."
See the calendar of events for Tall Ships events here.
Erie Maritime Museum and U.S. Brig Niagara
150 East Front St.
Erie, PA 16507
(Phone) 814-452-2744
Be sure to check out the other posts in our trip series!
Pt 1:  Lake Erie Shores and Islands will show you where the fun is!
Pt 2:  3 tips before visiting Put-In-Bay with Miller Ferry.
Pt 3:  Finding family fun and history on Put-In-Bay, South Bass Island.
Pt 4:  My favorite things about the Catawba Island/Port Clinton Holiday Inn Express.
Pt 5:  Perry's Victory and International Peace Memorial
Pt 6:  Our day at Perry's Cave Family Fun Center on Put-in-Bay
Pt 7:  Visiting Lake Erie's Marblehead Lighthouse
Pt 8:  Lake Erie's Johnson's Island Confederate Soldier Cemetery
Pt 9:  Visiting the Historic Lyme Village and the Firelands History
Pt 10: Touring the underground Seneca Caverns