This is a sponsored post on behalf of Study.com's services that can help you or your student get through college faster and for less money and as a homeschooling mom this is a great thing. Opinions are my own.
If you're a regular reader here at Hall of Fame Moms you may remember me sharing about my experience taking and passing the Humanities CLEP Test (in this post) during my college days back in the 1990s. Doing so got me six credits without having to take the actual classes! I'm still excited about that.
Who doesn't want to get through their college education in less time and with less cost, right?! 
Well, now we have another option for achieving the same goal. This option was originally meant for military personnel and their spouses, but today it's open to anyone: the DANTES Subject Standardized Tests or DSST.
What is the DSST?
The DANTES Subject Standardized Tests (DSST) are also known as Prior-Learning Assessments (PLAs). They test how well you understand a particular subject. This is great for those who have spent a lot of time gaining real-life experience on something they love and really don't need to take an "official" class for.
Even if that doesn't sound like "you",  you should know that you can prepare to take and pass the DSST. While passing the DSST can save you much time and money there is still a fee to take the test.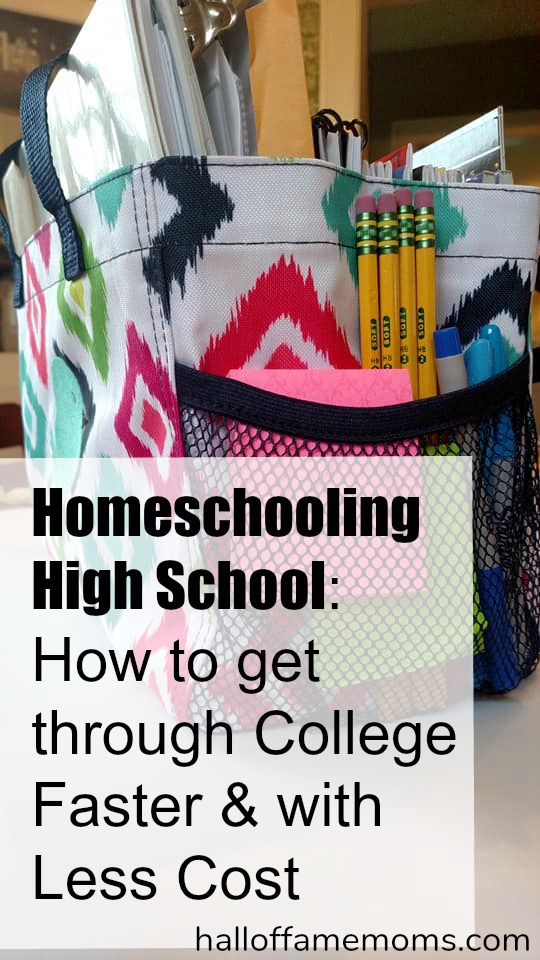 What does the DSST cover?
Like I said above, the DSST was originally designed for military personnel and their spouses but today it is available to the general public! The DSST offers over 30 exams that can help you earn real college credit in less time and for less money.
Based on some of my research it appears the DSST covers some subjects that the CLEP does not. I think of some these subjects as fine-tuned topics of personal interest or study which is AWESOME for those who have a passion for niche topic studies. According to Study.com some of the 30 DSST exams include:
Business Mathmatics
Substance Abuse
General Anthropology
History of the Soviet Union
Money & Banking
Environmental Science
Principles of Supervision
Ethics in America
Introductions to World Religions
The Civil War and Reconstruction
Human Cultural Geography
and more!
Will my college accept the DSST?
Before you decide to take the DSST you need to know if the college you or your student is planning to attend accepts it. You can find this out by using the Location Finder. I'll provide a link at the bottom of this post.
Below is a screen shot of the colleges in the Canton area that do accept the DSST. You do need to type in the exact city name to get the results and I only tried for Canton.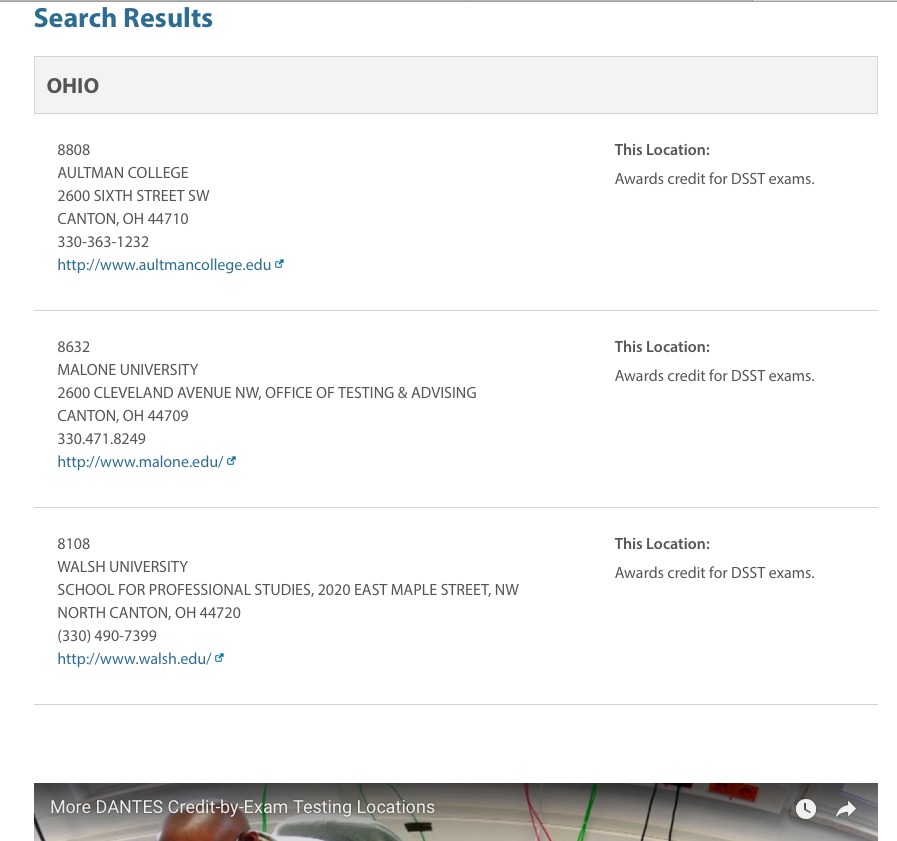 How to prepare for the DSST
Study.com not only prepares your for the CLEP but also the DSST to help you save time and money while achieving your college degree. You can get…
additional course credits from home for less cost than traditional college and universities.
in-depth videos created by experts (text transcripts available for all videos included).
practice quizzes to test what subjects you are solid on and which areas you need to work on.
a personalized study plan to help you get the best score possible.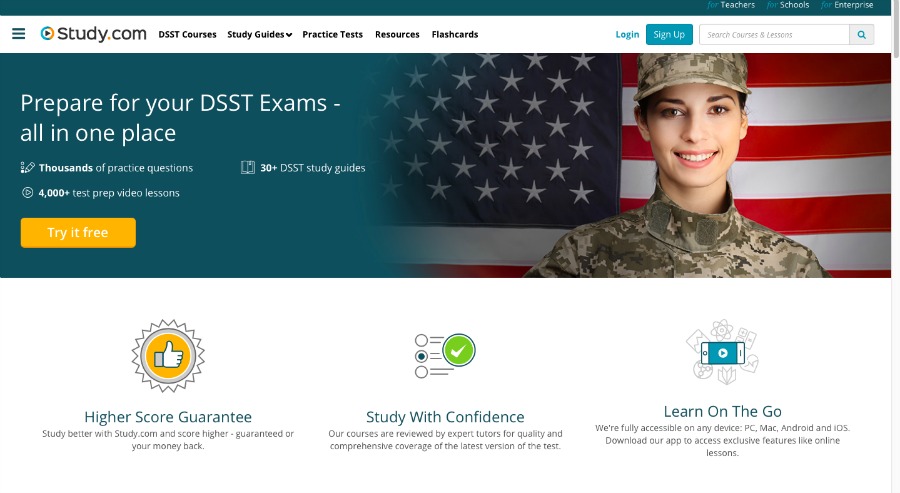 Study.com offers practice tests to give you confidence before taking the actual exam. These are designed to familiarize you with the types of questions that will be asked on the actual exam.
After the practice text Study.com identifies your areas fo strength and weakness so you can focus on the concepts you're having trouble with remembering. You do receive the correct answers to each question missed and you'll be directed to the location in the video that explains that concept.
As a college graduate myself and now a homeschooling mom of middle and high schoolers, having the ability to help my children get through college, should they choose to pursue a degree, in less time and with less cost is of GREAT interest to myself. Sign up for a FREE trial run at Study.com to see if it's a good fit for you or your student!
Get more information about how Study.com can help you or your student get through college faster and with less cost at Study.com and find out which schools accept the DSST with the location finder at getcollegecredit.com.
The following two tabs change content below.
Owner/Editor
at
Hall of Fame Moms
Tracy writes about homeschooling and just about anything related to family life in Ohio here on the blog. Strong honest views will surface from time to time on topics related to truth, faith and freedom. **Check out my notebooks and Bible Memory Coloring Notebook workbooks for Adults & Teens by clicking my name.
Latest posts by Tracy Zdelar (see all)