(My affiliate links are included in this post and I may earn a few cents if purchases are made through it. See my Disclosure policy here.)
Shortly before the turn of the new year I was already on a roll reorganizing closets here at home. In today's post I just want to show you the hallway linen closet reorganization project and really it's just the shelves. I still have the three drawers under them to go through.
In addition to this closet I have worked on our small food pantry and my small bedroom closet. It really feels good to have things organized and looking neat and doing so with little money. I have reused some of my old bins.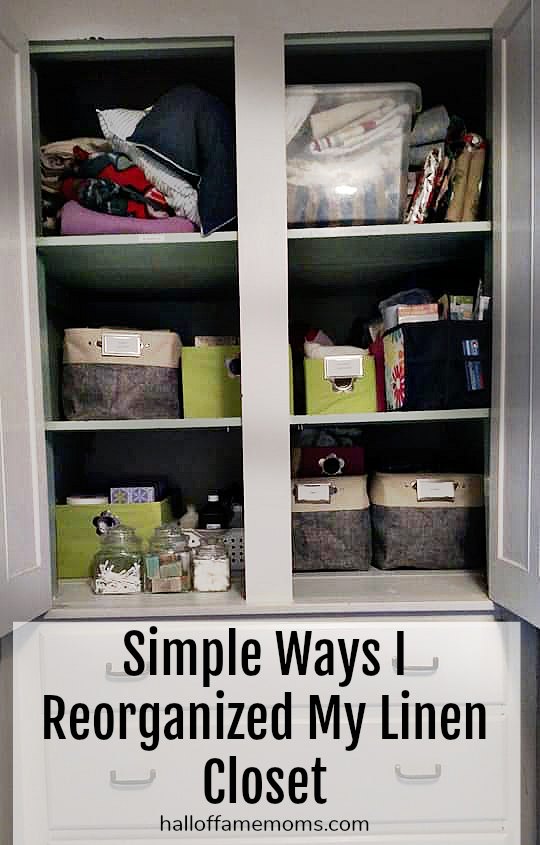 My Linen Closet
We live in an old house – an almost 100 year old house. Our hallway linen closet is built into the wall as you'll see here.
Several years ago I found those pretty green and pink cloth bins you'll see some of in my images (you can't see much of the pink though)  at Michael's craft store for a great price. I'm sure I didn't have too many choices in color if I wanted a matching set, hence, green and pink. They are made nice and they've held up great.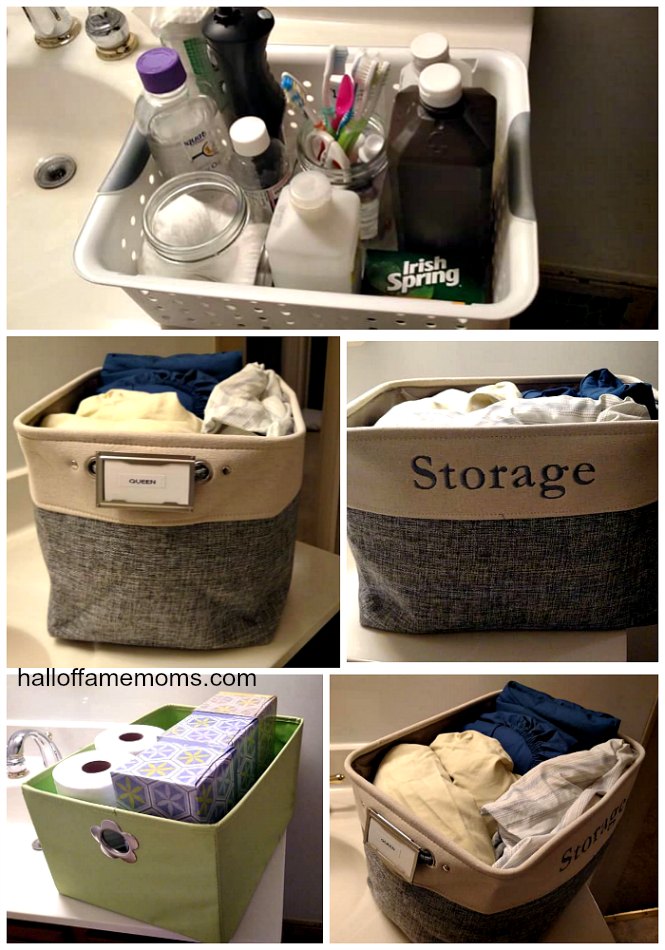 The only new things I bought for this closet was this beautiful set of three collapsible "Storage" cloth bins online for less than $20 for the whole set and the metal clip on labels. The metal clip on labels I could only find at Target and it seemed I could save a couple bucks maybe if I ordered online from Target.
I'm reusing other pieces I've had such as some old glass jars and other containers.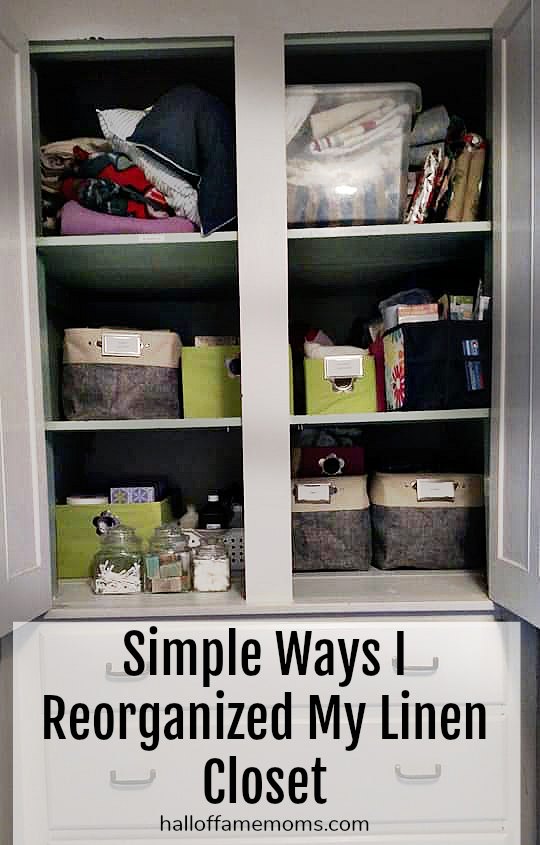 My New Storage Bins
I love these new bins. They are so nice and they look great and the price was amazing – less than $20 for the set of three! I decided to fill them with bed linens and table clothes. I have one bin with twin sheets, one with queen and one with tablecloths.
Originally our sheets and pillow cases were in the middle drawer under the shelves. That drawer was a hot mess. I decided it was time to declutter that drawer. Surely we didn't need every piece of linen in there. I didn't even know for sure what all we had!
We only have three beds: two twins and a queen. I wanted to minimize. As a result of going through that drawer I found we had about six fitted twin sheets (the boys don't use the flat sheets as a rule) and at least three sets of queen (my husband and I do use both flat and fitted sheets). That's the perfect number of sheets to have in my mind.
After going through the other linens except towels, I had a nice pile of mixed linens to pass on to some folks who care for rescue animals. I've also donated linens to our local humane society in the past.
Using a Label Maker
I enjoy having a label maker to give some uniformity to labeling my items. I found a label maker at Aldi one day, marked down, and decided to give it a try. You can find one similar by the same brand here.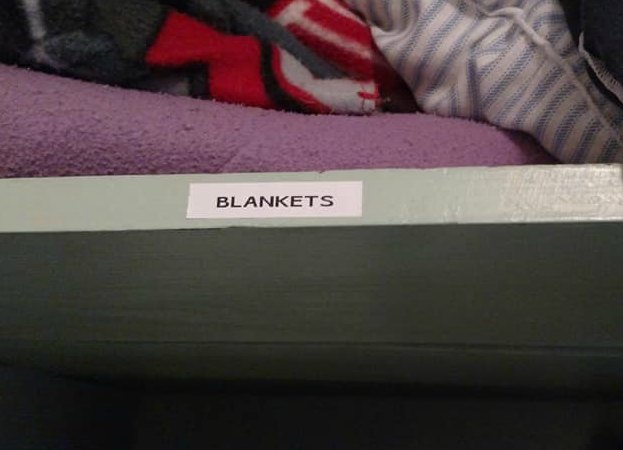 My handy-dandy Double Duty Caddy from Thirty-one is on special for January! You can up two specials with every $35 purchase. These Double Duty Caddies are $10 each on special. I'm using this one to hold misc bathroom supplies like my stock of toothpaste, unused toothbrushes, paper cups and maybe some cottonballs. Visit my Thirty-one website to check these great caddies out.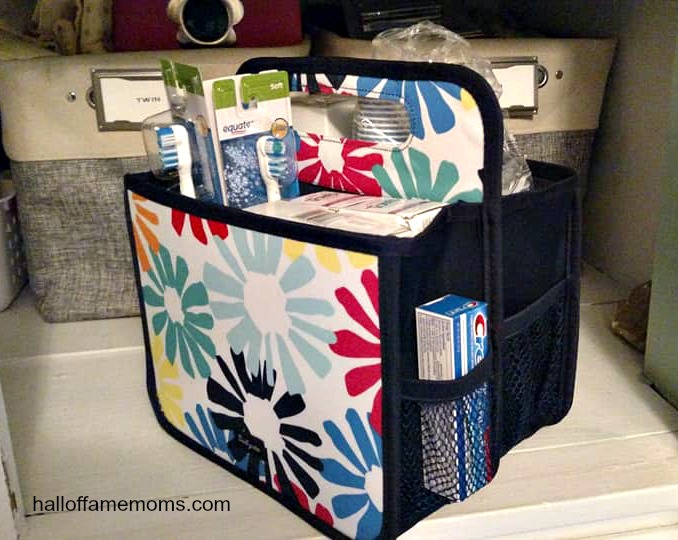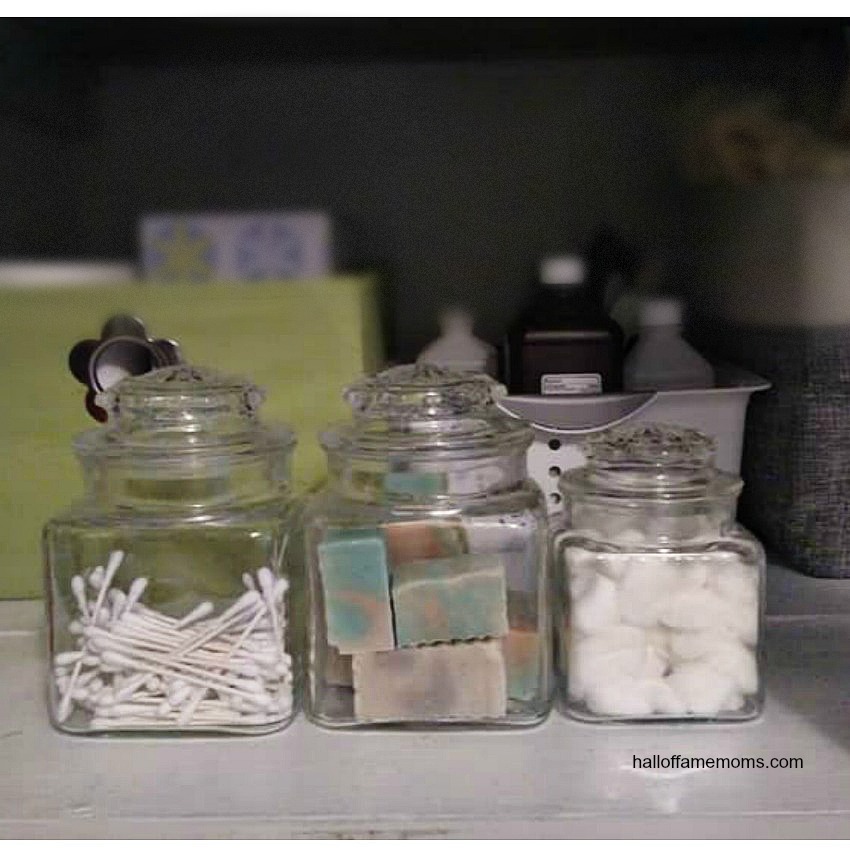 I plan to show you the small tweaks I've made in my small food pantry in an upcoming post!