Are you seeing stories pop up about political stunts pre-dated as if they were prophetically told and you just missed the memo? Maybe someone is "setting something up" you think now? … you don't know what to believe.

I can't tell you what people are up to behind the scenes but I can tell you how it's possible to deceive the public via online news articles and blogs.

I've known for some time that I can theoretically create new blog posts but past date them to show up with older posts; but, I have not tried it as it is clearly a dishonest tactic to me. The only excuse I could see for using it would be if I had a post get lost and I was able to recreate it and put it back where it was in the correct timeline of my postings.

My post dates are part of my urls, that is how I have my blog set up.
Now, if I wasn't using post-dates in my urls and I was just creating content on topics that date had no bearing on, then I might not have a problem with back dating a post.

For instance, let's say that my blog or website was all about crafts and I wanted to add a bunch of Christmas craft posts to my blog during the month of February when I had time to work on them. Now, I don't want them to show up on my blog as current posts because I know my readers aren't interested in Christmas crafts in February, they are thinking about Easter crafts. I could date them to publish back to the previous fall/winter season so the content is there and accessible to my readers but not showing up as a current publication.

In light of news articles that appear to be prophetic of current events I thought today I would test this technique.

Today is Thursday, January 7, 2021. I am going to change the posting date of this post to a month earlier, December 7, 2020. Let's see how this works out.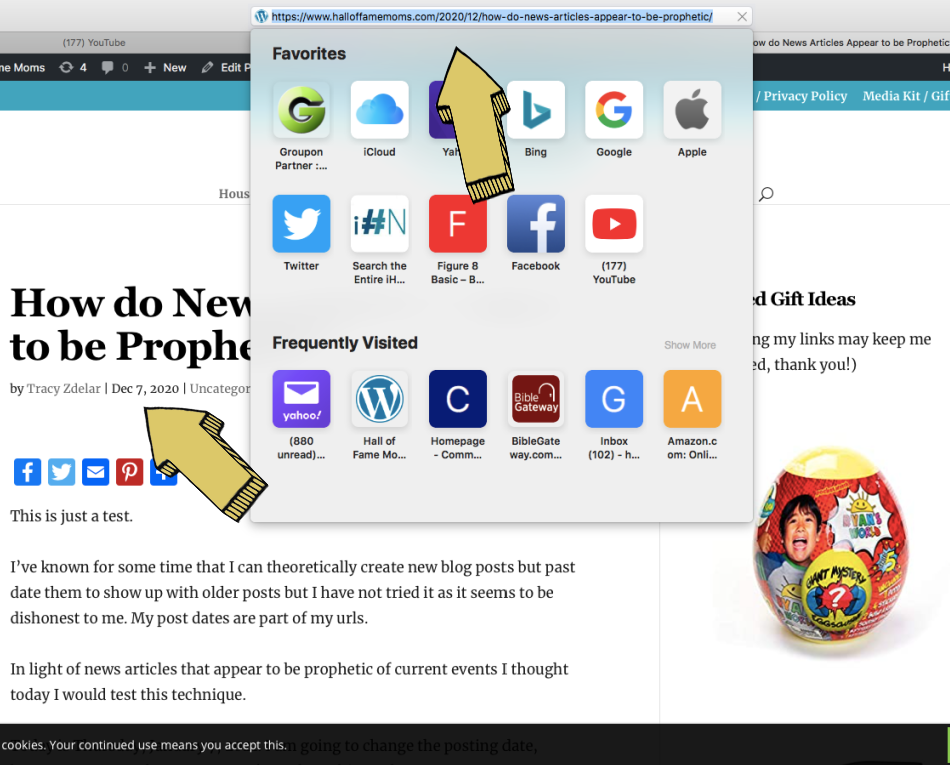 And there you go. Proof it can be done.
I'm going to reset the date to today's date so it does show up as my most current post and with the true date of publication.

Now when you see current events get mentioned in posts dated BEFORE the current event happened you know that someone probably just planted that post in there after the fact but dated it in error on purpose.

Maybe someone is trying to set something up… in your mind.

BUT THIS TOO:

As an addendum to this post I want to mention that blogs/websites (WordPress is what I have experience with) can be set to the timezone of your choice. So west coast sources reporting on east coast events could theoretically show a discrepancy in the time of their posting and the time of the actual event.
The following two tabs change content below.
Owner/Editor
at
Hall of Fame Moms
Tracy writes about homeschooling and just about anything related to family life in Ohio here on the blog. Strong honest views will surface from time to time on topics related to truth, faith and freedom. **Check out my notebooks and Bible Memory Coloring Notebook workbooks for Adults & Teens by clicking my name.
Latest posts by Tracy Zdelar (see all)