One of my favorite Christians in history is Corrie Ten Boom (1892-1983). Corrie is probably most famous for her book (and movie) The Hiding Place based on her family's activities hiding Jews and Resistance Workers from Nazis in occupied Holland, their homeland, during WW II.
If you've never read The Hiding Place you need to, but this post is about more than that story. Corrie's story, as she has pointed out, is like a tapestry where we only see the messy side. We don't understand what God is doing, why he allows things to go as they do, why some prayers are answered yes and some are no. And the no's can feel insurmountable.

I will be sharing links to a lot of resources from Corrie so that you can easily find these for yourself. Some of them may fill my coffee cup. (My disclosure policy).
More than The Hiding Place
To my surprise Corrie had written quite a few books, I recently finished two of them: In My Father's House (the years before the hiding place) and Prison Letters. I've read The Hiding Place (here) multiple times. I will likely read more of her books.

I would simply sum up the book about her life at home before World War II as a must-read for Christians interested in growing in discipleship. It was an amazing book and I will likely reread it like I have and still do, The Hiding Place.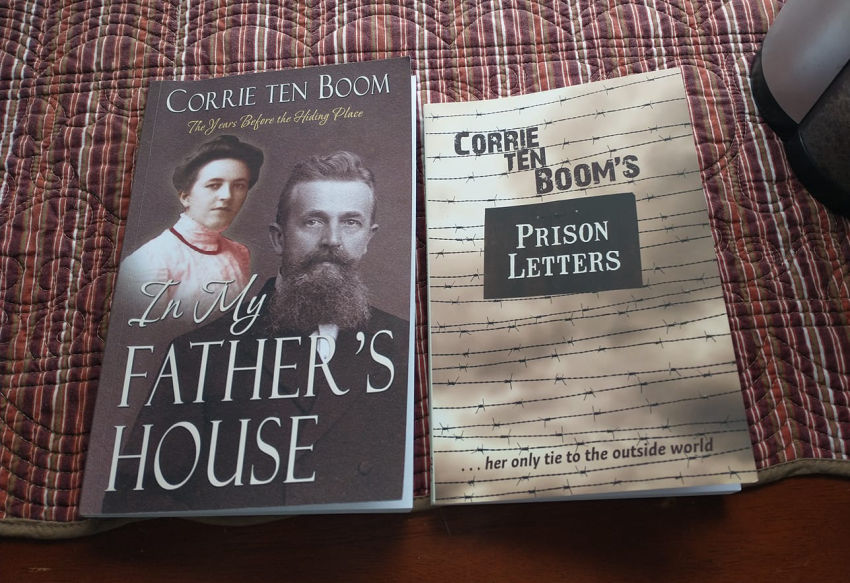 Corrie's books include:
The Hiding Place
In my Father's House
Prison Letters
Common Sense not Needed
Amazing Love
A Prisoner and yet…
Tramp for the Lord
Marching Orders for the End Battle
Not Good if Detached
Corrie Ten Boom: Her Story
Father Ten Boom: God's Man
Defeated Enemies
There are also some devotional type books and books by people close to her.
In addition to her books she has movies or films. I had only been aware of The Hiding Place (the movie), however I still have not seen the whole thing yet. I will have to look up more info on her other movies besides the Tribute that I found on Youtube that was called her last and I believe fifth movie. I will share a link to the Corrie Ten Boom Family playlist I've created on my Youtube channel for your convenience.

Besides books and movies I have found quite a few videos of her speaking or being interviewed pop up on Youtube. I've really enjoyed listening to her speak. Find these at my Corrie Ten Boom playlist on Youtube.
Corrie's God is the star of her life. How he took care of her and did so many "miracles" for her and her sister Betsy during their incarceration in the concentration camps. I will not scratch the surface enough to tell. Read The Hiding Place and In My Father's House to start.

To see the Ten Boom family home in which Corrie's father Casper and Corrie herself (youngest of the Casper Ten Boom's children) were born in and hid the Jews in visit the Corrie Ten Boom House online. If you can't visit in person you can take a virtual tour.

Corrie's parents were amazing examples to their children of how to live for God in their home and neighborhood. I was very encouraged by this book and the value in it to be used in discipleship, a mission which our church is strongly committed to.
Be sure to check out my Youtube playlist and watch some of the YWAM uploads of her speaking directly on camera. You will be blessed.
The following two tabs change content below.
Owner/Editor
at
Hall of Fame Moms
Tracy writes about homeschooling and just about anything related to family life in Ohio here on the blog. Strong honest views will surface from time to time on topics related to truth, faith and freedom. **Check out my notebooks and Bible Memory Coloring Notebook workbooks for Adults & Teens by clicking my name.
Latest posts by Tracy Zdelar (see all)