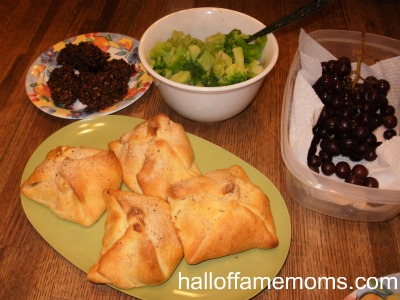 What's for dinner?

Pillsbury Crescent Dough Turkey Puffs (or Pouches),  grapes, broccoli and homemade No Bake cookies.
I got a good deal on Pillsbury Crescent Dough during Week 1 of our $35 Budget Experiment.  As a rule I make these with chicken but since we are on a budget and I had plenty of turkey- this is what I used. You could really stuff these with just about anything I guess such as ham and cheese, vegies and cheese, hamburger with vegies and cheese… the sky's the limit.  Right?
Okay, so I will never get an award for Best Recipe Presentation- cuz I do alot of winging it and can't give exact measurements. So if you're not afraid to experiment, I'm your girl 😉  I will say though, I have made Chicken Puffs many times over the last 10 yrs and it is one of my husband's favorite meals!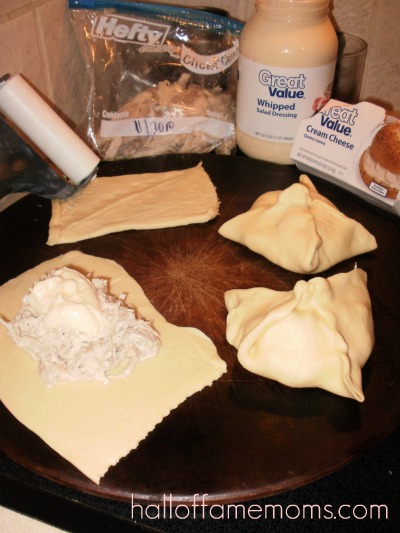 Preheat your oven at about 375 degrees.
I had frozen shredded turkey that I pulled out of the freezer for this. If you are using chicken or turkey, make sure its cooked first, then in a pan on the stove mix some cream cheese in with the turkey or chicken and heat thoroughly. For 4 puffs/pouches I'd say you'll need between half- to a full brick of cream cheese or 8 oz.
I use a Pampered Chef baking stone, but you can use a pan. Lay out your side by side triangle pieces of Crescent dough so it makes a square. Now pinch the perforated markings in the middle so it sticks together completing the square.
Scoop out a heap of your mixture above and center on your square.
Put a dollop (or teaspoon) of mayonaise on the top of the mixture. And yes, this does make a difference in the taste!
Pull up the 4 corners and pinch together like you see in the picture.
Put in oven till the dough is golden brown. Maybe 20 minutes. I'm not sure. Just watch. BUT, before you think you're done…
Sometime before they are done brush some melted butter on the tops and sprinkle seasoned bread crumbs on top!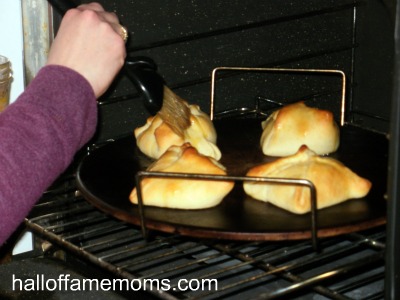 [Subscribe here to follow my blog if you wish.]

Save
The following two tabs change content below.
Owner/Editor
at
Hall of Fame Moms
I like what Annie Oakley said, " For me, sitting still is harder than any kind of work." My days are filled with blogging, homeschooling, Jesus and coffee. (PR friendly)
Latest posts by Tracy Zdelar (see all)