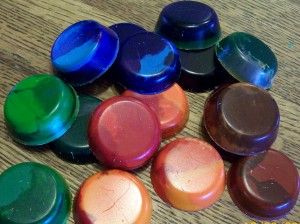 One of my preemie-parent friends posted this project on her blog and did such a good job at it I decided to try the project myself, with the help of my boys. Its simply melting down old crayons into other shapes. Truly the hardest part was peeling the paper of the crayons.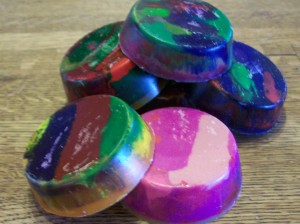 There is more than one way to get the end results, I'm going to focus on sharing how I did mine. You can check out Lindsay's post at her blog OurOrdinaryStories by clicking here.
After peeling the paper off the crayons I wanted to use (primarily our broken crayons), I  sprayed a little bit of cooking spray into the tins I wanted to use and wiped off the excess, then filled with the crayon pieces I wanted. I used three different tins or pans- one word of caution here- use only pans you don't mind messing up. You may not be able to get all the wax or glitter (if using glitter) off the pans. I used a corn muffin pan, a muffin pan and a mini (tart?) pan.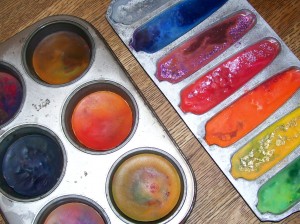 I set the stove at about 350 degrees and just left in there maybe 20 minutes, when they looked melted I pulled them out. I let them sit for a little bit on the stove and then put them in the freezer to harden and to pull away from the pans. Almost everyone of them came out super easily. The corn pan which had some deeper grooves in it gave me a little trouble getting my orange corn crayon out. We did use glitter in some of the corn crayons.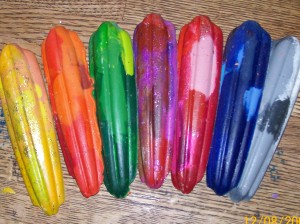 I like that Lindsay used a silicon star shaped mold. I didn't want to wait to go buy anything special so we just used what we had. These would make great stocking stuffers or party favors. At any rate, its a great craft to try out on all those broken crayons you may have around the house 😉
Enjoy!
The following two tabs change content below.
Owner/Editor
at
Hall of Fame Moms
Tracy writes about homeschooling and just about anything related to family life in Ohio here on the blog. Strong honest views will surface from time to time on topics related to truth, faith and freedom. **Check out my notebooks and Bible Memory Coloring Notebook workbooks for Adults & Teens by clicking my name.
Latest posts by Tracy Zdelar (see all)