Have you ever heard of Ficklets? Not me. At least not until a few weeks ago when someone online introduced me to them. But they are cute and apparently make all the difference for some children who would rather not wear glasses at all.
We were thrown into the world of children's glasses back around December when we found out our oldest (5yrs old) has Amblyopia. He has between now and when he turns 10 for his brain and eyes to work together to strengthen the focus in his left eye. If glasses don't work, there is the patching technique. ( I did get ahead of myself by establishing another contact online who actually makes attractive patches for kids. She made one for Brendan which we are not using yet, but may start soon. I plan to introduce this product to the Opthamologists at Brendan's next appointment this month). Watch for my review on this patch in the near future.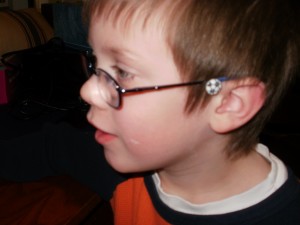 Back to the Ficklets. These are eyeglass charms in their own way and they aren't expensive. Brendan picked out the pair of blue dogs but Ros at Ficklets sent him a set of soccer balls too, and he chooses to wear one of each. I will add, he's been wearing these for weeks and they stay on great!  In the short time he's had his glasses (and he wears them almost 24/7) the frame is already bent and I found a small crack in one lens ( ughhh)- he's a boy, what can I say?
All that to say, the Ficklets have hung on VERY well.  They are attached by a small rubber band you twist around the eyeglass frame and wrap onto the ficklet. Only recently did one pop off and we just used our "backup" rubber band that came with the pack to replace the missing band. I've never worn braces myself but know others who have and these bands remind me of tiny brace bands.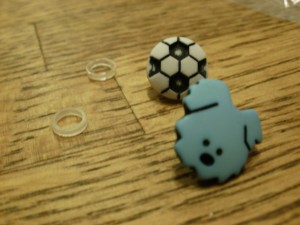 If you have a child who must wear glasses and just WILL not do it, you should consider looking into Ficklets. Ficklets might just give them the boost they need to overcome their self-consciousness about wearing glasses. Click here to read what others are saying about the difference Ficklets made in their childrens' lives. I especially like the flower-ficklets for little girls, but I don't have one of those 😉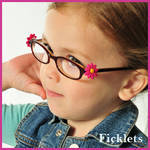 We did receive our Ficklets free in exchange for providing a review of them on my blog. Ficklets has a variety of charms available so be sure to check them out!  The Ficklet motto is…"Give four-eyes a fresh perspective."

Thank you to my sponsors…
Tiny Dimples,  Kirsten at Tupperware,  DIY Shoppe Design, Melody of Watkins, Brandy at Work at Home United
The following two tabs change content below.
Owner/Editor
at
Hall of Fame Moms
Tracy writes about homeschooling and just about anything related to family life in Ohio here on the blog. Strong honest views will surface from time to time on topics related to truth, faith and freedom. **Check out my notebooks and Bible Memory Coloring Notebook workbooks for Adults & Teens by clicking my name.
Latest posts by Tracy Zdelar (see all)