One of the great things about homeschooling is the endless creative ways to homeschool without it feeling like "school".  Not all happenings started out with the intent to be homeschooling events but on hindsight I saw the value in them and added them to my Daily Checklist for the day. If you live in Ohio, like me, you have to have 900 hours of educational time in for the school year. When you start thinking outside the "public school classroom" you'll find the opportunities to get your 900 hours are endless! As one of my (former homeschooling) mom-friends from church told me….its possible to  have my 900 hours in before Easter 😉
We brought home a turtle.
My mom had a Red-Eared Slider that was won at the fair 10 yrs ago. Back then it was the size of a silver dollar…now just its shell measures about 8″ x 5″ and it had outgrown the living quarters mom had it in so we brought it to our house… temporarily. I'm looking for a permanent home for it at a zoo or some other appropriate place. I thought we would study turtles while we have it and my oldest is helping me take care of it.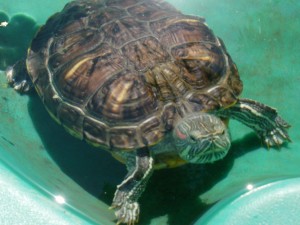 Running Errands.
I made a trip to the Raisin Rack health food store to pick up some bulk nuts and more.  The road crews had torn up and I mean…torn up, the road (which covers about 4 lanes maybe) and I had to turn around and go the back way. When I finally parked the car we were so close to the road work that the boys and I stood out there and watch. Then upon leaving the store we stood out there and watch some more. The hole was HUGE . There were big machines. We watched dump trucks dump their dirt and leave. And Brendan found a caterpillar in the parking lot that we brought home with us.
I'd say that was educational!
Inside the store my boys were learning how to behave in a public place. This seems to be an issue just about any time I take them together. If I take just one things run smoother. So as they act "their age" (I guess), I continually correct them.
Edu-cat-ion-al.
We also had made a trip to the library to pick up a book I needed for the Five In A Row "curriculum" I'm also going to use.  While there, each boy put on his own puppet show in the kids' area as well as played with the movable seat cushions shaped like circle, etc. This too involved "correction" as the cushion were being used not for their intended purpose at one point or another.  (Educational 😉 ).
The Museum.
We made a short trip one day this week to the McKinley Discovery World Museum.  Since we bought this NEW family membership, we get free admission into McKinley and many other zoos/museums. My kids have been here numerous times but they still seem to enjoy it…except for the big dinosaur that greets you in the entrance. It has a motion detector and so it moves its head and roars when you trigger it. The mastodon below was found in our area in 1970.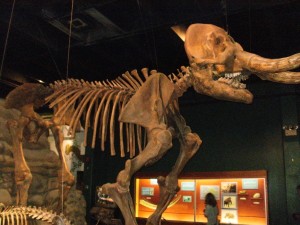 The Fair.
The Stark County Fair is going on this week and its been free admission in the morning (pay extra for rides). I took the boys yesterday. We visited several of the farm animal buildings, watched a horse-harness race,  rode rides, and more.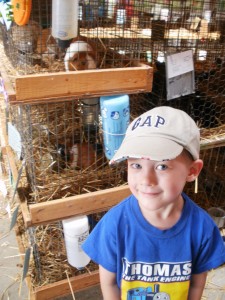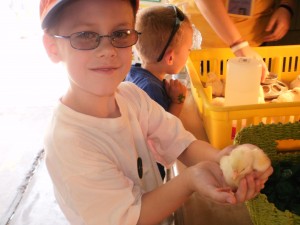 Back at home I gave each of the boys some notebooking paper I printed off the computer that had writing lines and empty boxes to draw pictures in. They drew pictures of animals they saw at the fair. The oldest then wrote a couple lines about them.
There is more to our homeschooling, I assure you. I shared most of my curriculum choices in this post 🙂
Subscribe here to get my updates by email or RSS.
*I'm linking this post to Homeschool Creations today.
The following two tabs change content below.
Owner/Editor
at
Hall of Fame Moms
Tracy writes about homeschooling and just about anything related to family life in Ohio here on the blog. Strong honest views will surface from time to time on topics related to truth, faith and freedom. **Check out my notebooks and Bible Memory Coloring Notebook workbooks for Adults & Teens by clicking my name.
Latest posts by Tracy Zdelar (see all)