I wanted to share some of the simple ways I teach my young boys at home that you can do as well. Whether you homeschool or not, the following are ways you can help your children learn at home without spending a lot of money, if any. For this post I'm mainly sharing some simple ways you can help your child learn Language Arts from home.  Later I may share a post on other subjects. Brendan is in first-grade and Jack is 4 (pre-k).
Language: Reading, writing, spelling.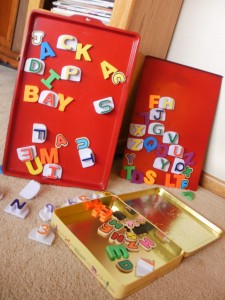 Spelling activity: I give the boys these magnetic baking sheets  (or you could buy a Little Red Tool Box: Magnetic Tabletop Learning Easel
) to use with their magnetic letters and numbers. These are portable, my fridge and dishwasher aren't -so the kids can sit in the living room to work on this assignment. I probably bought these pans at the Salvation Army awhile back and I guarantee you I didn't pay much for them.
Sight Words & Reading: I have my first-grader learn sight words that I choose. I picked some that go along with one of the books I've been having him read to me : One Fish Two Fish

by Dr. Suess. I have him read the sight words to me frequently. This month we're focused on 27 words. Occasionally we go through his older sight words as well.  Joel usually has him read a verse from the bible before bed.
Copywork/handwriting: This can tie into spelling, reading, handwriting, punctuation and grammar.  I give him an assignment to copy word for word, punctuation and all- it may be a poem from a book like Pocketful of Nonsense
or bible verses. Sometimes I have him write out all or a few of his sight words as well. I do occasionally "quiz" him on spelling though I do not grade. In Ohio we aren't required to grade and I think thats a good thing.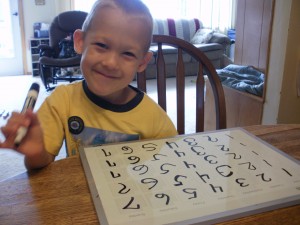 For my 4 yr old, I have him practice writing his name. He's had the first one down, so its mainly to learn his last name. I also have him practice writing letters and numbers. Usually he writes on paper, but sometimes I use the dry erase board (calendar style) that you see to the right.
In addition…
sometimes I use worksheets from workbooks I've bought at the teacher's store or the kind you can find at Walmart, etc..
the boys' "staple" entertainment is PBS Kids educational programs and for online learning they often play the PBSKids.org games. They also have  free accounts with Zoodles.com as well.
You can see my Homeschool Binder which keeps me organized and see some of my homeschool room pictures here. *If you like, you can subscribe here to get my updates by email or RSS.
Do you have an easy at-home learning tips for young children?
The following two tabs change content below.
Owner/Editor
at
Hall of Fame Moms
Tracy writes about homeschooling and just about anything related to family life in Ohio here on the blog. Strong honest views will surface from time to time on topics related to truth, faith and freedom. **Check out my notebooks and Bible Memory Coloring Notebook workbooks for Adults & Teens by clicking my name.
Latest posts by Tracy Zdelar (see all)