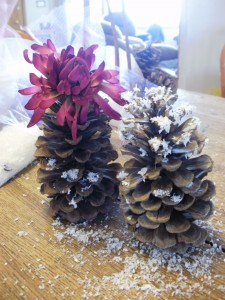 As I sit here writing this post I'm thinking about those of you who are in a similar boat as us, struggling to make ends meet. That doesn't make me hate the holidays though, hopefully it doesn't you either.  After all, the holidays shouldn't be about big-spending or trying to "keep up with the Joneses" or whoever your neighbors are.  And so, I'm going to share with you some  ways you can save  money or limit spending on gifts for any occasion. Some of you may not agree with my suggestions and thats fine, but I'm of a very resourceful "mind". I have no legitimate choice but to be frugal and to make use of what I have.
And besides, its the thought that counts, right 😉
Idea #1:  Winning for giving!
There is still time to enter to win the following giveaways going on at my blog. Even if you wouldn't use these items you may know someone on your gift buying list who could use it. Consider entering to win something to give –  it will save some money in the long run.  And don't just stop with my blog, lots of bloggers are doing giveaways.
Join me on Facebook now and I'll try to post some of these other blogger's giveaways there that I think you might be interested it in.
Enter to win a pair of simulated (beautiful!) diamond earrings. Expired.
Enter to win $35 in product from DaySpring! Expired.
Enter to win a Betty Crocker prize pack– (see what it is)! Expired.
See the Build-A-Bear $25 gift card giveaway going on now through Dec. 1st! (See the sidebar).Expired.
New Contest! Win a $35 in DaySpring product! Expired.

Idea #2:  Free &  Easy Earning.
One way I save money on gifts is by earning Swagbucks Points for free. I don't do all of the offers they have but I do my normal online searches through them and have the toolbar on my computer. I am regularly – and even multiple times some days I think- earning points which I choose to redeem for Amazon egift certificates. These gift codes also cover shipping charges! A real plus for me.  Using Swagbucks is very easy and incorporates smoothly into my online computer work.
As a blogger I do have opportunities now and then to be compensated for my work. Thanks to this option I was able to buy the Mattel Hot Wheels Crash Curve Playset
and the Hot Wheels Radical Roadway Playset
for my sons from Amazon.com. The boys have way too many vehicles so now its time to get them some "other" stuff to use with their little cars and trucks.
Idea #3:  Re-gifting!
Ah, this one will be a bit controversial but who cares! Bottom line, the things that I really want or could use are probably too costly for my family to get me and vice versa – I probably can't afford to buy that kind of stuff for my relatives so we settle on something nice and useful. Sometimes I get things I won't use and the same for you I suspect. Save those things and give them away to someone else- assuming they don't know you are re-gifting 😉 
FYI:  Some of the things I get to review or through my blogging are not things I need and I will likely be giving these products away in some of my Christmas giving this year.
Idea #4:  Homemade Gifts.
If you are crafty put it to good use. These kind of gifts can become heirlooms and hold much sentiment. Do you make baked goods, drink mixes, soaps, wallhangings, door signs, etc? Do you need a little inspiration? Don't look, you might just fall in love with these DIY home decor posts at How Does She?.
More Ideas:
homemade cards and a few stamps
decorate some plain paper gift bags and make homemade tags
homemade jam or a collection of favorite family recipes put together in a photo album-styled book
make a day-book/planner for someone with free printables found online or make your own
type/print out a favorite Scripture verse on some pretty paper using a fancy font you know they'll love – frame it
Idea #5:  Service-oriented Gifts.
Yep. Offer away!
free babysitting to a family who can't afford a sitter to go out on date-nights
clean someone's house for a day (I know thats a stretch, right! lol). But you get the point.
if your really handy with wood and tools – offer to make someone that bookcase you know they would love to have.
offer to make a special dinner.
offer to give their car an oil change, a detailing, etc.
good at photography? offer to take their next  family photos!
The sky's the limit on this one! You could  go one extra step and write these gift offers out on cute paper making your very own "homemade coupons", something they can actually hold in their hand, find in a stocking, etc.
Just be willing to think outside the box and put something personal into your gift giving this year instead of charging extra on the credit card 😉  I may be sharing some other specials I come across. If you'd like to be sure to get my updates on future giveaways here at my blog or other money saving ideas you can subscribe here. You can share this post by clicking the "Share" buttons below.
*I'm linking this post with A Holiday Haven's blog party– come join the fun!