About a week before Easter my husband and I discussed whether or not to host his side of the family this year. I don't remember the exact words but I know it went kinda like this.
Me: "Do you want us to host Easter for your side of the family this year?"
Him:  "That's fine."
Done. Truth be told, I've been wanting to host Christmas at our house, not Easter. I wasn't sure I wanted to host Easter till about a week before.
The day after Easter was our youngest son's birthday and I, trying to keep things practical for everyone, wasn't sure how to juggle Easter and an April birthday followed by a May birthday (our oldest).  It just seems really impractical to expect the grandparents, other relatives – if they should want to come, or any little friends (for a party) to come  two months back to back.  And then throw in Easter dinner. And its not like I don't have 101 other things to think about juggling as well. So, I didn't plan anything beyond Easter that involved anyone besides our little family of four.
Jack knew his birthday was coming.
We'd circled it on the calendar and talked about it early on. On Easter some of Joel's family brought gifts for him and we sang "happy birthday" to him and he opened his gifts.
The next day, Monday- his birthday (while Joel was at work) the boys and I went to the store to pick up a few things and I decided (last minute) to just let Jack pick out something that he wanted as a gift. He did so happily.
While at the store I talked to Jack about what kind of cake he'd like and then offered him the choice of brownies instead. He picked brownies.  So I made brownies and frosted them generously with chocolate-fudge frosting! Yummm…
...But we didn't do that whole candle-blowing, singing "happy birthday" gig.
For the last couple days (since he turned 5), when his new age of 5 would come up he'd get upset sometimes and insist he wasn't 5 yet.  It occurred to me that just maybe, since we were out of our usual "birthday" routine, he didn't really believe he was 5 because we were missing some of our traditional celebratory practices.
Yesterday I called my husband at work and asked him to stop somewhere and pick up a "5" candle or some candles that we could use to do this thing right. He did. And I decorated what was left of the brownies and lit the candle and we sang "Happy Birthday"!
And today when I asked Jack how old he was he said 5, and then smiled 😉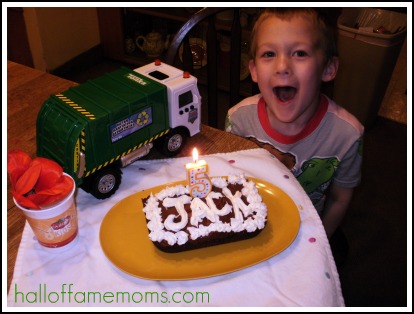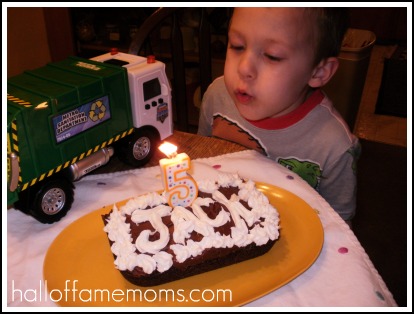 The following two tabs change content below.
Owner/Editor
at
Hall of Fame Moms
Tracy writes about homeschooling and just about anything related to family life in Ohio here on the blog. Strong honest views will surface from time to time on topics related to truth, faith and freedom. **Check out my notebooks and Bible Memory Coloring Notebook workbooks for Adults & Teens by clicking my name.
Latest posts by Tracy Zdelar (see all)