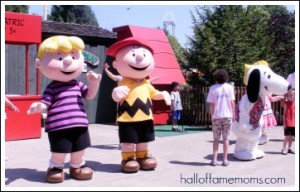 For the first time, our family- as a family visited Cedar Point in Sandusky, Ohio.  My husband and I have not been there since before we were married and quite possibly that was before we even dated. Our boys are 5 and 7 years old so we didn't ride anything that we couldn't all ride.
It was about 1pm when we picked up our complimentary tickets and we thought we'd leave way before we actually did [we stayed till after 10pm!]  It was a hot day but a great day.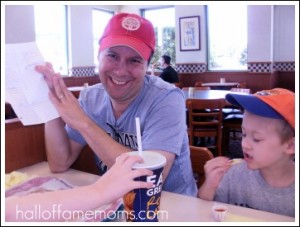 We ate lunch at a Wendy's on the way to Cedar Point and Joel pulled out the list of rides he made for us by perusing the Cedar Point website. I recommend doing this so you don't waste time wondering what there is to do and where to find it.
#1. Plan your day! Check the website, get familiar with the park and list the rides you don't want to miss!
After parking the van we put on sunscreen and hats. I made sure the boys were wearing light colored shirts to hopefully avoid soaking up more sun and heat than necessary.
I also carried a water bottle insulater "thing" and kept a bottle of ice/water for us to use and refill as necessary. Beyond that, I only brought my book bag (not huge) and carried what I wanted with us: the Neutrogena facial sunscreen, some pretzels and small wallet, hand sanitizer, etc.. We don't carry much cash and I made sure I only had one credit card and a drivers license with me.
#2.  Take essentials with you:
My list would be sunscreen, hats, sunglasses and light colored shirts, snacks and water in an easy to carry bag or lightweight backpack (or consider taking a stroller or wearing a fanny-pack).
I'm impressed that Cedar Point has so much for kids and that parent's get to ride as well. My husband was in charge of the map, the list, and navigating us through the park. He said there were three different areas for kids. I think all 4 of us had a really good time just focusing on what we could do together and what the boys could do without us.
Note: We spent a considerable amount of time waiting in lines. Plan for that. My husband thinks we might have conquored about 18 rides within that 9 hour day.

#3. Consider packing a cooler for lunch or dinner or at least be prepared to pay high prices inside the park.
Food is expensive there (there may be some exceptions), so you may want to pack a cooler. We only bought one meal there and to be honest, in that heat I don't know that any of us were very hungry most of the day.
We chose to eat at Chik-Fil-A (CFA) on the grounds, we purchased (1) 12pc nugget combo meal (drink/fries) and 1 box of 8 nuggets- which we split between the 4 of us and it cost us $17.55!  No free refills at this CFA so it was water after that. There was a variety of food places to choose from, even carnival food and a buffet.
#4. Look for the rides that will get you where you want to be without walking.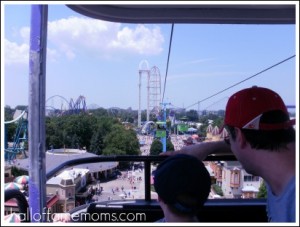 To save some of energy and time off of having to walk we rode the Sky Ride across the park and took  the train.
#5. Cool off by standing near the water  rides or dancing in the splash fountain in the middle of the park.
You could cool off in the heat by playing in the sprinkler area, standing on the deck of Snake River Falls or ride the other water ride. More than once we watched people gather up on the deck to get soaked .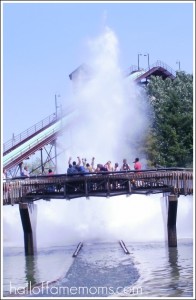 At the end of  the night they had fireworks. We were walking out of the park towards the van at this time. The further out we got, the better our view seemed to be. That was a nice ending to the day.
#6. Pack fresh comfortable (dry!) clothes for the ride home- at the very least, clean socks.
Back at the van we put a complete set of clean, comfy clothes on the boys – right down to undies and  socks. We had a 2+ hour drive home and it was after 10pm by now. We got home after 12:30am!
#7. Oh yeah,  and blankets 😉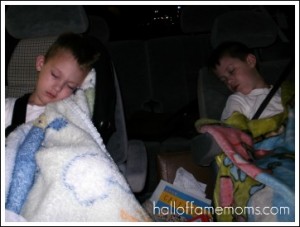 I have two short videos on YouTube of the boys you can view:the bumper boats and  the Frog Hopper.
If you liked this post you may want to read: 5 More things About Cedar Point.
*Cedar Point provided us with free complimentary tickets. All opinions are mine and my family's.