I had the opportunity to read and review Sara Mae's new ebook  How to Market and Sell Your eBook. She wrote this in response to seeing the need for an affordable "how to " guide for other common every day folk like herself. Sara Mae was able to write this ebook because of the staggering success she had with her 31 Days to Clean ebook that came out this past spring.
31 Days to Clean – Having a Martha House the Mary Way
was Sara Mae's first pay-for published ebook. She had written only one other ebook beforehand, I believe, and it was and still is free (Core Lies). She sold around or more than 11,000 copies of 31 Days to Clean in two months time earning her a full-time income from one ebook.
I found her marketing ebook to be a wonderful resource and worth way more than the $4.99 price- and there is a reason it only costs $4.99.  The bottom line is – with digital books like ebooks in pdf's and such made for Kindle and Nook readers- you have an incredible opportunity to make a living by selling for less money, which in turn makes it more affordable for your readers.  If you have any desire to write or share information you have that you know someone needs, this is the time to write your ebook.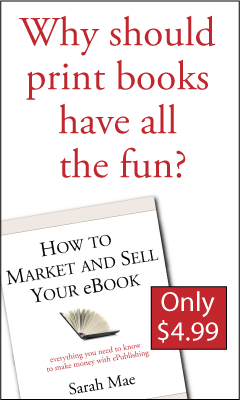 Click here to view more details.
*I asked Sara Mae if I could have a free copy of her ebook to review and she obliged.  This is a great resource and I have signed on to her affiliate program so my affiliate links are in this post.  All opinions are my own and I think this ebook is great and worth more than the $4.99 she is charging.