I had a couple people ask about my meal plan and this is it: a simple FREE printable monthly calendar that I write on 😉 . I'm not good at following schedules and am already forgetting to look at this one but I am going to give it a shot.

Before you look to close at my meal plan let me tell you my Method of Operation for it and what the Abbreviations mean.
A Simple Way to Meal Plan
Because too many details make it even harder for me to follow, I need simple. I'm also using my affiliate links to resources to help you meal plan. Using my links may earn me a few cents but at no cost to you. It helps support my blog, thank you.
This plan is basically a month of meal ideas broken down by a different theme for most days of the week. Find more help on meal planning made simple here.
Monday is Meat,
Tuesday is Chicken/Tuna/Fish,
Thursday is Ethnic (Chinese, Mexican, Italian)
and Friday is FUN.
Because of church Sundays and Wednesdays will be covered by foods already prepared food like…
Freezer Meals (F.M.),
Crock Pot (C.P.),
Left Overs (L.O.)
At the bottom of the meal plan is a list of lunch ideas for the kids. I also plan on using left overs, etc..
The meal plan is put inside a plastic page protector, taped to a cupboard door so that I can use a dry-erase marker to cross off the meals as we have them.
I allow myself to jump all over the place picking what meals I want for when I want in "real life".See my M.O. below.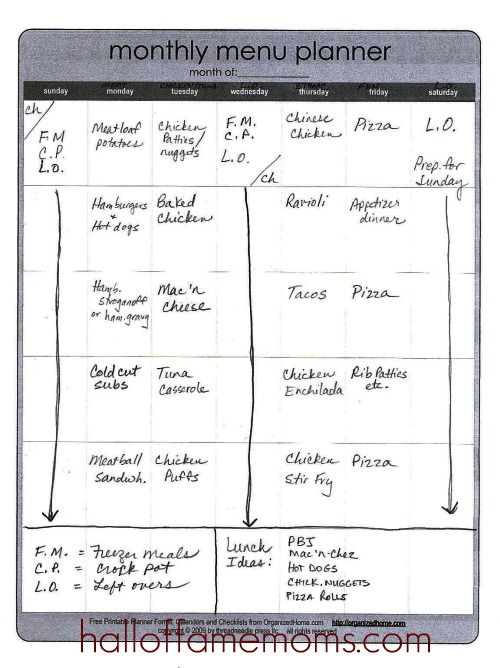 Meal Planning
Simple and flexible meal planning are the keys here for me. I can plan my grocery list by the week and/ or month based on themes if I want. My grocery buying is very limited to what's on sale and what I have coupons for or where I can find the best prices where there are no sales/coupons available.
I can look at the monthly plan and decide what meals (from any week) I want for the time period I'm buying for. For example, because I wasn't finding hamburger on sale for "our" price for months, we rarely had it for meals. This past week I found it on sale for $1.89 a pound and bought about 12 pounds of it.
And thats it.
Do you have any meal-planning tips to share that have revolutionized your meal times?  Please share in the comment section!
*Click here for a list of free printable organization forms including the one I use for this meal plan.
P.S. –  The plan is very basic. I should have added that I already know I can throw in some veggies, applesauce, etc. to go along with the main dish!
The following two tabs change content below.
Owner/Editor
at
Hall of Fame Moms
Tracy writes about homeschooling and just about anything related to family life in Ohio here on the blog. Strong honest views will surface from time to time on topics related to truth, faith and freedom. **Check out my notebooks and Bible Memory Coloring Notebook workbooks for Adults & Teens by clicking my name.
Latest posts by Tracy Zdelar (see all)