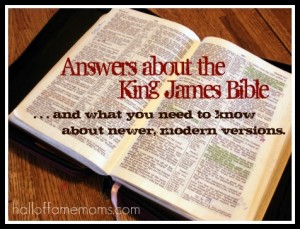 Christian, do you waver in your faith and understanding of God and His Word? Do wonder what parts you can trust and which might be wrong?
God promised in Psalms 12:6-7  "The words of the LORD are pure words: as silver tried in a furnace of earth, purified seven times. Thou shalt keep them, O LORD, thou shalt preserve them from this generation for ever."
Do you believe it? Is it possible for God to lie? Can God only be trusted to save your soul, but to preserve a pure version of  "His Words" He cannot?
This series is to show evidence that there is a pure version of God's Word that can be trusted. Its also to show that there is a war going on behind the scenes of the many Bible versions we have today. The truth is, they are not all equal.  You can view all the posts in this Question & Answer series about the King James Bible here. I hope you will follow this series with a soft heart towards God and His Word.
………………………………………………….
Today is my fourth posting in this series and I chose Questions #13 and 35 from The Answer Book by Dr. Samuel Gipp to share.
Question #13: Where was the Bible before 1611?
Answer & Explanation: It was in the available Antiochian manuscripts.
"The overwhelming majority of Bible manuscripts existent thoughout history have been the text found in Antioch. They have always been available in some form, either in copies of the original Greek, or the old Latin of 150 AD, (NOT to be confused with Jerome's corrupt "Vulgate") or the Syrian Peshetto of 157 AD.

That it would be difficult indeed to gather all of these sources together and place them in the hands of the common man give credence to God's reasoning for the collation and translation of the King James Bible." pg. 60 The Answer Book.
…………………………………………
Question #35: Can someone get saved if using a bible other than the King James Bible?
Answer & Explanation: Yes. Dr. Gipp says, "Generally, the facts surrounding the gospel of Jesus Christ and the simplicity of salvation are found intact even in the grossest perversions of Scripture."
However, Dr. Gipp points out that the Bible is a weapon in the hands of Christians and food necessary for the new Christian's growth and in these two ways do new bibles weaken scripture making Christians of NO threat to the devil.
pg. 101, The Answer Book.
*Subscribe here to get my posts delivered to you.
**Sharing this post at WomenLivingWell & RaisingHomemakers.
The following two tabs change content below.
Owner/Editor
at
Hall of Fame Moms
Tracy writes about homeschooling and just about anything related to family life in Ohio here on the blog. Strong honest views will surface from time to time on topics related to truth, faith and freedom. **Check out my notebooks and Bible Memory Coloring Notebook workbooks for Adults & Teens by clicking my name.
Latest posts by Tracy Zdelar (see all)