I thought I'd share a bit about what we're doing in our homeschooling right now.
I'm just into our second year of homeschooling my 7 yr old second-grader and 5 yr old kindergartner so I'm still learning how to make homeschooling and everything else work for our family.
……………………………………………
Going on Field Trips
We've done a few things with our local homeschool group like tour the Jackson Twp Fire/Police Safety center, fill shoeboxes for Operation Christmas Child, and a day of experimenting with art.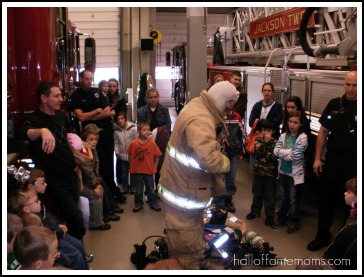 Sign Language and Swimming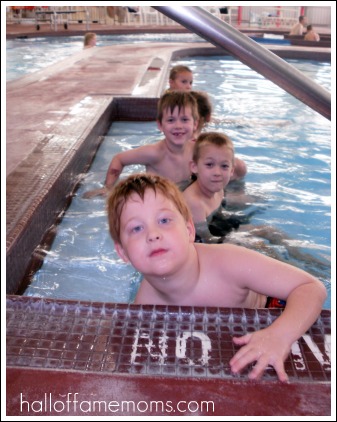 In addition to the basics my boys are learning sign language with some great videos from the library I'll share below.  When I was young I received a sign language book from my mom and taught myself the alphabet and then in college I took a class in sign language. However, I didn't have much use for it but I can remember coming into contact with the deaf and it was wonderful to be able to at least spell my way through a conversation with them. I enjoy learning the signs along with my boys. I guess this could count as a "foreign" language, right? 🙂
The boys are also into their second round of swimming lessons too. My 7 yr old graduated to Level 2. My youngest is taking Level 1 again.
We are very fortunate to have a wonderful recreation center nearby that only charges $23 per child for 6 weeks of homeschool swimming lessons and they have a great waterpark-like swim area for the kids to play in for FREE between 10am-1pm during swim class days.
Library dvd's I'm using &  recommend.
I pick up lots of dvds from the library on educational themes and that's where I found the sign language series Signing Time with Rachel Coleman. You can find out more about her Signing Time Volume 1
dvd here on Amazon.  We listen to books on cd too such as Little House in the Big Woods
by Laura Ingalls Wilder in the car. Even though this is written from a girl's point of view its got boy stuff in there like wild animals, living in the woods and the roughing-life.
I also came across Beyond Phonics at the library. The dvd comes with an extra cd to print off work sheets that go along with the video. I printed off the sheets and we can work on them as part of my second grader's grammar.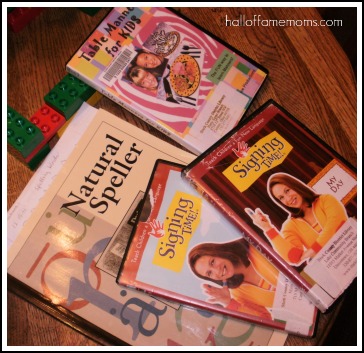 Notebooking & the Basics
If you've been reading for awhile you may remember my plan mentioned here to homeschool according to the 7 continents. For example, if we're studying about ancient Egyptians, mummies and all that- those projects, worksheets, etc would go into the "Africa" section. Likewise if we are studying about famous artists from Italy that would go into the Europe section.
Lately, most of what we've been working on are the basics…math, reading, grammar, spelling, and phonics. I'll have separate sections in their notebooks for that kind of stuff that doesn't really fit into a "continent" theme.
When I speak of "their notebook" understand that this becomes my record of what they've done for the year and its the tool I hand over to a Certified Teacher to use to assess the boys' progress. The Certified Teacher then signs a form saying my child is working to his ability or something like that.

In Ohio I have the freedom to choose to not grade my kids and to not test them. I have the freedom to just have their work assessed. In my opinion grades and tests are over-rated. Since I only have two students and I can give each of them my undivided attention, I can expect them to "learn" and "know" their lessons.
We've been using Natural Speller
by Kathryn Stout (it covers 1st-8th grade) for my 2nd grader's spelling and ClicknKids online program for my kindergartner's phonics andwe are listening to Story of the World
Volume 1: Ancient Times audios.
Homeschooling is not without its challenges and sacrifices.
I shared a few of those sacrifices in Part 1 of my post here at the Prime Parent's Club.
*I did share my Amazon affiliate links in this post. I do buy homeschooling resources on Amazon – especially when I have earned Amazon gift cards for free by using Swagbucks, which is free to sign up for. And that is also an affiliate link 😉
**Linking up at Women Living Well , Raising Homemakers and Deep Roots at Home.