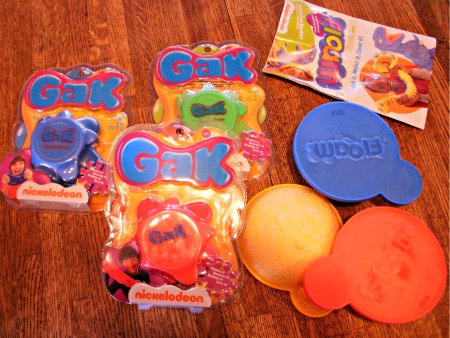 What? You've never heard of Gak and Floam? They were around in the 1990's but are back again completely reformulated.
I received a few different colors of each of these interesting compounds to review. Gak and Floam come in separate packages, they are separate types of … well, think playdoh and modeling clay- but different.
GAK
I'll let the video of the Gak speak for itself 🙂  .
See my husband and son blow bubbles into the GAK in the video below. (Video doesn't show in email so click through to the blog to view).
FLOAM
You can make a Floam creation and let it dry overnight so you can keep it that way permanently or put it back into its container to play with again later. Floam dissolves in water so don't worry if it sticks to your hands. Just wash them.
My boys are are about 6 & 8 yrs of age and  played a little bit with these products. They weren't a real hit after that. I'm thinking maybe older kids would play more with them. You'd think boys who like to dig in the dirt and collect bugs might not have an adverse reaction to gooey, sticky products. Well, I think they both did.  If you're child has a problem with really sticky products you may not want to buy Gak and Floam or just be sure you play with them first to work out the goo part. However, if you have lovers of gross and goo go ahead and delight them in some Gak and Floam.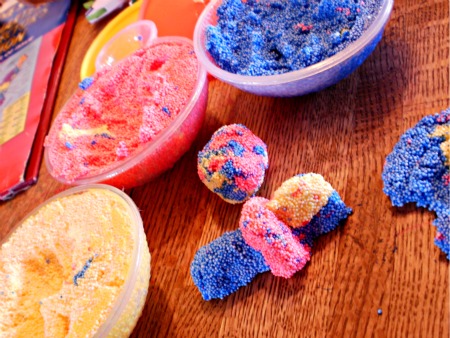 From the information sheets I received:
Gak is a stretchy, squishy compound. The new formula is easier to use and less messy than ever before. Can be squeezed, squashed, stretched, twisted, rolled and bubbled for hours of creative play. It makes wacky sounds by squeezing it into its container (called "frrrts"). Comes in Rebel Red, You Blue It, Yakkity Yellow, Goo Green, Tickled Pink and Purple Panic. Suggested Retail Price is $6.99 each. Visit Gak-is-back.com.
Floam is a reusable molding compound you can mold, fold, flatten, and roll. Creative possibilities are endless. Texturized Floam can be squeezed, squashed, flattened, and molded for hours of sculpting activity. Let your creations dry overnight to keep or put the Floam back into its air-tight container to keep fresh. Comes in Rockin' Red, Blazin' Blue, Electric Yello, Glimmer Green, Posh Pink and Purple Power. Suggested Retail Price is $6.99 each. Visit floam.com.
Both products are non-toxic, non-staining, phthalate-, latex- and BPA-free and are available at Target, ToysRUs, ToysRus.com, Bed Bathy & Beyond, A.C. Moore and Walgreens.
So I'm curious. Did any of you have Gak or Floam back in the 1990's?
*I received my Gak and Floam to review from Nickelodeon and Team Mom. This is not a paid post and opinions are mine.
The following two tabs change content below.
Owner/Editor
at
Hall of Fame Moms
Tracy writes about homeschooling and just about anything related to family life in Ohio here on the blog. Strong honest views will surface from time to time on topics related to truth, faith and freedom. **Check out my notebooks and Bible Memory Coloring Notebook workbooks for Adults & Teens by clicking my name.
Latest posts by Tracy Zdelar (see all)