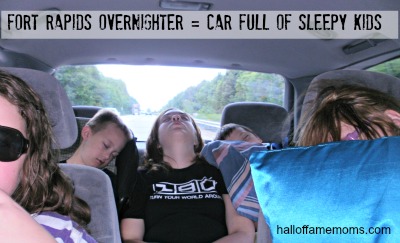 We've never ever in our 10 years of marriage and 8 years of having children had dental insurance until this year when my husband started a new job. Still, my boys have had their teeth cleaned/ or looked at at least once or twice each through lower cost options.
A week and a half ago my boys were at the dentist for teeth cleanings and checkups. Only days before my oldest was being seen by an orthodontist we were consulting with and he pointed out a cavity.  Our dentist, however, found three cavities when we came in for checkups and one was infected. They couldn't deal with it at the time and so we made an appointment to come back.
Well, five days later (Friday) we and nine other family members were in Columbus at the Fort Rapids Waterpark Resort to do a  review of the place when Brendan started complaining about his teeth hurting.  I ended up  giving him ibuprofen about every 4-5 hours. He got me up in the middle of the night for meds, it hurt that much- and then again about 5 hours later- but this was not the tooth I knew to be infected.
That  morning, Saturday, I called the dentist so they could get us an antibiotic ready for pick-up back home. They were also able to get us an emergency appointment for Monday.
Turns out that my 8 year old actually had two infected teeth. The reason for the apparently fast moving cavities could be a lack of tooth enamel as the dentist pointed out to me. But…
Since these were baby teeth we decided to extract them.  He did really really well, but it hurt a lot and I could tell it hurt.  Unfortunately, he may have to have the third tooth with-cavity extracted as well.
(And he already had had a loose baby tooth extracted a few months ago because it would not fall out. Poor kid is facing a fourth extraction this year!)
The dentist relayed to me that it was a good thing he was on that antibiotic before we came in on Monday or things may not have worked out like they had. I think she may have said they might not have been able to remove his tooth. I'm foggy on the details but I know she relayed to me how important having that antibiotic in him was for them to be able to help him at that time.
Whew!
That Friday/Saturday was a busy weekend for us with lots of people looking forward to that trip.  Plus I needed to get pictures/or video and it was not a good time for a painful infected tooth to flair up.
I didn't see it coming- but God did and he worked out everything we needed from the ibuprofen that I didn't have on me to the antibiotic waiting for us back home Saturday evening so that two days later the dentist was able to take care of Brendan's needs right then. And hopefully our "new" insurance will handle most of the cost.
Brendan was even able to have fun. God took care of everything! Amen.
"But my God shall supply all your need according to his riches in glory by Christ Jesus."
-Philippians 4:19