This story has been has hit me in a very powerful way this week after re-watching End of the Spear and for the first time, Beyond the Gates of Splendor (links provided below). I wanted to make sure I shared this story with you. The video I found is very moving and well put-together. Be sure to watch it till the end or you will miss something incredible!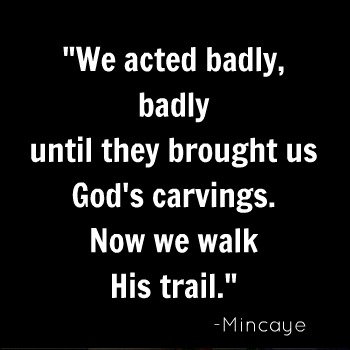 Five men knew this murderous savage tribe was not ready for heaven- to stand before God; and they were willing to risk everything to take God's message of salvation to them.
If you've never heard the story about Nate Saint, Jim Elliot, Ed McCully, Peter Fleming, and Roger Youderian its a story you should not miss.
Located in the Amazon are the Waodani (also called Aucas back then) and they were known for their hostility and killing by the spear.  They were an unreached savage tribe. These men and their families came to bring the Aucas the message of the God-Man who was speared by his enemies for their sakes. The men made peaceful contact with a few Aucas who met them on the beach. However, back amongst the tribe trouble was brewing and a lie was forged to shift blame on the foreigners on the beach which led to the spearing of the five missionaries.
Be sure to pay attention to the Auca man who rides in the plane with Nate Saint in 1956. That same man's son will show up at the end of the video with Nate's son, Steve in more recent years.

It would be understandable for the families of these martyred missionaries to end their mission and go back to the USA to pick up their lives and start over. But God had a different plan.  A plan that would change the course of history for a murderous tribe on the verge of killing each other into extinction.
If you don't see the video, click here. Be sure to watch till the end- to see how the story turned out!
What a reminder that God's way are not our ways nor can we make sense of them until we get to the end of the story He is in the process of writing now with our lives.
"Lord, make my way prosperous not that I achieve high station, but that my life be an exhibit to the value of knowing God."
Where to find more on the story.

There are books, a movie, and a documentary about these missionaries and the Waodani. I've watched the movie End of the Spear twice now and just saw for the first time the documentary Beyond the Gates of Splendor. Both of these were found in our local library. The documentary features interviews from the wives of the missionaries and the Waodani people who were involved during 1956 killing.

If you're interested in reading, there are books written by Jim Elliot's wife, Elisabeth Elliot and Nate Saint's son, Steve Saint and YouTube videos of Steve and Mincaye together in more present years.

I just ordered the first set of YWAM (Youth with a Mission) books for my boys from Amazon so my 8 year old will be reading and writing about Nate Saint this coming year in our homeschooling – among other missionaries. Find the set I bought here:  Christian Heroes Books 1-5 Gift Set <—that is my Amazon affiliate link.
"Greater love hath no man than this, that a man lay down his life for his friends."
John 15:13
**Sharing at these link-ups: WomenLivingWell .
The following two tabs change content below.
Owner/Editor
at
Hall of Fame Moms
Tracy writes about homeschooling and just about anything related to family life in Ohio here on the blog. Strong honest views will surface from time to time on topics related to truth, faith and freedom. **Check out my notebooks and Bible Memory Coloring Notebook workbooks for Adults & Teens by clicking my name.
Latest posts by Tracy Zdelar (see all)