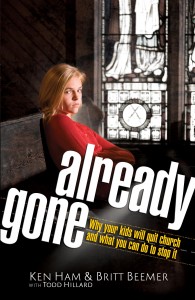 I'm just about 12 pages away from finishing the book Already Gone: Why your kids will quit church and what you can do to stop it, by Ken Ham and Britt Beemer with Todd Hillard. Its not about the music, my friends.
I really thought this book did a great job of dissecting the issue of not only WHY but WHEN young people – and you'll be surprised to learn HOW YOUNG – are disconnecting from the church through a probing survey that goes beyond the superficial.
Being a long-time active local church member of a bible-believe, teaching, discipling church myself I could have suggested some of what the results revealed without knowing the data.  However, I couldn't have known the whole picture that Ken and Britt's research revealed.  This is a book for not only Pastors and youth workers to read, but especially PARENTS. That is, parents who care about their children's spiritual lives.

I've highlighted, underlined, written notes in the margins, and circled throughout my copy of Already Gone- and I don't know how to summarize all I want to say into a concise post of few words. Here is a snippet…
 page 107-108 – A thousand young adults who had already left the church were asked if they believed that all the accounts and stories found in the bible are true and accurate.

44% said "no"…  18% said "didn't know"... and 38% "yes"

The 44% who said "no" were further asked If you don't believe all the accounts and stories in the bible are true and accurate, what made you begin to doubt the Bible?
82% of their reasons for not believing the bible were because of doubts about the authority of God's Word.
Then this group of 44% who said "no" were asked…

Does the bible contain errors?

 40% said "yes"… 30% said "they didn't know" … 30% said "no errors"
Here are the reasons (which comprise the 82%) given by the 44% who don't believe all of the bible: 11% think the bible has errors, 14% thinks science shows the world is old, 15% thinks the bible contradicts itself, 18% thinks the bible wasn't translated correctly, 24% because the bible was written by men.

Ken Ham shares his advice on how to change this within the church. Join our party to learn more! But also see my additional thoughts below…
Join us for a chance to win a copy of Already Gone and more prizes! 
Moms of Masterbooks on Twitter   Sept 27th  8pm CST/ 9pm EST
follow @masterbooks4u and our hashtag #teachthetruth
and/or join us for our first…
We'll be sharing recipes and a special discount for Devo Oil! Sign up on our Event Page to let us know you're coming!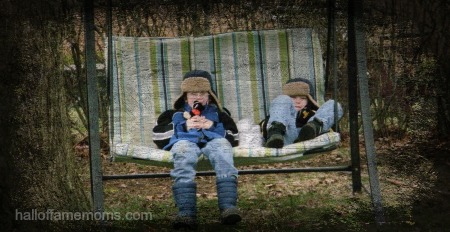 Now – here is what I want to add, personally, to the conversation. There is a deeper issue going on beyond just "not believing the bible".

What MANY Christians, in my opinion, seem to be ignorant of  (unaware? or unwilling to study out maybe?) is that the Word of God has been under attack via the modern-bible movement since the late 1800's. See this post for great video explanations of this issue.

God promised to preserve his word error-free in Psalm 12:6-7 of the KJV but if you have a modern version verse 7 in your bible may have been changed to mean something else. Check it out.

Download my free printables on some of the following issues: Whole verses have been removed, verses changed like this one that falsely claims someone else killed Goliath, the diety of Christ removed to name just a few.

Textual Criticism related to the bible, I think,  is a fancy way of saying "man knows more about what the bible should say than what God says it says".  To put man, scholars or whoever, above the Word of God is just wrong. See all my posts in this KJV Q&A Series.

Subscribe here to get my upcoming posts on this issue.

Biblical inerrancy appears to be widely accepted as pertaining only to the originals (which don't exist anymore).

How crazy is that to think that the God who inspired his pure words in the originals thousands of years ago doesn't have the power to preserve them still today!

Does that sound like the God of the Bible?

No.
I choose to believe God can and has preserved his word pure as he promised …
"The words of the Lord are pure words: as silver tried in a furnace of earth, purified seven times. Thou shalt keep them, O Lord, thou shalt preserve them from this generation for ever."
~ Psalm 12:6-7 (KJV)
I'm about to begin a study on "Alleged Discrepancies in the KJV Bible" through my church and I plan to talk about these here on my blog. If you'd like to get those posts subscribe here.
*I received a free copy of Already Gone to review. This is not a paid post and opinions are mine.
The following two tabs change content below.
Owner/Editor
at
Hall of Fame Moms
Tracy writes about homeschooling and just about anything related to family life in Ohio here on the blog. Strong honest views will surface from time to time on topics related to truth, faith and freedom. **Check out my notebooks and Bible Memory Coloring Notebook workbooks for Adults & Teens by clicking my name.
Latest posts by Tracy Zdelar (see all)