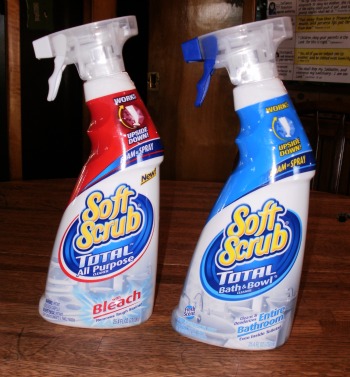 As a Purex Insider I was invited to try out Soft Scrub's Total All Purpose with Bleach and  Total Bath and Bowl. These bottles are designed to allow  you to hold it upside down so you can spray inside the rim of the toilet bowl- and it worked for me.
I also get to give away 3 full value coupons! Three of you will receive one coupon each for a full size bottle of your choice of the following: Soft Scrub Total, Soft Scrub Bleach Clean or a Soft Scrub abrasive product up to a $4.69 value.
Well, I had a particularly nasty bathtub the day I tried the Soft Scrub Total Bath and Bowl. We have hard water and soap scum is a regular problem. Soft Scrub cut right into that mess and I thought it did a great job. No pictures of my nasty tub though, that might be embarrassing.
On the side, Soft Scrub is also running a Sweepstake!

The Soft Scrub Tough & Gentle Sweepstakes is up and running. There is a $1,000 grand prize and fifty 2nd place winners will each receive $40 in gift cards. Click here to enter the Soft Scrub Tough & Gentle Sweepstakes. Go ahead and follow Soft Scrub on Facebook too!
My Giveaway
Mandatory:  To enter leave me a comment here at this post telling me whether or not you've ever used a Soft Scrub product and/ or tell me what your favorite Soft Scrub product is!
Extra:  If you'd like extra chances at winning you may come back ONCE per day AFTER your original entry and leave a comment. You can do this once per day each day.
Giveaway begins today September 11th and ends Wednesday, September 19, 2012. Three winners will be picked by random.
*I received the above pictured bottles of Soft Scrub to try out and review. Opinions are my own.