Saturday my husband and I drove a couple hours or so to the Art Institute of Pittsburgh to join a handful of other bloggers and Bottom Dollar Food for a hand's on lesson in how turn Thanksgiving leftovers into some beautiful and tasty meals – using items you'd find at the Bottom Dollar Food store.
On the menu:
Monte Cristo Sandwiches and Turkey Noodle Soup

.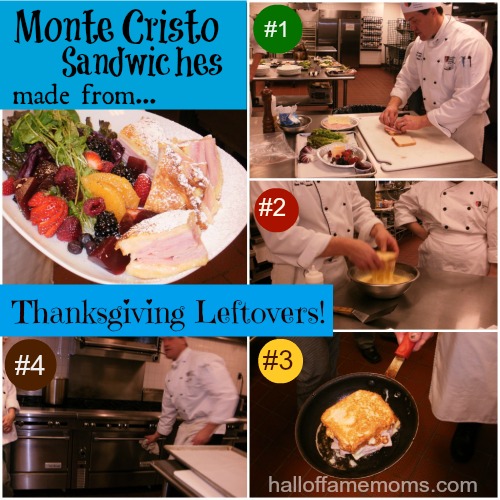 I'm happy to say that my sandwich and soup turned out delicious! Being part of a cooking class and seeing a real professional chef at work was encouraging since I'm a very visual, need-to-see it kind of person. Top that with the fact that Bottom Dollar Food has some mighty good prices and its a win-win. I first shopped at Bottom Dollar earlier this year. To my knowledge there are still only three in Ohio – in the Youngstown area. My husband and I have now been to two of those stores.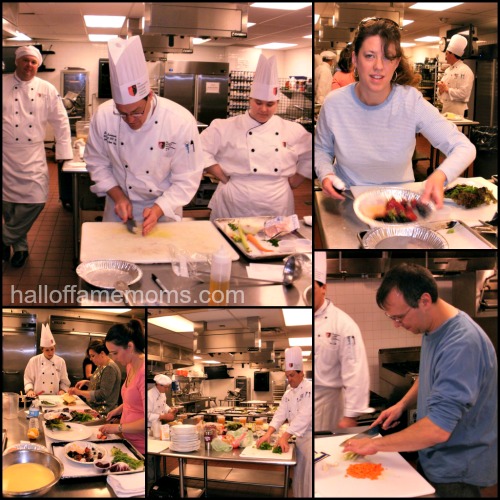 Here's the recipe/directions for the Monte Cristo Sandwiches created by Chef Scott Schmucker who led our class. See further below how to enter to win the $75 Bottom Dollar Food gift card!
………………………………………………………………………………………………………
Monte Cristo Sandwiches by Chef Scott Schmucker
6 slices    My Essentials White Sandsich Bread
3 oz.         Turkey Breast, sliced thin
3 oz.         Ham, sliced thin
6 ea.         Swiss Cheese, sliced
4 ea.         My Essentials Eggs, whole
8 oz.         My Essentials Milk
1/4 tsp.    Salt
2 oz.         My Essentials Vegetable Oil
1/4 cup    Powdered Sugar
6 oz.         My Essentials Cranberry Sauce
3 ea.         Lettuce leaves to hold cranberry sauce
1.  Preheat oven to 350 degrees, place one piece of swiss cheese on one slice of bread, top with ham and turkey, then top with other slice of cheese and bread.
2.  In small bowl, thoroughly mix egg batter (eggs, milk, seasoning).
3.  Place saute pan or cast iron skillet over medium heat and add half of vegetable oil. While holding sandwich together, dip into egg batter and soak bread on both sides. Place onto heated saute pan or skillet. Cook until golden brown (as you would French Toast). Turn sandwich over and repeat on second side.
4.  Place sandwich on a parchment paper lined cooking sheet and place inside a preheated oven. Bake 8-10 minutes or until heated throughout.
5.  Place on cutting board, cut into triangles or however you like. Lightly dust with powdered sugar. Garnish with lettuce and cranberry sauce.
…………………………………………………………………………………………………………..
We just shopped at the Mahoning store in Youngstown and we like it! Be sure to sign up for their customer card (free) as it gets you the cheaper prices on some items. There are three stores in Youngstown, Ohio and more in Pennsylvania, Virginia, Maryland, and New Jersey. Use this store locator to find the closest Bottom Dollar to you.
Giveaway begins tonight and ends 11/24 at 12:01am EST. Winner to picked randomly and will be emailed.
*Bottom Dollar has provided this prize for this giveaway. I did receive a gift card for my involvement in this promotion and my opinions are my own.