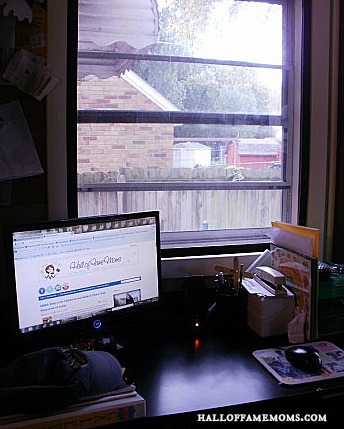 Linda was kind enough to share her experience with us today! Enjoy her post. Additionally there will be a sponsored link in the post. You can read my disclosure linked above. 
As you read Linda's story you may wonder about some of the services you most likely will need in order to conduct a home based business.  Most likely you will need not only cellphone service but access to the internet.  Depending on your area there may be many options or not many at all. Be sure to check out the att internet plans during your search. Depending on your needs and area a high speed option may be most beneficial. You may want to grab a notebook and pen and make notes as you read this post.
From Linda:
If you're reading this post you're probably looking for a way to work from home. I'm sure your reasons, like mine, vary. I wanted to be my own boss. I wanted to stay at home with my kids. I am a homebody and struggled with relationships in the workplace. I wanted more flexibility than a 9-5 job offered. Let me tell you the path I took to make my dream of working at home a reality.
Brainstorming
I made a list of things I was good at or enjoyed doing that might yield a viable business. Crafts, home parties, sales, customer service, diaper service. I knew the "traditional " income avenues were not going to work for me. I finally settled on what I'd been doing for 15 years and was good at – administrative assistance. I had been making a living at some form of administrative work which covered the gamut from filing to office management. Once I figured out what I was good at, I moved on to the next step.
Research
My quest to work at home began in the late 90s when the internet for the general public was still fairly new. Information and the ease of finding that content were more difficult than it is today. I discovered forums moderated and visited by people who had their own administrative businesses. Some were new and some I would learn along the way had been doing this kind of work from home for more than 20 years. I had no idea. So I read those forums with a thirst I'd never experienced. There was a ton of information to be had. I learned about marketing, outsourcing, how to charge, what kind of services worked, how to choose a name and so much more.
Logistics
Before I could go any further I needed to "open" my business. I chose a name, decided I would be a sole proprietor and registered it with my Secretary of State. Each state has different requirements regarding how to open and operate, whether to charge sales tax for service businesses, etc. I had many decisions to make: What services to offer? How much should I charge and what form of payment would I accept? I needed to secure the proper office equipment, organize a space at home to do the work and set up dedicated phone and fax lines. A friend in the printing business printed brochures, business cards, letterhead and envelopes.
Marketing
Once I was open I needed some clients. Going back to my research I remembered different strategies to approach potential clients. One option was mass email to individual business owners or companies who could use my services. Another option was to hand out flyers door-to-door, mail letters, and hope for word of mouth advertising. One option I chose was to advertise in the yellow pages. In the early 90s, that was still an effective way to market. I no longer advertise that way due to the fact that I live in a rural area and it's simply not practical or effective.
I also contracted with a website developer. It was probably my largest expense but it has paid for itself. However, I haven't kept it updated, primarily because website design and content management isn't something I enjoy and don't depend on, right now, to generate much business. I would like to refresh the design now and implement better SEO strategies so I'm found more easily.
I also wrote letters to other similar businesses presenting them the option of considering me when outsourcing. Not long after I got started, someone called me who had been in the same business for more than 20 years. I hadn't sent her a letter but she had gotten my information from someone who had and wanted to know if I was interested in some overflow work. I did have to go to her home office to do some typing to prove myself, but we signed an agreement and I worked with her for about 10 years until she retired and I bought her clients.
Bartering is also coming back into style. If you can find a website designer who needs your services, maybe they could design your website.
And Now
That was about 13 years ago. I'm still in business. I take a wide-variety of jobs depending on what becomes available. I'll do a lot of transcription for a while and then something else will come along. Currently, I have three bookkeeping clients that keep me busy 40 hours a week. This puts me in the odd position of sometimes having my own overflow work load. So now it's my turn to help others seeking to work at home. For instance, when I get some transcription work, I will call on my excellent transcriptionist sub-contractors. This gives them work, I still get some money for facilitating the work and I don't go over my self-imposed limit of 40 hours per week.
I hope this helps as you look toward your own future of having a home business. It is a lot of work to set up your home office, market your skills and start building client relationships. Patience and diligence are needed. You can be successful at your work and be in keeping with your desired work life balance.
Linda is the owner of Quality Office Assistance.  Linda is mom of 3 and wife of 1. You can find her personal blog at hangingbyfingernails.blogspot.com.
Save
Save
Save
The following two tabs change content below.
Owner/Editor
at
Hall of Fame Moms
Tracy writes about homeschooling and just about anything related to family life in Ohio here on the blog. Strong honest views will surface from time to time on topics related to truth, faith and freedom. **Check out my notebooks and Bible Memory Coloring Notebook workbooks for Adults & Teens by clicking my name.
Latest posts by Tracy Zdelar (see all)