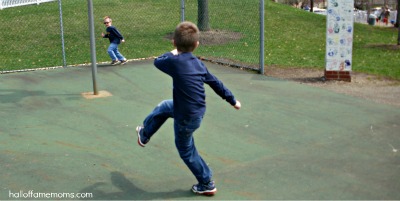 Last year we had our boys participate in the Pizza Hut Book-IT program. Kids in K-6th grade receive coupons for free Personal Pan Pizzas as a reading incentive reward. This program can also help homeschooling moms like me get motivated to come up with a specific reading challenge for each child. I just signed the boys up for next year. Go here to sign up too.
*Also, some Pizza Huts offer "kid's eat free & make their own personal pan pizzas" certain nights. You can do this during the summer before your Book-ITS arrive 🙂 .
Free summer bowling for kids through the AMF Summer Unplugged program! Kids can bowl up to two games per day, everyday free (shoe rental not included).  ALSO,  parents, you can purchase an AMF Summer Pass for just $34.95 and includes two games per day for you and up to three guests ages 16 and up.  Go here to sign up.
Find a listing of places offering FREE Summer Movie viewing here.
Summer 2013  Reward Challenges:
Chuck E. Cheese – kids earn 10 Free Tokens for things like reading, doing chores, eating good etc..  You print off the calendar that applies to your child's goals and bring it in to redeem. NOTE: See example here, bottom says food purchase is required and no more than one 10 free token redemption per child, per day is allowed.
Scholastic – kids can earn digital rewards by tracking their reading time.  Schools can win as well. Looks like there are some prizes and a sweepstakes too.
 Pottery Barn and Barnes & Noble also have reading programs this summer. Thanks to Centsible Family for sharing.
Stark County Library's Summer Contests
Summer Reading Challenge: Exercise Your Mind. Pledge to read one to 100 books this summer and win prizes for meeting the Challenge. Track your reading using the new online reading record. Go here for more info.
Photo Contests:  June 3- July 27th, all Ages can enter original photos at one or more of the participating locations. Entry forms with rules, guidelines available here or at the library. Photos will be displayed at Photo Shows at the branches you select on the entry form. Pick up or read the Stark Scene for details here – and be sure to check out all the free programs happening at your favorite local Stark County library.