Welcome to Part 2 of Our Sandusky Trip. Sandusky is known in part for attractions like Cedar Point, Castaway Bay, Great Wolf Lodge, Kalahari and now the NEW Maui Sands Resort. We spent our two nights at Maui Sands, our first time there! Disclosure: We were provided free stay in exchange for my honest review. Opinions are my own.
About the pictures below. Maui Sands offers a complimentary hot and cold breakfast bar. We weren't expecting that so it was a nice surprise! Guests enjoyed warm biscuits with sausage gravy, scrambled eggs, sausage, french toast, potatoes, coffee, juice, cereal, toaster items, and more.
At night, kids are offered story and craft time. I'm not sure if this is every night or just particular nights.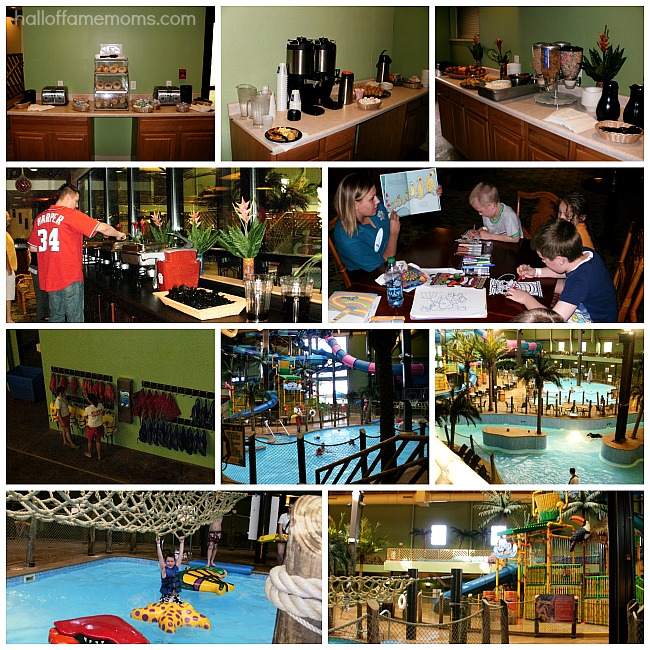 In addition to the photos I have some video. That's where you'll get a peek at what our suite looked like from bathroom, the bunks to the King-sized bed. I typically have a hard time sleeping in hotels. I'm not sure why that is beyond the fact I have a finicky neck so my pillow has to be "just right"…even at home. But I can tell you that I slept so good at Maui Sands. I still had the neck issues, but the bed was so roomy and supportive. I truly was not looking forward to leaving after the second night 😉 .
There is an upper deck of seats in the waterpark for lounging, a lazy river, basketball hoops and a swirl pool, hot tub, lots of life jackets, numerous life guards, water slides, a kiddie pool with slide and the Maka Maka Treehouse. I'll share a link at the end of this post to further description of these attractions.
See videos 1 & 2 below and further down I'll share how we saved money on meals during this trip.
Video #1: Our Suite

Video #2: The Waterpark

Saving money on meals.
Knowing there was a small fridge and a microwave, which is typical for the indoor waterparks we've visited, we planned to utilize them more on this trip. We don't often take a two night review trip.
Note: I called ahead asking if we could bring an electric skillet and was told no cooking is allowed. To save money on food we packed items we could easily warm up and eat in our room along with fruit we could keep in the fridge. Some of those items were frozen chicken patties, Lean Pockets, Lunchables, peaches, grapefruit, cookies, cut-up fresh broccoli, peppers and carrots.
I also brought our own water bottles so we could carry drinks on the go.  Below you'll see I  put a towel on the floor for the boys to sit and eat.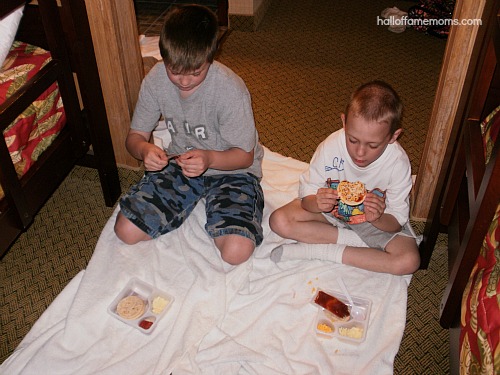 From Friday to Sunday evening we only ate/bought two of our family's meal at restaurants! That's a big deal for us. We usually eat out for convenience. This trip we only ate at one restaurant on Saturday since we were on Put 'n Bay and one meal on Sunday after all or our other review assignments were done. Which brings me to another important consideration for saving money on food while traveling. Sharing your meals.
Yes, it sounds "cheap". But if you're like me, how many times can you not finish a restaurant meal? We had a $15 off coupon for Red Lobster and knowing we had a long drive home, plus some of us in the family do not finish our meals we decided to have the boys share a meal and my husband and I shared and it was a good thing. I really stuffed myself eating what I did and we had no leftovers. Best yet, with the coupon our total (before tip) was under $10!
Visit Maui Sands Resort for more information on the waterpark attractions here and view accommodations here.
What are your tips for saving money on meals while traveling?
………………………………………………..
You can subscribe here to follow along with this series.
Part 1:   Planning your trip with Lake Erie Shores &  Islands
Part 2:  Maui Sands Resort &  How we saved money on meals.
Part 3:  Miller's Ferry to Put 'n Bay
Part 4:  African Safari Wildlife Park
Part 5:  Edison's Birthplace and the Milan Historical Museums
 *Maui Sands provided us our suite for free in exchange for my review. Opinions are my own.
The following two tabs change content below.
Owner/Editor
at
Hall of Fame Moms
Tracy writes about homeschooling and just about anything related to family life in Ohio here on the blog. Strong honest views will surface from time to time on topics related to truth, faith and freedom. **Check out my notebooks and Bible Memory Coloring Notebook workbooks for Adults & Teens by clicking my name.
Latest posts by Tracy Zdelar (see all)