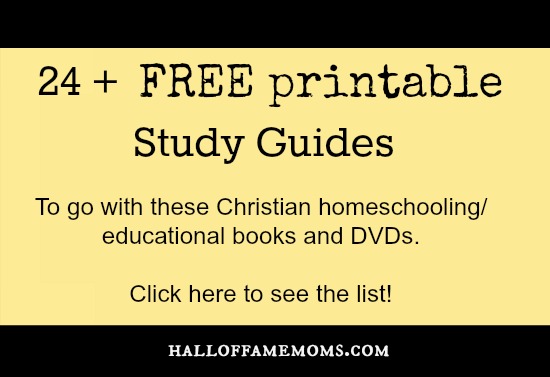 24+ Study Guides you can download and print for free!
You may want to use these free resources in your homeschooling even if you don't have the books or dvds. However, if  you want to purchase the books or dvds, you can look for them on New Leaf's website or access them through the Amazon links I will provide.  I am using my affiliate links in this post.  
And one more noteworthy comment, sign up for Swagbucks here. It's free, it's a search engine and when you do your searches (and there are other ways to earn as well) you earn Swagbucks (points) which you can redeem for Amazon gift card codes among other things. Swagbucks' Amazon prizes save me lots of money.

FREE Printable Guides
—>  So, you'll find the free printable study guides here. <—  They are meant to go with the following lists of books and dvds listed below,  found at New Leaf Publishing's website. These products are listed on Amazon too and I have linked the images below using my affiliate link.
You can click through the images to learn more about the products and find out which ones are available for rent as well as purchase; some prices on Amazon may be cheaper or offer free shipping.
Awesome Science series including:
Wonders of Creation
Champions
By Design
Big Books
Many other miscellaneous FREE study guides including are also offered including:

Adams' Chart or Map of History (Author lived in the 1800's and is a descendant of Pres. John Adams)

*Affiliate links are in this post. My disclosure policy is here.  Sharing at these link-ups:  Homeschooling on the Cheap,