Have you had enough "summer" yet to go out and splurge on your favorite freezy indulgence? Summer is the perfect time for ice cream, pop sicles, fudge sickles, ice cream sandwiches, – whatever you love that's icey cold.
I received full value coupons to pick up a variety of freezy treats from Unilever:  Good Humor, Pop Sicles, Klondike, Magnum, and Fruttare for my family to try out. This is not a paid post and opinions are my own. The kids have been working on the Pop Sickles and Klondikes, did you know there are 11 varieties of Klondike?
Want to know what my overall favorite treats ended up being?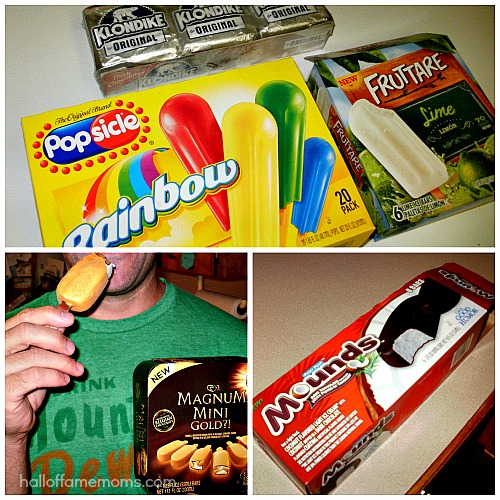 Right off the bat I'll tell you the Magnum Mini Golds (which come in a larger size too) and the  Mounds were my favorites. I love the hint of coconut in those Mounds ice cream bars. Next up would be the Fruttare Lime sickles. So refreshing – just writing about them has driven me to want to go grab one out of the freezer. For real. Be back in a minute! …
So, yeah.  um, Yum 🙂   And I may or may not have kept the Magnum Mini Golds sort of secret from the kids.
Do you have a favorite summer freezer treat?
The updated scoop I was given on Unilever's frozen goodies:
The new Fruttare product line includes two types of frozen fruit bars: Fruttare Fruit and Milk Bars – the first nationally available line of its kind – and Fruttare Fruit and Juice Bars. Fruttare Fruit and Milk Bars, which are made with real fruit and creamy milk, are available in Strawberry and Milk, Coconut and Milk, Banana and Milk and Peach and Milk varieties, and the refreshing Fruttare Fruit and Juice Bars are available in Strawberry, Mango, Lime and Orange varieties.
MAGNUM  is debuting MAGNUM Gold and MAGNUM Mini Double Caramel. MAGNUM Gold, the world's first golden

ice

cream

bar and a uniquely indulgent treat that is truly as good as gold. Featuring silky vanilla bean

ice

cream

swirled with sea salt caramel and dipped in a golden coating made with Belgian milk chocolate, these treats are sure to unlock life's greatest pleasures.
Good Humor is getting in the holiday spirit with the introduction of the REESE'S Peanut Butter pumpkin-shaped

ice

cream

. The brand is also taking a twist on its classic

ice

cream

bars with the introduction of the new Good Humor Birthday Cake bar, featuring vanilla cake flavored

ice

cream

surrounded by light vanilla

ice

cream

and coated with cake crunch.
Continuing its new Yosicle line of products, Popsicle is delivering yet another unexpected combination with Yosicle Swirlz! – featuring creamy swirls of Chocolate & Vanilla and Strawberry-Red Raspberry and Strawberry-Banana. Popsicle is also partnering with the bright and cheerful Hello Kitty brand to create new Popsicle Hello Kitty Fun Bunch

ice

pops.
Klondike brings plenty of nostalgia and variety to every man's freezer with 11 varieties of classic stickless

ice

cream

bars, 4 delicious flavors of

ice

cream

sandwiches, and Choco Taco treats.
*I received free full value coupons to try these treats. I did not have to post a favorable review and opinions are my own.