Cheap. Frugal. They can mean the same thing and sometimes they don't. I consider myself very frugal and sometimes cheap.
There's nothing wrong with that, right?
Like, I want to wear good quality clothes but I don't want to pay designer retail prices. For example,  $30 (the ONSALE price) for J.Lo jean shorts. Nothing wrong with spending that if you have the cash and need them.
Now. If I can buy those modest, and they were very modest, J.Lo jean shorts for $10 – COUNT ME IN! I'm frugal like that. But it would take something special for me to spend $30 on them.
Here are five cheap ways I'm getting by at home.
Using a Stapler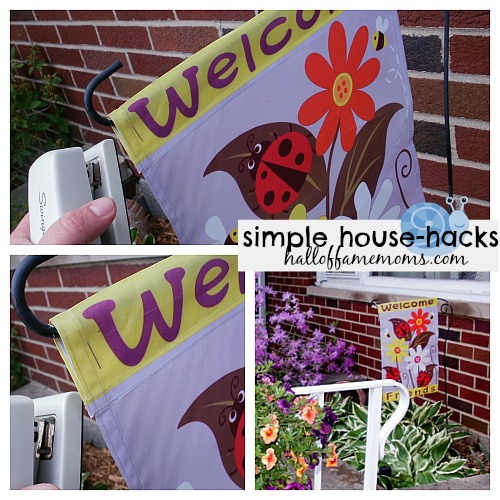 I have one of those cutesy yard banners.  Doesn't it look pretty? It just doesn't like to stay-put on the wire hanger properly when the wind blows just so.
So I stapled it!
So far, so good.
That weird curtain-hook-thingy.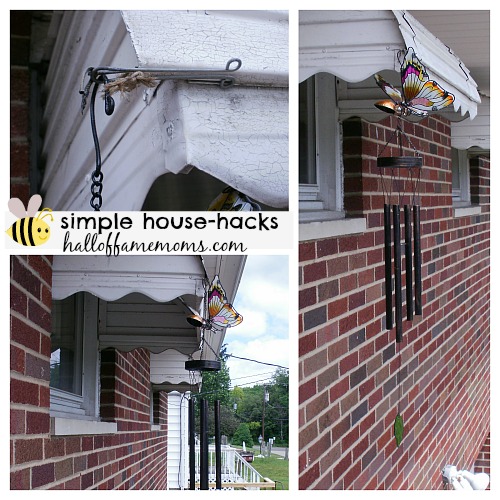 I think it's the kind that you hang really serious drapes with.
Yeah, I don't use any of those. In fact, I don't use drapes at all, mainly just valances. So years ago I found I had this thing and I slid it into a crevice of the awning and it's been holding my chimes in place for years. I just bought this new chime this spring with a gift card from my Classical Conversations homeschool class that I tutored.  Isn't it pretty 🙂  .
Thanks, girls (and their mommas).
The wonder of twine and string…and my stapler again.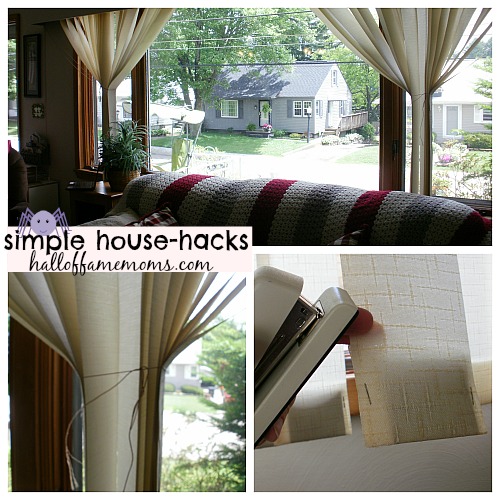 We've lived in our house 12 years and been using the same huge window blind you see here. There is a matching smaller one on the smaller window in the same room. Who knows how long the blinds were put there before we moved in. The big one needs to be replaced but they ain't cheap, necessarily. We aren't ready to replace it yet and I honestly like the way the window looks when I pull the blinds into two pillars as picture. To pull this off (excuse the pun) I use the attached pull-string on one end and some twine on the other. Voila!
Also, to keep the weights at the bottom of the blinds in place I've had to find a way to reattach the blind. Cue in the stapler! 'nuff said.
Cheap sturdy metal decorator wall hanging rack or hook thingys.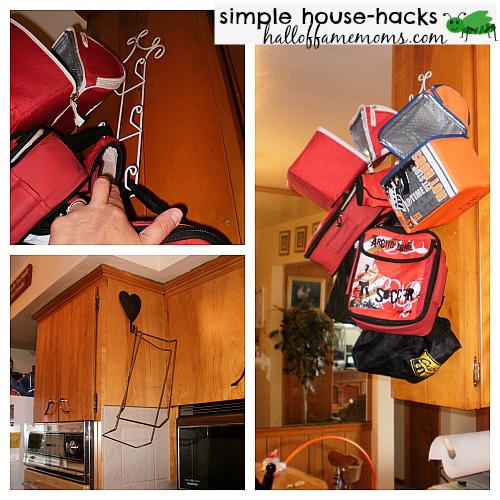 For years these two hook things have been working for me in the kitchen. That white one came with small decorator plates bought from a craft store, I believe. I found it to be a great lunchbox holder. The heart in the other picture, may have been bought a garage sale or flea market, holds my pizza stone racks.
The humble tack.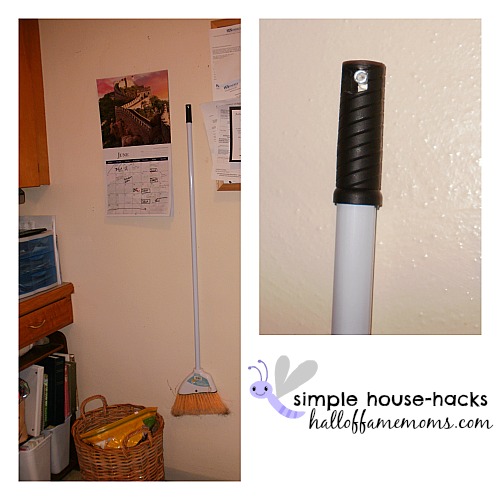 Who knew.
My husband came up with this little diddy. Stick a tack in the wall and hang that broom.
It works for us as it keeps the broom from falling left and right and getting in the way.
It's your turn!
Seriously.
If you have a favorite house-hack I'm inviting you to share in the comments.
It might just be helpful to me and another reader. Don't keep it to yourself!
I might just share it with my readers on my Facebook page here.