Winner info:  Congratulations to Tiffany who won the book!
Summer will officially be here in a day or two, but it's already summer to me! Can I confess though that I feel like summer is almost over too? Time just moves so fast. Before we know it we'll back-to-school.
But, hold that thought. Summer is just beginning; and, then there's fall!
I've got a special giveaway for such a time as this and I received a copy for myself (retail value $18.95) to review (opinions are my own) and the girls are giving a copy to one of you! Let me tell you about it.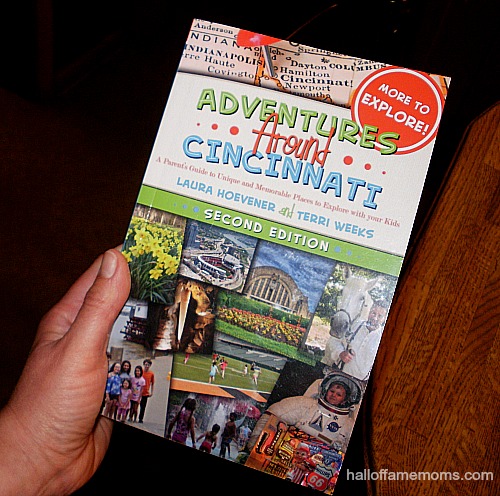 This 300+ page soft cover book is called Adventures Around Cincinnati: A Parent's Guide to Unique and Memorable Places to Explore with your Kids by Laura Hoevener and Terri Weeks. After reviewing it I feel like it's an awesome resource for families who want to visit the southern part of Ohio in and around Cincinnati. This is their updated second edition and it's also available for sale on (my affiliate link –>)  Amazon here.
There are three parts covering information from "creating memories with your family"  to attractions divided up between four geographical areas that are part of the Cinci and greater Cincinnati area.
There's also a section on help for planning your trip.
In the back of the book you'll find sample itineraries for summer and year-round as well as resource lists for things like parks, playgrounds and u-pick farms and more! There's a list of fall-time specific places to visit as well as for  Christmas-time.
And then, a great chart (spreadsheet-like) marking what to expect as different places…things like if hiking is available or if it's geared to preschoolers.
Adventures Around Cincinnati is a great resource book to have in your family-fun arsenal!
I really appreciate this beautiful and easy-to-read guide and I appreciate that it is for Cincinnati: an area our family has not spent a lot of time in… yet. In fact, we may yet get down that way. This summer I'm hoping to visit one or both of the free fossil digging parks in Ohio. One is in Sylvania near Toledo and the other is in the Cincinnati area.
Enter to win!
Just leave a comment below for a chance to win a copy of this great book for yourself!
**Then, come back each day thereafter and leave me one more comment to increase  your chances! (ONE COMMENT per day accepted).**
Giveaway begins tonight June 18th and ends this Sunday June 29th at 11:59 pm EST!
Follow Adventures in Cincinnati on Facebook and visit their website.