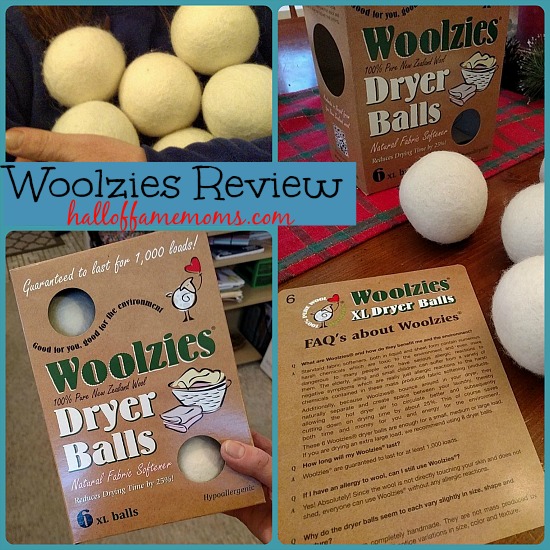 I am using my affiliate links in this post.
After reading some postings on Facebook about using wool dryer balls in place of dryer sheets I decided to try it myself. A friend of mine actually makes her own. I'm not sure which method she uses (there is more than one method to this and you'll find many posts on Pinterest). I think she did mention it's as simple as buying a wool sweater at the thrift store and some wool yarn, possibly a nylon stocking also.
However, I weighed the idea of how much all that could cost (throw in the learning curve and time to make them) and when I saw another review about Woolzies and that they were on sale on Amazon at that time… well, I took the easy way! I even had a few bucks of Amazon credit from something to use so I got my box of six XL Woolzie dryer balls for a good price.
About Woolzies, what the box says:
Guaranteed to last 1,000 loads
100% Pure New Zealand Wool handmade in Nepal and 100% eco-friendly
Reduces Drying Time by 25%
Hypoallergenic , Good for you, good for the environment
Softens naturally, helps eliminate wrinkles, helps reduce static
(SAYS) Noise Free (but I can hear them bounce around in the dryer. I don't mind it.)
100% safe for people with wool sensitivities
No chemicals
The more balls you use in the dryer the better your results will tend to be.
Inside the box I received an information card with some FAQs about Woolzies and some other tips. Two of the tips I haven't tried yet, but probably will eventually. Here they are…
After your laundry drys, take out two of the six balls and put a few drops of your favorite essential oil on them and toss back into dryer with the other four balls. Run your load on an air-fluff setting (no heat) for 10 minutes to make you clothes smell wonderful.
To reduce static further, crumple up a sheet of aluminum foil into a ball about the size of your Woolzie ball and toss it in with the other six Woolzie dryer balls when drying your load.
Below I share more of my Woolzies dryer ball review along with a couple pictures of my loads: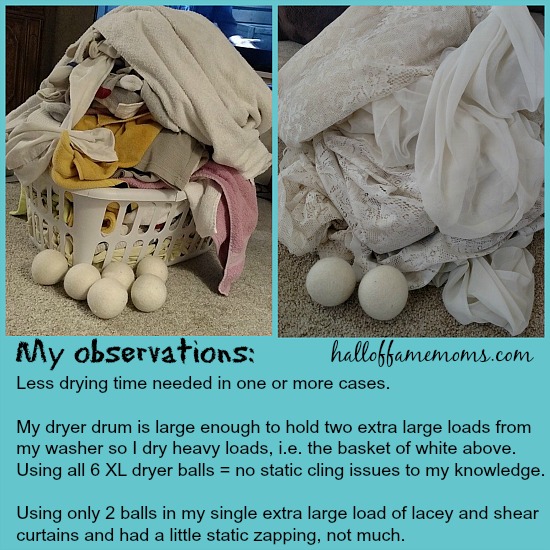 I love that I'm using no chemicals and that is better for us.
I love that my loads are drying quicker; because, I really make my machines work hard with large loads.
I love not having to rely on traditional dryer sheets!
As I'm writing this review I see that Amazon has Woolzies XL Dryer Balls (6 pack) is on sale.
On a side note, because I do share work-at-home ideas for mom on my blog, I think this would be a great product to use in your at-home laundry business. I'm specifically thinking of those of you who have found this post: 6 Steps to Starting Your Own Laundry Business of great interest.
Here's my homemade laundry soap recipe and you can watch me make laundry soap here.
Save
The following two tabs change content below.
Owner/Editor
at
Hall of Fame Moms
Tracy writes about homeschooling and just about anything related to family life in Ohio here on the blog. Strong honest views will surface from time to time on topics related to truth, faith and freedom. **Check out my notebooks and Bible Memory Coloring Notebook workbooks for Adults & Teens by clicking my name.
Latest posts by Tracy Zdelar (see all)