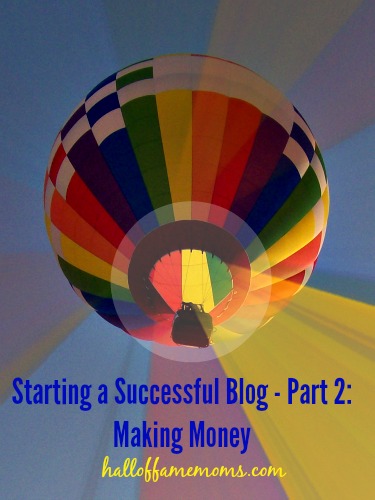 So I was asked to hurry up and get to this part: Part 2 of Starting a Successful Blog is about ways  of making money by blogging. I'll go into the other perks blogging offers  in the next post or two.
Are you taking notes? Get out your notebook if so, I got a lot of stuff to share with you.
If you are just coming across this series for the first time you may want to see the posts that lay down some basics.
I mentioned yesterday I consider my blog a success though I don't make a full-time income from it and I shared a little about why it's not full-time. Everybody's life differs in one way or another. Every blogger is different and it's okay not to be the same or have all the same results.
It's okay not to be a BIG-time blogger. You can still be successful! There is a lot of competition out there, but priorities are priorities.  Some things just have to take a backseat to what I'd like to see happen with my blog because my family has to be more important.
*****
How I define "success" for my own blog.
My husband is the main provider in our home, but we still need some part-time income from me. Free products, free admission and overnight stays for family-fun as well as some part-time income are provided via my blogging. In addition, I'm able to share about things that I feel are important to share, like matters of faith and free or awesome homeschooling resources. This makes my blog a success for our family.
Today I'll talk about ways to make money with your blog. I'll talk about getting free products and free admission for family fun in later posts.
Before I do that, however, you need to understand that you need an audience.
This is what you have to offer to the companies that you want to work with. You are seen as a media publisher, you are a form of "the Press". They want to get their products in front of your viewers. If you don't have a blog but have a large social media following you may be able to get some companies to work with you anyways. However, not having a blog will in most cases I think limit how many different streams of income you'll have at your disposal.
But, let's assume you've been blogging for awhile.
You've been putting yourself out there, you have an audience of like-minded people who like what you like and listen to your advice. You want to start making some money, if possible. What are your money-making options? Here are five that come to my mind and four of them have worked for me from time to time over the years:
private ads
ad networks
e-product creation
affiliate marketing
campaign work/ sponsored posts
Private Ads & Ad Units
The great thing about ads is that you put the ad up and make passive income. An example of a "private ad" would be somebody (small or big company or individual) paying you a certain amount of money (say $25/ month) to purchase a space on your blog (commonly in your sidebar space or somewhere above the header or at the footer) where they get to advertise their business, service, product or cause for a determined period of time. **There is a formula for figuring out how much you should charge an advertiser based on your traffic. I don't know that formula off-hand, but you can search for it online.
The other kind of ad I'm addressing is an "ad network". They are the go between the blogger and the brands. They pay you so much per impression so this is where your readership really counts. The more traffic you have the better money you make.
The downside to ad units like this is you don't always have control of what companies get advertised in that unit (you may get some inappropriate ads showing up). When you hit "payout" the ad company pays you. The only ad company I work with right now is Meridian (which use to be Sovrn, which use to be Federated Media, which was Lijit back when I signed up 😉 ).  There are a number of "ad unit" type companies. Do your homework to see which you like. I've had a number of them reach out to me over the years, but I didn't want to take the time to really test them out. I'm content with the one I'm working with for now.
Google Adsense is a good one to look into also. I use to work with them but they gave me the boot without a clear reason why and didn't pay me. When I tried to appeal I was told something like there was no second chance, however another blog-friend of mine says there is a way to get a second chance. I guess you have to know who to talk to.
E-product Creation
This is one thing I don't do: create ebooks and other electronic products such as e-courses to sell. A lot of people do do this though. I just don't have any reasons to do it right now.
Moving right along…
Affiliate Marketing
This is the big one. If there's anything you should do it's sign up with some affiliate companies, such as Amazon.com. In fact, if you had to choose just one, I'd say go with Amazon, here's why: generally speaking, Amazon sells practically everything. Everything you use in your day to day life that you might want to talk about on your blog you have a good chance of finding on Amazon, or at least something close to it.
For example, the other day I wanted to share about the really cute practical cosmetic cases I bought at Walmart to house and carry my Young Living Essential Oils in. Even though I couldn't find the set or the brand or really any set quite like it on Amazon, I found a lot of cosmetic case sets and some really cute ones that I wanted to share with my readers. I used my affiliate links to link to those sets and got images off Amazon to share on my blog. You can see that post here.
Now when someone clicks through my links and decides to buy something I stand a chance of getting credit for sending them to Amazon and I may make a little money, very little. But it all adds up and eventually I'll have a payday.
***Please take note that there is something you need to be aware of in America and it's called the FTC (Federal Trade Commission) and they say you have to disclose that you have affiliate links in your post or if you got something free for sharing about it online and as I understand it, they want that disclosure to happen before the readers comes to your affiliate link in your post.

Also, pay attention to the Terms of any affiliate program you sign up for. If you screw up, like I apparently did with Google Adsense, you could get shut down without pay, as happened to me years ago. Again, I don't know what I did wrong, if anything, but in Google's world it seems I did.
Campaign work/ Sponsored Posts
Often a big-name Brand will want to work with bloggers to get word out about a new product or service. Big brands may use PR firms to find bloggers who they think will meet their goals. I've worked with a number of PR in the name of big Brands.
There are also some "mom blog" PR companies who do this like Mom Central, BSM Media, Business2Blogger , Child's Play and Clever Girls Collective, to name a few.  You go to their website and sign up and then apply for the blog jobs that come up. Keep in mind, there are lots of bloggers now and competition can be steep. I don't get all the jobs I apply for and I'm choosey about the ones I apply for. Jobs can range from writing a post on your blog and sharing it on social media with payment being in the form of  a paycheck or gift code (like for Amazon) or you may get free products to review and no pay. I'll talk more about product reviews in one of my upcoming posts.
I use to work with IZEA and its brands. Look up Social Spark, IZEA, and PayPerPost online to see if any of those programs still exist and if you feel they may work for you.
Many, many times I've been contacted by "outside" sources to write a sponsored post. Be careful about this. Often, it's not a source I'm familiar with and I don't want to take the chance of writing a post and promoting it only to find out I've been scammed.  I have turned some down, but I've several, maybe many, that were legit. It's a nice way to make some money. Just beware, Some of these sources may ask you to do things that could get you out of favor with Google or the FTC. Good, reputable sources will expect you to stay in good standing with the "online-authorities".
Before you decide this blogging stuff ain't worth it! let me assure you that blogging can be very rewarding. There are many decent companies out there who want to work with moms and dads. Give this some time. I didn't learn all of this in one day or one week! I'm giving YOU a lot of info, that way as things crop up, and they will the longer you work at this… you will at least have had some seed of awareness in the back of your mind that makes you go… hmmm, I remember reading about this from someone… Oh, yeah, Tracy told me!!
[Okay, well, by then you may have forgotten I exist but that's not the point.]
Keep in mind also that "the rules of the game change"… alot it seems. It's good to get into a group of fellow bloggers wherein a couple members have their fingers on the pulse of the ever changing algorithms and rules of online sharing, particularly where Facebook and Google take preeminence.
In closing out my post on "making money blogging" I'd like to share a few resources below so you can go further into this topic.  So, two parts down… I'm moving right along. I'll talk about free products and other blogging perks in the next post or two. You can keep up with my updates on Facebook and by subscribing by email here.
A few additional resources on Affiliate Marketing opportunities
Problogger: 10 Popular Affiliate Programs for Small and Medium Blogs<–this is an older list.
Mashable: 4 Steps to Monetize Your Blog
MonetizePros: A List of Direct Affiliate Programs <–Be sure to scroll down to see more than one list.
The following two tabs change content below.
Owner/Editor
at
Hall of Fame Moms
Tracy writes about homeschooling and just about anything related to family life in Ohio here on the blog. Strong honest views will surface from time to time on topics related to truth, faith and freedom. **Check out my notebooks and Bible Memory Coloring Notebook workbooks for Adults & Teens by clicking my name.
Latest posts by Tracy Zdelar (see all)