The past week has found me hard at work on a mission to create a homeschool planner like none I've made before. I've tried different things in the world of "planners" to help me stay organized in life but I just don't follow through with using them. This time, it's different. I made a laminated homeschool planner.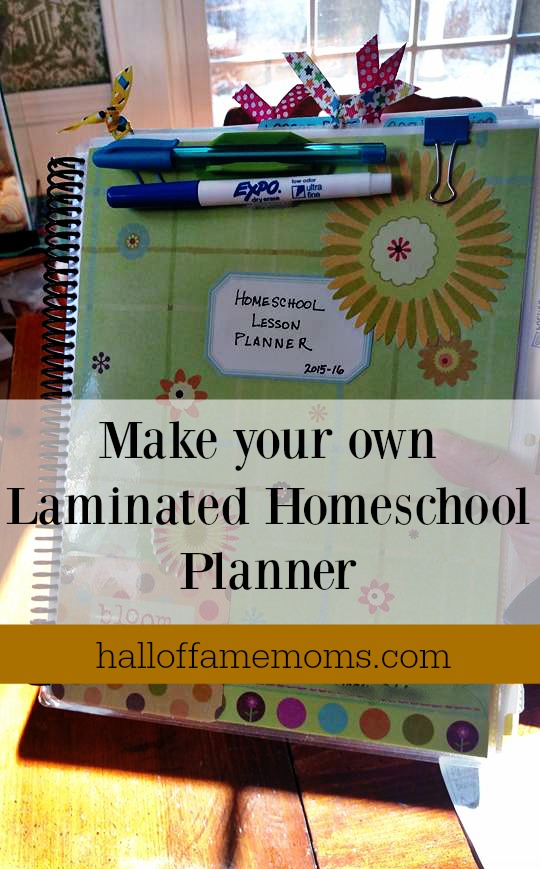 I am using my affiliate links to show you items I used or that are similar.
How to make a laminated homeschool planner.
Never before have I made one quite like this! I laminated my own pages and had an office supply store coil bound it for me. I picked out every single page and element that went into my planner from what I had at home to free printables I found online. I think the most time consuming factor for my picky-little-self was picking out the forms and putting them into an order that works for my brain. I love free printables!
I designed my own covers and divider pages, laminated them (using these sheets and this laminator), reused some items I had at home, did my own printing (of course) and I'm using repositionable tabs (like these) and velcro (that I had at home).  I took the finished product to Office Max and paid them less than $3 (I had a discount) to coil bound it! Even if I hadn't had a discount I would have only paid about $3.49 plus tax, no biggie! Now I'm thinking about other things I can find an excuse to coil-bound 😉

Watch my video below as I go through how I made my laminated homeschool planner using free printables among other things. Below the video I will share the links to where I found my free printables and to some other sources I think you may like. If you don't want to make your own planner you may love one of these homeschool planners!
You can also use a notebook binder for a homeschool planner.
The free printables I used came from two sources:  Tina's Dynamic Homeschool Plus where she shares 7 steps to creating your own planner. She has lots of free planner printables here from covers to forms -AND, her wise comments about making a coil bound planner are worth taking the time to read. It was for me anyways and I'm sure it would be good for a lot of you to read as well.
I opted to created my own cover with scrapbooking materials and to laminate it myself, but you can get a simple one to print from her. (You can pay the office supply store to add a cover for you if you want).
My Quarterly Academic Goals and and Student Goals free printables came from Living Well, Spending Less.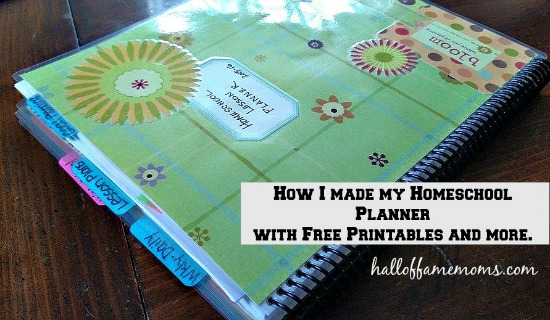 I have other links to free printables here and I am wanting to go through this massive-looking homeschool planning list later. Check out these free printables for middle and high school homeschool planning to add some color to your planner.
Got a question or something to say? Tell me in the comments below! If this looks like too much work you may be interested in one of these homeschool planners.