Wow, almost no posts since July 3rd?! While I didn't intend to be MIA that long, I've been busy being who I am first… a wife, a homemaker, a mom. I thought I'd take some time to show you what I've been up. I'm kind of excited about all the home-projects I've been working on because the changes I'm making are REALLY working out for me! Here's a peek into what I've been busy with lately.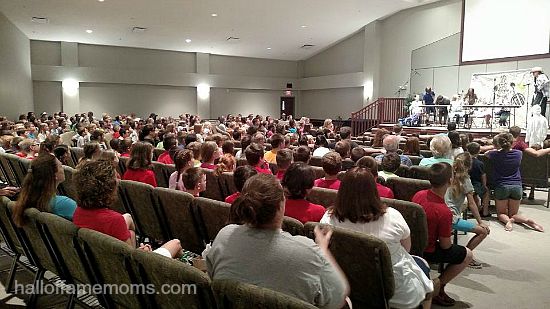 The boys had VBS (Vacation Bible School) and I've been busy with home-projects, mainly, reorganizing and decluttering: the never-ending story in my life. I often wonder how it was back in the black & white photo days (AKA "the good ole days") …but wait… who am I kidding. Those people back before color-film had their own set backs, I'm sure, and would probably be THRILLED to have to deal with some of the stuff I have today so I'll just be thankful that I have the good health and physical strength to work around my home. 🙂
Project #1: This corner was pretty cluttered before with two unmatched bookshelves and  "crates" holding books and misc things. I decided to move the bookshelves and most of the books downstairs to the finished basement. I'm storing our upcoming school-year books and some other things on this big shelf (shown below) covered by a handy and fitting shower curtain. If you've been following my blog long enough you may recognize this curtain from my 2011 homeschool-room video in this post (at our previous home).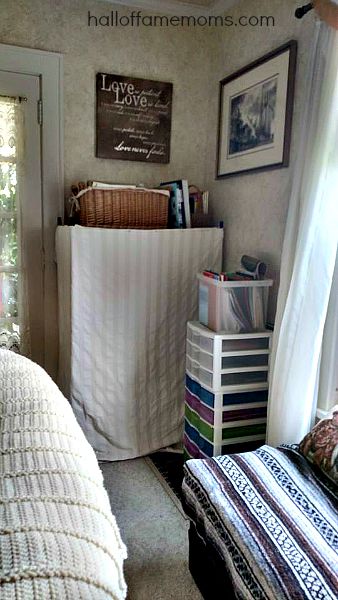 I still have more to tell you about our Myrtle Beach trip and some Ohio summer fun places like where we stayed in Sandusky for the Teach Them Diligently Homeschool Conference,  Cedar Point and Wild Water Kingdom.
Project #2: I bought this desk-shelf from a thrift store and I'm LOVING how it's working for me on my desk.  I also removed the really big cork board and rearranged the wall space with my dry erase and a smaller cork board I also had on hand. I'm currently trying to organize all the little office supplies in baskets for now.  Trying to make this area less cluttered is an ongoing process as you can see!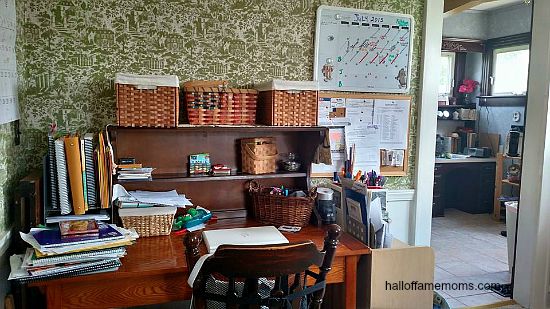 I also want to tell you about our BIG homeschool changes for 2015-2016. Watch for that post to come soon.

Project #3: I decided to tackle a paint job. As I told some friends, I actually had in my mind to paint one small wall with this mistinted paint I chose (hey, a whole gallon for less than $10) so I could add some adhesive cork boards to it. Well, that wall didn't end where my mind envisioned it so I just kept painting. I do like the color but don't want a whole room in it because, as you can see, the kitchen has a 3D effect. I just think having one solid color, no matter what it is, may be overwhelming to me. I think I'll go with a lighter sandy color to compliment this "butterscotch" color and then maybe leave a couple areas the original blue.
I scratched the adhesive cork board idea for the wall and instead put it on the side of the fridge with my other dry erase board (which is magnetic and was already being used there). I really crave organization and having different places to keep different pieces of information seems to be the way to go for the way my brain functions. The board on the fridge is for doctor's appointments and utility service provider info. The cork board near my desk is for homeschooling and blogging info. The third cork board which is hanging on a nail on the kitchen wall will be for other things. My original large board was a mess with all sorts of things.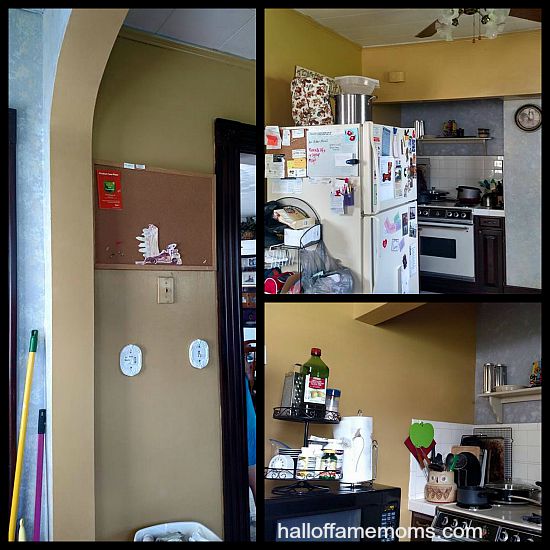 I also have a NEW website coming out that will align with my Facebook Page 1000 Things to do in Ohio which has almost 20,000 followers right now. This new website will be all about Ohio while I'll still be doing product reviews, homeschool posts, recipes, family stuff, yadda yadda – over here at Hall of Fame Moms! 🙂
Project #4: And here's a quick peek at some more of my thrift-store finds! I feel like I was so fortunate to find this cute $4 wicker stand for the bathroom and this adorable $3 shower curtain that matches the bathroom PERFECTLY! My so-cute owl shower curtain/liner was ruined in the washer. I am thrilled with this "new to me" shower curtain and can't get over how great it matches the colors in the bathroom: like it was made for us 🙂 .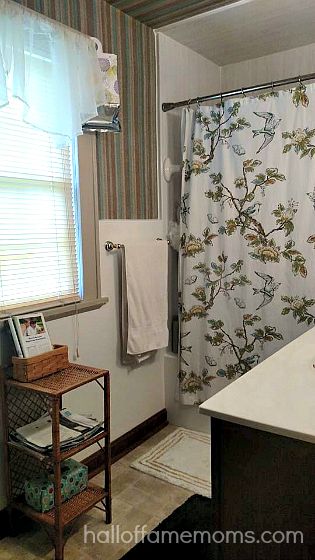 Have you been working on anything lately? Feel free to share in the comments and I'll answer back.
The following two tabs change content below.
Owner/Editor
at
Hall of Fame Moms
Tracy writes about homeschooling and just about anything related to family life in Ohio here on the blog. Strong honest views will surface from time to time on topics related to truth, faith and freedom. **Check out my notebooks and Bible Memory Coloring Notebook workbooks for Adults & Teens by clicking my name.
Latest posts by Tracy Zdelar (see all)