This shop has been compensated by Collective Bias, Inc. and its advertiser. All opinions are mine alone. #MembersMarkCares #CollectiveBias
It's no secret that with advancements in technology and medicine people are living longer lives independently. The level of independent living does vary, and in many cases, there is a need for a caregiver to be involved at least part of the time.
Many aging family members struggle, I think, with the idea that they will have to give up some of that freedom by having to move in with their kids or into an assisted living environment such as a nursing home. I've known and do currently know a number of elderly friends / family who are or have been in that in-between margin of needing to consider other options if they are to continue living alone.
Perhaps you're in that situation right now. Maybe you have parents or grandparents who aren't willing to admit they need help, but you know deep down inside you need to do something. So, what can you do?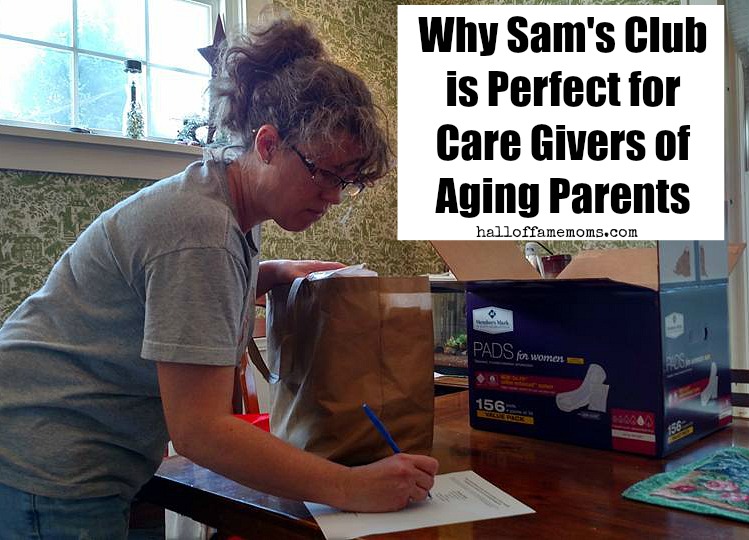 If this is you, I would like to suggest that you gently ask your aging parent or grandparent what you can help them with. They may be afraid or too stubborn to ask for help, afraid you may think they need to go to a nursing home. If they can live safely on their own in their own home but cannot drive or have some other mobility limitations you can certainly help them. I'd like to suggest a few ideas that I think family members can easily manage, assuming the family can work together.
Ideally, family members will pitch in so no one person has the entire caregiving burden to bear alone financially or otherwise. If this is possible, here are a couple of ideas.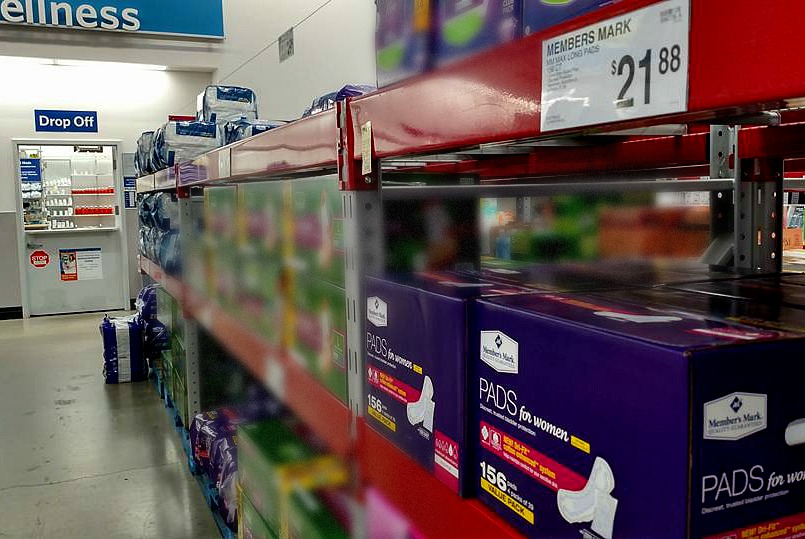 I enjoy shopping at my local Sam's Club in North Canton, Ohio.
Why Sam's Club is the perfect place for caregivers to shop for aging parents.
#1 – Sam's Club sells in bulk.  Family members could chip in financially to buy resources they know that their parent/grandparent living on a fixed budget will need. Find small and big products like wheelchairs for aging parents/grandparents at the Sam's Club Family Caregiving Site.
#2 – A designated family member(s) can shop for their loved one saving both money and time (because you're buying in bulk).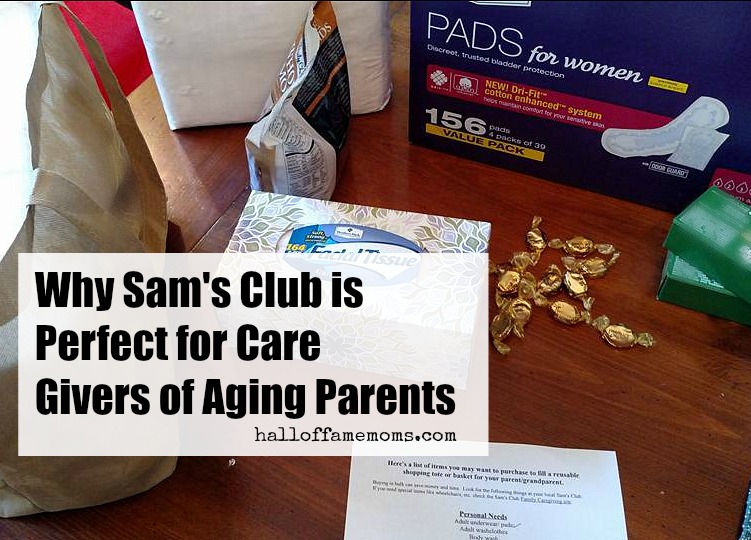 #3 – Fill a reusable shopping tote from your home with just the amount of items your parent/grandparent need for an allotted time and deliver it to their home. Store the extra items under a bed, in a cupboard, or closet until you need to refill your parent's bag.
#4 – Download and print this free printable Sam's Club Shopping List of things you may want to get for your parent/grandparent. This free printable list is just a simple handy list of some basic items that may easily slip your mind. There is space to add your own notes as well!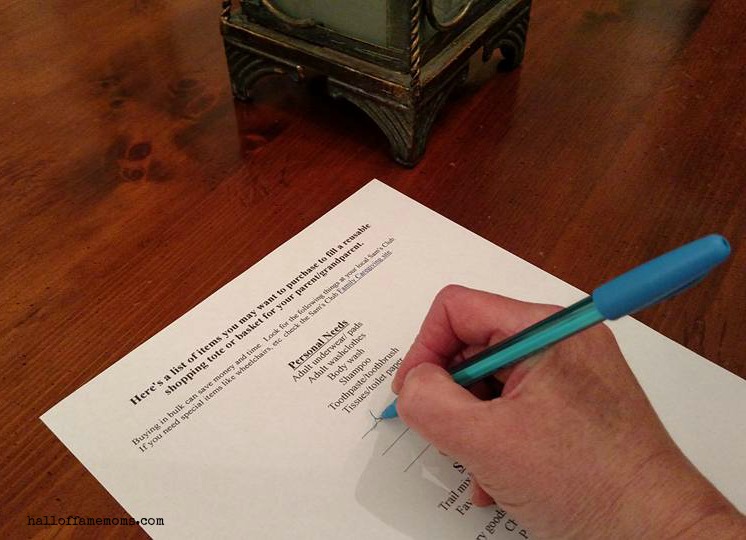 You may want to mark on your calendar when you dropped off your parent's bag of supplies. You know your parent/grandparent will need more of the same items and you have an easy excuse to visit and check on them.
A bonus to this is that you can throw in EXTRA goodies for your parent/grandparent. For those who struggle with vision you can throw in a magnifying glass to make reading better or an audio book. How about a gift card to their favorite restaurant?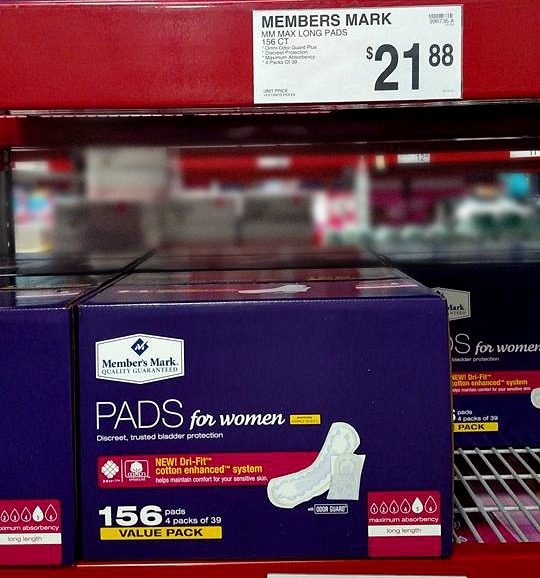 Member's Mark Maximum Long Pad 156 ct
How do Sam's Club products make life easier and allow us to make time to enjoy the important things in life?
Sam's Club Member's Mark products are made with comfort and skin wellness in mind and offers great convenience since you can buy what you need in bulk in one stop. You may only need to make a trip once every month or two depending on  the needs of you and your aging parents and grandparents.
Exclusive benefits for Sam's Club members include the following:
club pickup: order online before 5pm and have it ready for pickup at the club as soon as the next day. You'll come inside and pick up your order at your scheduled time at the member services desk and pay at check-out.
travel: download the Sam's Club Travel App for hotels, cruises, flights, car rentals, and more. Call their travel experts 24/7.
photo: upload photos and order prints directly from your device via the Sam's Club app
pharmacy: Sam's Club has a pharmacy and free health screenings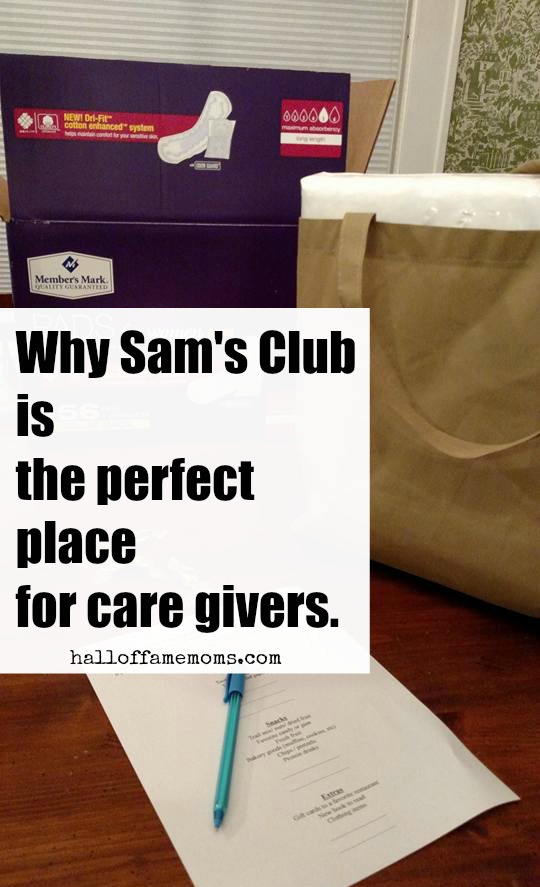 Save
Save
Save
Save