Years ago Joe Biden came to town- campaigning, I guess, for Obama. He did a speech outside of the Pro Football Hall of Fame and we lived close enough to walk down to hear him, and so I did even though I never voted for Obama. This year I had the opportunity to attend a Trump rally.
Several weeks ago my friend Maureen had tickets to attend Donald Trump's rally when he visited Akron, Ohio- and she invited me. Don't worry, I'm not going to get all-political on ya now!
One of my Facebook friends said she was interested in hearing about my experience at the Trump rally and I said I'd write a post so – here it is.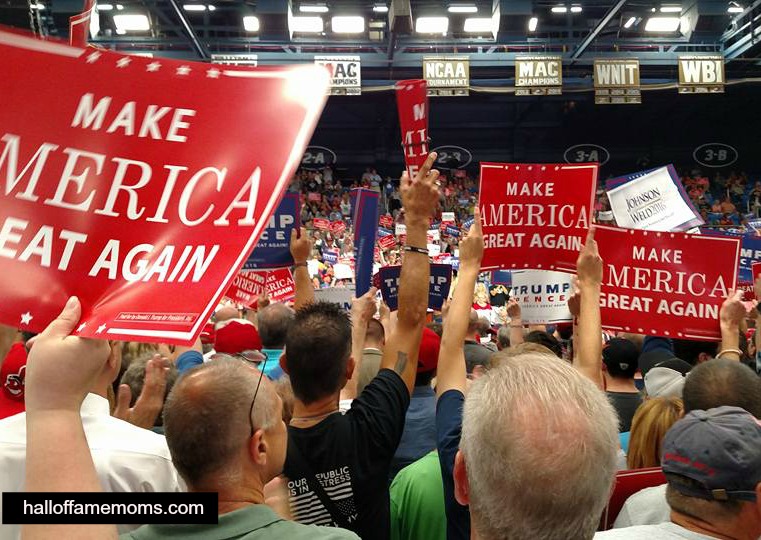 I'm pleased to say that the whole experience, from my perspective, (including a small group of protestors) was peaceful.  There were tons of rally attenders. I don't know how many people the building could hold but I overheard that it might hold 5,000 and the building filled up well and possibly to capacity considering the floor was mostly standing room only. I did take pictures.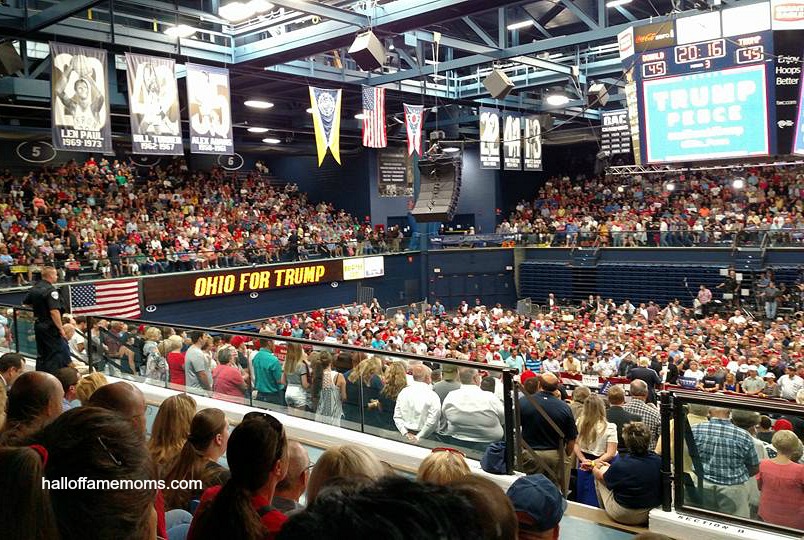 But, let me back up. Maureen and I got there early, walking past many vendors camped out along the way selling their political shirts, buttons, and hats. We got in the long line to enter the building which moved pretty quickly.
Once inside the doors our bags were checked and we had to walk through metal detectors. I hadn't given a thought about my pepper spray hanging on my key chain. When security brought it to my attention Maureen busted out with laughter saying something like "You brought your pepper spray?!"
Security did say I could take it back to my vehicle, but the alternative was that I'd have to throw it out. I was NOT walking back to the car so I sacrificed my pepper spray. I assume mine was about to join what appeared to be a pile of other discarded (affiliate link) pepper spray containers on the floor.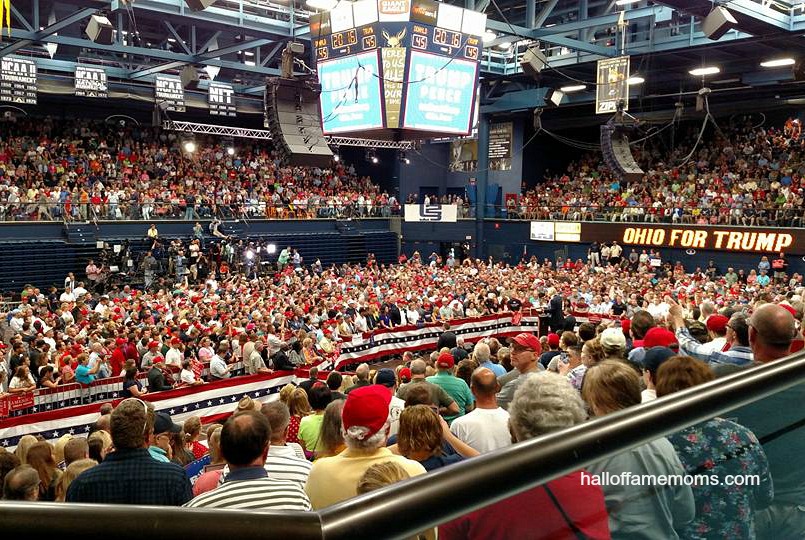 Then it was Maureen's turn. After laughing at me it was my turn to laugh at her! She had her husband's (affiliate link) Swiss Army Knife contraption with her. Instead of throwing it away she chose to take it outside the building and hide it in the landscaping so she could retrieve it afterwards. Thankfully, it was still there on our way out.

We did get separated inside after I went to use the bathroom and was not allowed back in the gym because it was so full. We started out in the gym to stand and listen and this is where I began to snap some pictures. After being separated I went up to the balcony. I could see Maureen but she didn't see me. We eventually communicated via text so she knew where I was.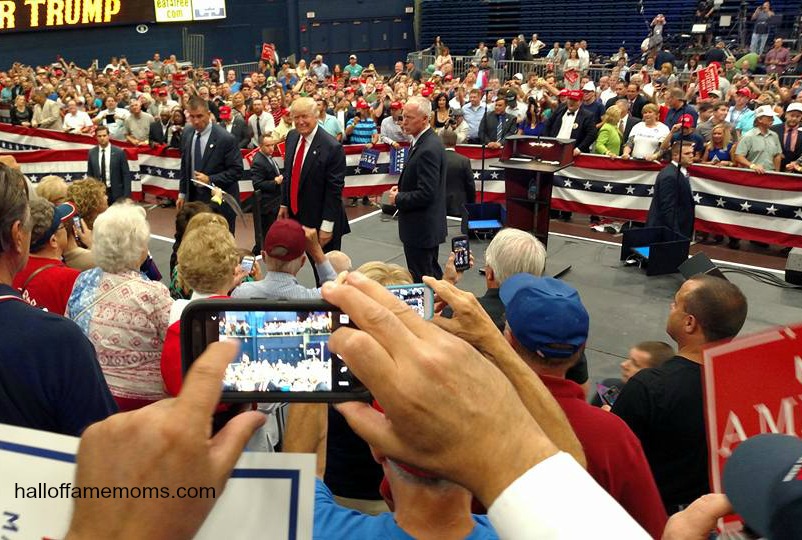 The rally was exciting and I'm glad I had that opportunity to attend. I have been doing due diligence in preparing to vote by listening to both the Democrat and Republican candidates and the commentators who try to make sense of what the candidates are saying.
I've been using Youtube (<—- have you subscribed to my channel yet?) to research past documentaries and media spots done on both of their pasts. I've been praying for our country and thinking for myself. I will keep my opinions to myself and mainly to my friends in real-life and on my personal Facebook wall (ha!). I try not to share too much of that online, however.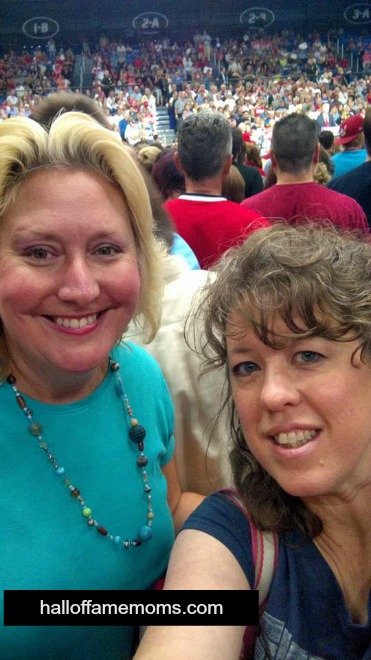 I encourage you to do the same…except the sharing of opinions. I don't really care what you do about that. I hope you'll be doing your due diligence to listen to both sides, use common sense, keep your eyes wide open and pray, pray, pray for our country, too!

*Subscribe to get my blog updates emailed to you for free here. Follow me on Facebook here.
Save
Save
Save
Save
The following two tabs change content below.
Owner/Editor
at
Hall of Fame Moms
Tracy writes about homeschooling and just about anything related to family life in Ohio here on the blog. Strong honest views will surface from time to time on topics related to truth, faith and freedom. **Check out my notebooks and Bible Memory Coloring Notebook workbooks for Adults & Teens by clicking my name.
Latest posts by Tracy Zdelar (see all)