Get these free USA geography homeschool printables to help your kids learn more about the United States of America and use these 5 EASY ways to make learning more fun in your home.
I made some worksheets to help my homeschooled son memorize all 50 USA States, capitals and abbreviations recently and I wanted to share these with you, too! I am using my affiliate links in this post.
My affiliate links are included in this post. I may earn a few cents if purchases are made through some of the links. See my Disclosure policy here.
FREE USA Geography Homeschool Printables
In addition to memorizing these he is also reading his way through Fifty States, All You Need to Know. This and other living books (books on real people and events in American history) are the bulk of his history/geography curriculum at the moment.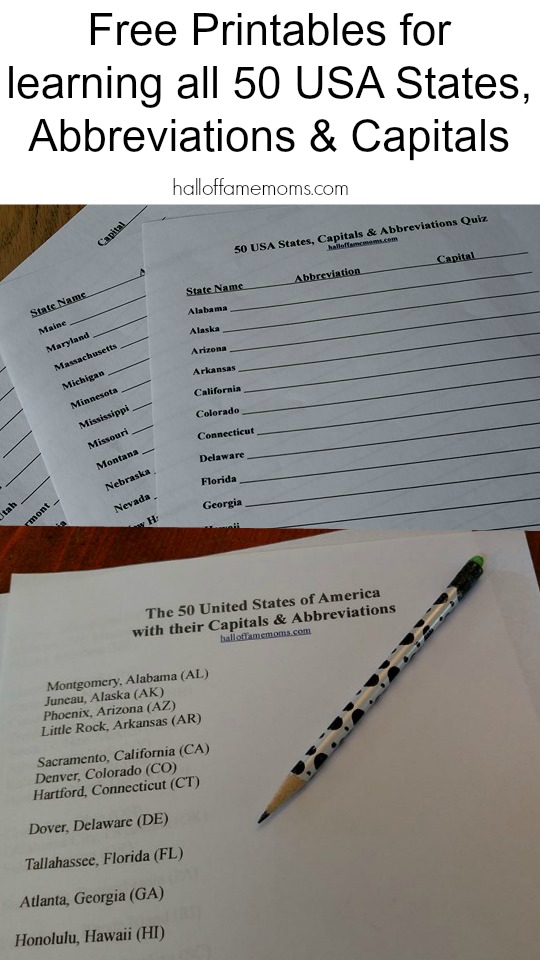 Download and print this free printable of the 50 USA States, abbreviations and capitals list for studying.
There is room to practice writing out the state names on this sheet, that's what my son did. You can follow up  with the quiz at the link below.
Download and print this free printable USA Quiz sheet to test your child's retention.
***
Sign up for my newsletter to stay informed and to receive special exclusive printables as I have them to offer!

5 Ways to Make Learning Geography Fun
DIY dice game.
You've seen those large kind-of soft (not fuzzy) dice, right? You can take a Sharpie and write the names of states or capitals (or write on paper and tape to each side) or get something like this with pockets. How to: Roll the dice and whatever lands up you have to answer? Did Ohio land "up"? The answer is Columbus! (You could also use blocks instead of dice.)
DIY Popsickle sticks.
I made this for our family; it doesn't even have to be popsickle sticks – use whatever works! How to: Write the name of the state on one side and the capital on the others. The kids draw sticks and read one side while guessing the other side.
Tracing.
Have your child trace the different states or the whole country by laying a piece of paper over a map. Then, to test memory use the "blob technique" where you let your child just draw the blob version of each state or the country on paper instead of trying to be detailed – which can be frustrating. Just have fun with it! You need tracing paper or something that you can see through.
Involved Games.
Games came make learning USA Geography more fun! By involved-games I mean games that require more than you might make up on your own, games you'd purchase. There are lots to choose from like this and this. Here's a way to find a lot at once.
Puzzles.
Puzzles are a great learning option because you can easily do them over and over. Repetition is the key to learning. Don't be afraid to start these with your young children. They can't read yet but they can learn to identify these shapes and where they go! Look for large puzzles or smaller pieced ones.
Imagimake: Mapology USA with Capitals

*********
You might like these posts, too!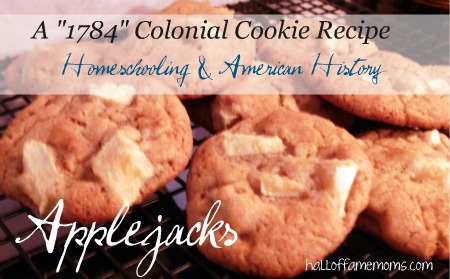 1784 Colonial Cookbook Recipe: Applejacks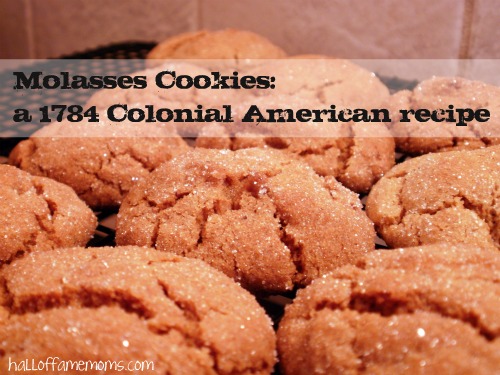 1784 Colonial Cookbook Recipe Molasses Cookies
Move on from USA Geography to WORLD Geography:
Continent Race Geography for kids by kids

The following two tabs change content below.
Owner/Editor
at
Hall of Fame Moms
Tracy writes about homeschooling and just about anything related to family life in Ohio here on the blog. Strong honest views will surface from time to time on topics related to truth, faith and freedom. **Check out my notebooks and Bible Memory Coloring Notebook workbooks for Adults & Teens by clicking my name.
Latest posts by Tracy Zdelar (see all)