(Note: I'm closing my 1000thingsOhio.com blog to move those posts over here. Thanks for your patience!)
(Originally posted Nov. 2017) Late last month our family set off on a road trip through parts of southern Ohio ending with a two night stay in northern Kentucky where we would visit the Ark Encounter and the Creation Museum. Thank you to DAT Travel for arranging and providing our overnight accommodations as well as our admission tickets. Opinions are my own.
On our way down to Kentucky we decided to take advantage of the drive and make a couple quick stops along the way to see the Serpent Mound in Peebles, Ohio and the Hopewell Indians' burial mounds at the Hopewell Culture National Historical Park in Chillicothe, Ohio. I'll write about those stops later.
Let's talk about our time visiting the Ark Encounter in Kentucky for now!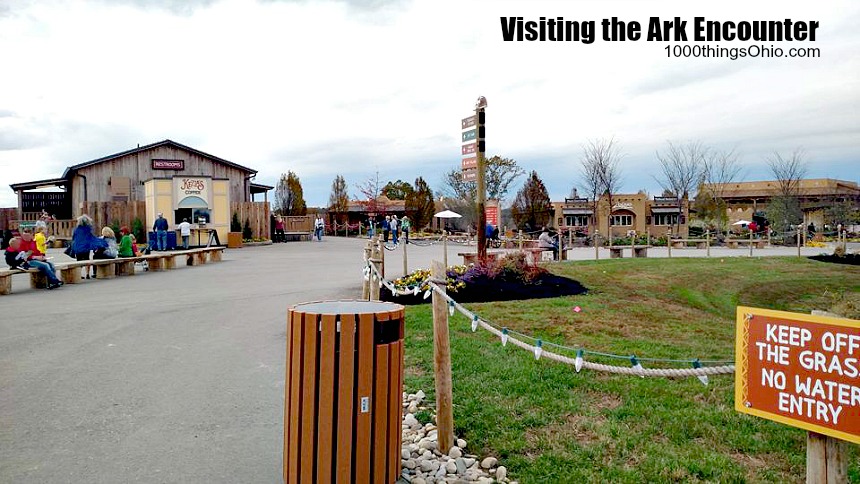 Visiting the Ark Encounter
I had been waiting years for the Creation Museum to finish building Noah's Ark according to the biblical dimensions God gave to Noah so I could experience it for myself! I was so looking forward to this project that I had to write about it after I read the announcement.
Finally, in 2016 the Ark Encounter opened and this year our family had the opportunity to visit. It was truly amazing to walk the three levels, read the displays and watch the short films, including an Interview with Noah. As a born-again Bible believer I really felt emotionally moved at one time or another just taking in the scope of the whole experience.
Before you run out to visit the Ark Encounter – pack your walking shoes! I mean, your comfy walking shoes. You can thank me later. 
How to Reach the Ark Encounter
Let's start at the beginning. When you arrive at the Ark Encounter parking lot you will walk to the ticket and bus shuttle area where you will present your tickets and board for the short drive up to the Ark Encounter. You will need to pay for parking. I think it was $10 for our family van and you pay a kiosk machine. Be prepared for that.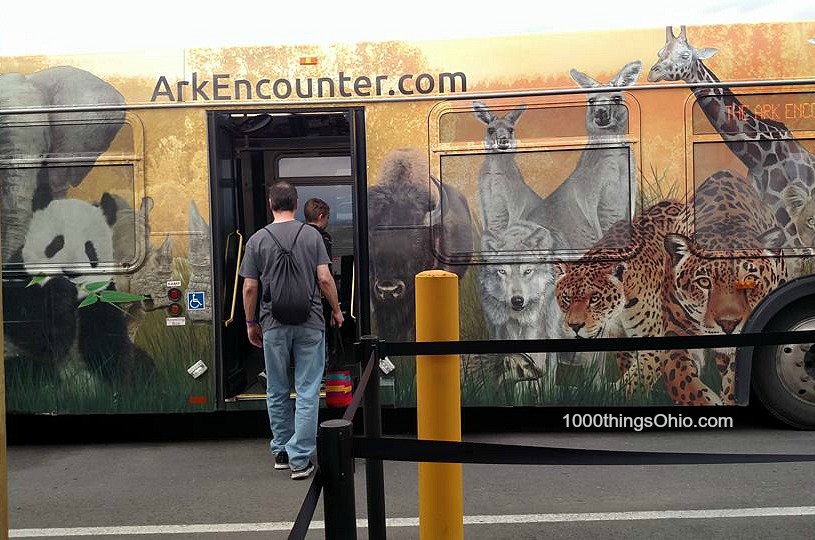 See Inside the Ark Encounter
There are places to eat inside and outside of the Ark. There are also restrooms, a restaurant, ziplines and a mini zoo outside of the Ark Encounter. Updating to add: outside food and drinks are not allowed. You can find a list of what's allowed at their website which I'll link to at the end of this post.
Make sure you get some selfies or family pictures near the Ark. Just ask someone in line near you. I took pictures of a man and his child and he took pictures of our family for us.
We spent about five full hours taking in everything we wanted to from the three levels inside the ark. I'm sharing some pictures but they will not do justice. You'll just have to go see it for yourself!
We were able to take in our own snacks and drinks but there are places inside the ark to buy drinks and snacks. I was pleased to be able to buy a big hot cup of coffee inside.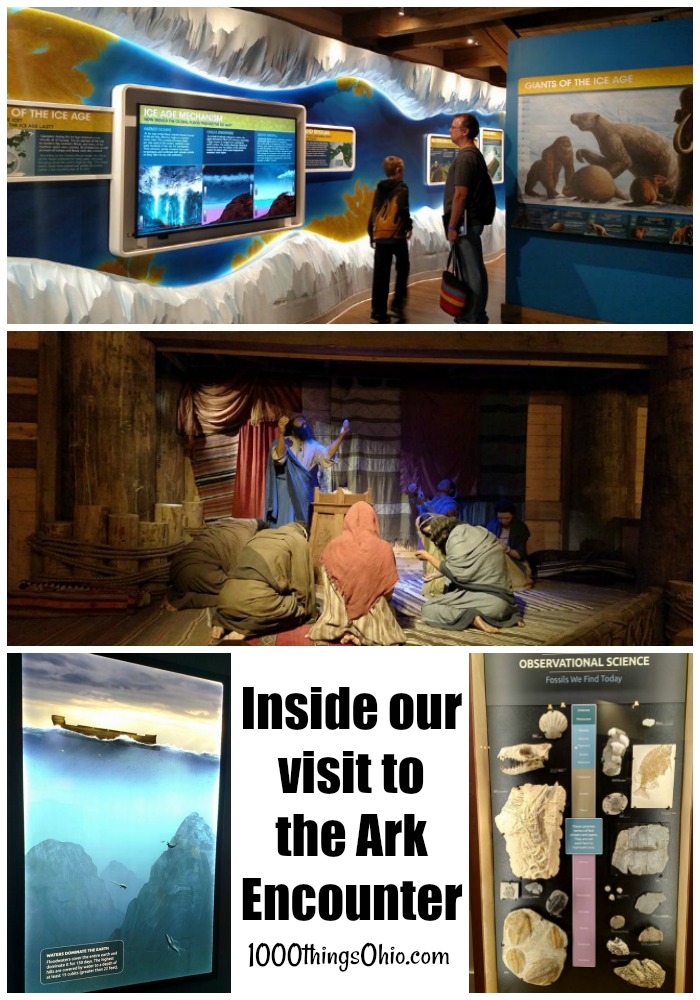 We walked all the ramps from one level to another even though my husband said there was an elevator. The Ark is set up in such a way as to show how Noah and his family may have set up food and water storage as well as how the animals might have been housed. There are two short (about 20 minute) films inside. I especially liked the one about an "interview with Noah". If you save these till you've walked around for awhile they will be a welcome break from all the walking.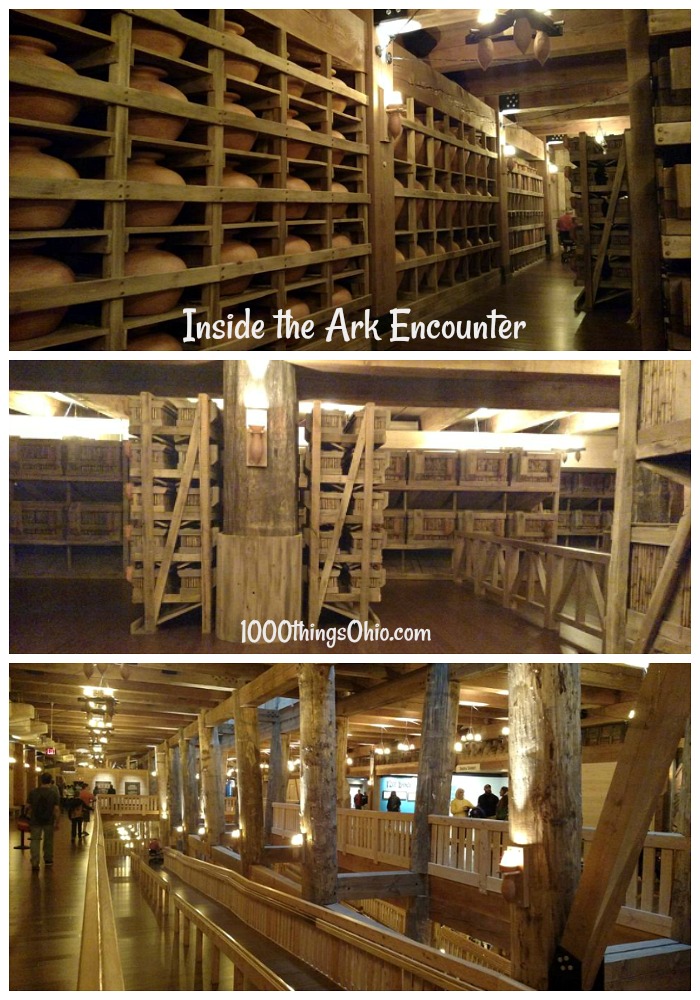 If you want to visit both Creation Museum and Ark Encounter look for the combo tickets. For more information about the Ark Encounter and their calendar of events visit their website here.
For information about hotel, travel and tickets to the Ark Encounter and Creation Museum contact DAT Travel (330) 614-7219.
***************** More posts from our trip.
Part 1: See Inside our Visit to the Ark Encounter
Part 2: Inside our Visit to the Creation Museum
Part 3: Our Visit at Homewood Suites & DAT Travel
Part 4: Visiting Serpent Mound
Part 5: Visiting the Hopewell Indian burial mounds – coming!
The following two tabs change content below.
Owner/Editor
at
Hall of Fame Moms
Tracy writes about homeschooling and just about anything related to family life in Ohio here on the blog. Strong honest views will surface from time to time on topics related to truth, faith and freedom. **Check out my notebooks and Bible Memory Coloring Notebook workbooks for Adults & Teens by clicking my name.
Latest posts by Tracy Zdelar (see all)