(Disclosure: I did receive this product in exchange for my honest review. I may earn a commission if purchases are made through some of the links in this post. See my disclosure here.)
Our family finished our eighth year of homeschooling this spring and our oldest will be officially a high schooler this fall! I will have a freshman.
Time flies, friends. Don't. Blink.
Homeschooling high school already?
So, I've been kinda-sorta dreading this challenge of homeschooling high school, somewhat…simply because it's been such a mystery to me as to how to get through it without dropping the ball somewhere regarding credits and transcripts. This is a crucial time of preparing our son for adulthood, making sure we are doing right by him as he begins to make major life decisions about whether to go to college or prepare for a trade.
As you can imagine I've been thinking about and preparing to homeschool high school for years. One way I've been preparing is to watch lots of Youtube videos by other homeschooling moms who share what they are doing and using for high school. The one source that I've leaned on mostly for help understanding the transcript/credit process is Lee Binz, The Homescholar. I may talk about her in another post. What I want to talk about today is what I found by watching another homeschool mom share what they were using for science.
The 101 Series from Westfield Studios:
Biology 101
Chemistry 101
General Science 101 (expected to be released Winter 2018/2019)
Science and math are not my strongest subjects and I have a strong need for visual tutorials for difficult topics. 
One day I watched a Youtube video and a homeschool mom mentioned they were using the 101 Series (dvds). Whatever I heard or saw made me want to check it out further. I'm not sure I'd ever heard of this option. I decided to reach out to them as ask to review one of their dads. They responded yes and let me pick which one I wanted to view. After a little research about which is the best order to tackle physics, chemistry and biology, I decided to go with their Physics 101.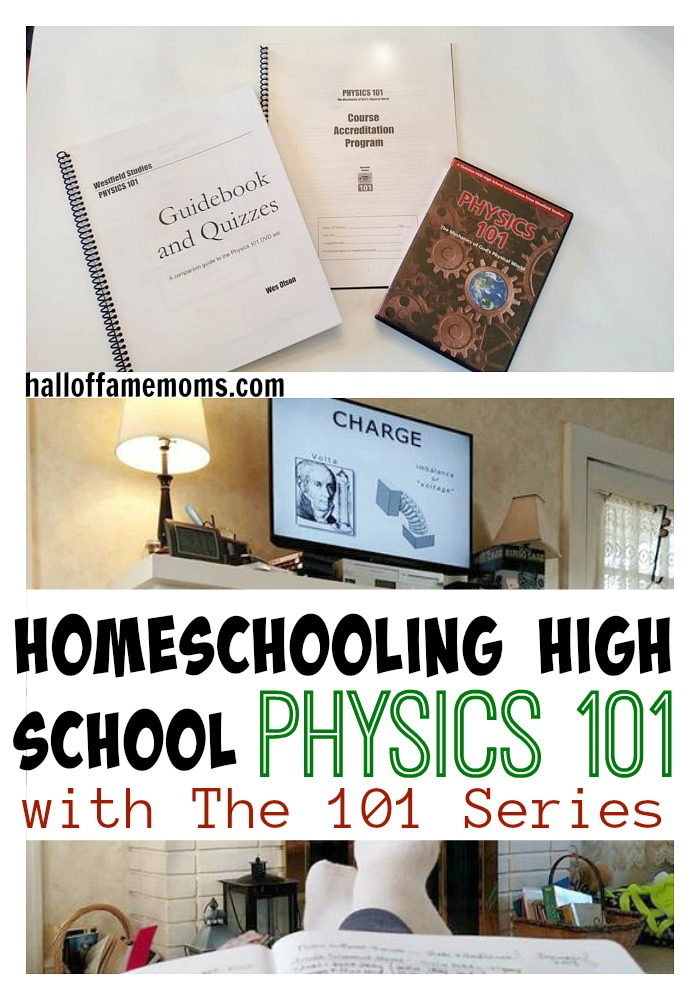 Physics 101: The Mechanics of God's Physical World
Can I just say, long story, short that I LOVED this because it was a very well done visual way of teaching physics. I had both my boys who at the time (this spring) were sixth and eighth graders watch the videos with me. That's all we did since I'm just reviewing at this time.
There are downloadable books you can print off (I did this and had them spiral-bound at my local office store) to use so that you can earn a credit for the class.
I totally could see myself using these dvds on my younger children (if I had younger kids) because of the visual learning format – minus the workbooks. Then we could repeat the series later in high school along with the workbooks to get that credit. What a great way to let them soak in that info without "having" to really understand and learn it like a high schooler would be able to.
About Physics 101:
"Wes Olson (host of The 101 Series) presents the amazing mechanics behind God's physical world. This DVD course is an easy-to-use, understandable and visually rich curriculum designed specifically for ages 15 years and up, although it is appropriate viewing for the entire family.
This 4 DVD set contains 20 individual segments examining the world of Physics and the inner workings of the world around us. Included on Disc D is a guidebook with quizzes covering the material presented in each segment and a one year high school course booklet."
The Physics 101 DVD set runs 11 hours and 10 minutes and covers the following topics:
The Physics of Light
The Physics of Sound
The Physics of Heat
The Physics of Electricity
The Physics of Motion
The Physics of the Weird
The Future of Physics
Final thoughts?
I'm definitely considering getting the other two DVD sets (Biology 101 and Chemistry 101) since I know this is a format that works for me and the credit system is built right in. I love it!
Visit The 101 Series website here for more info. I found the following two sets available on Amazon at the time of this post. Click the image to check them out there.
The following two tabs change content below.
Owner/Editor
at
Hall of Fame Moms
Tracy writes about homeschooling and just about anything related to family life in Ohio here on the blog. Strong honest views will surface from time to time on topics related to truth, faith and freedom. **Check out my notebooks and Bible Memory Coloring Notebook workbooks for Adults & Teens by clicking my name.
Latest posts by Tracy Zdelar (see all)