Do you get overwhelmed with praying for all the needs? This printable pandemic prayer guide or schedule will help you organize your prayer life so you can avoid feeling overwhelmed.
Well there sure are a lot of things to be praying for these day, isn't there? I mean, not that there wasn't a lot to pray for before but, you know…Covid 19.

I know I get forgetful about praying for all the individual things and life is busy so I won't pray for ALL the things in one sitting. And, it's REALLY REALLY important to pray right now and always…but for real, let's take the current events seriously and pray. God requires we pray anyways.
The Bible says EVERY word of God is pure. The word "pray" shows up 511 times in the Authorized KJV; the word "prayer" shows up 131 times and "praying" 20 times.

(BibleGateWay.com)
You know prayer is talking to God. Prayer shows our trust in Him. Praying according to how God lays out in scripture is obedience.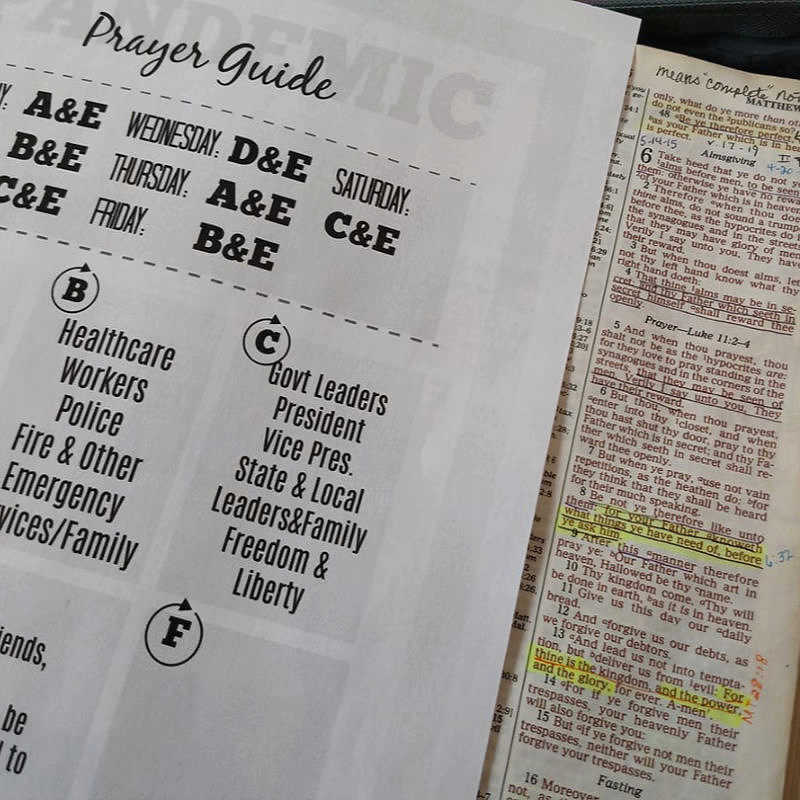 But, God doesn't want us praying vain repetitious prayers, he wants us to pray from our hearts about the things that need prayer and about the things He tells us to pray about like…
"I exhort therefore, that, first of all, supplications, prayers, intercessions, and giving of thanks, be made for all men; 2 for kings, and for all that are in authority; that we may lead a quiet and peaceable life in all godliness and honesty. 3 For this is good and acceptable in the sight of God our Saviour;" I Timothy 2:1-3 (AKJV)

(BibleGateWay.com)
Matthew 6:7 says "But when ye pray, use not vain repetitions, as the heathen do:for they think that they shall be heard for their much speaking." Vain repetitious prayers repeat the same empty words over and over and over…like saying the Hail Mary prayer.
If we want God to really hear and answer our prayers we must know what He says about prayer and do it.
About this Prayer Guide
I created this Pandemic Prayer Guide or Schedule to help us all stay organized and to feel less overwhelmed with all the things we need to cover in prayer. While some of us may normally pray for all the things every day, some of us need a schedule to make sure we at least cover all the things once or twice a week!
This schedule will help you do that.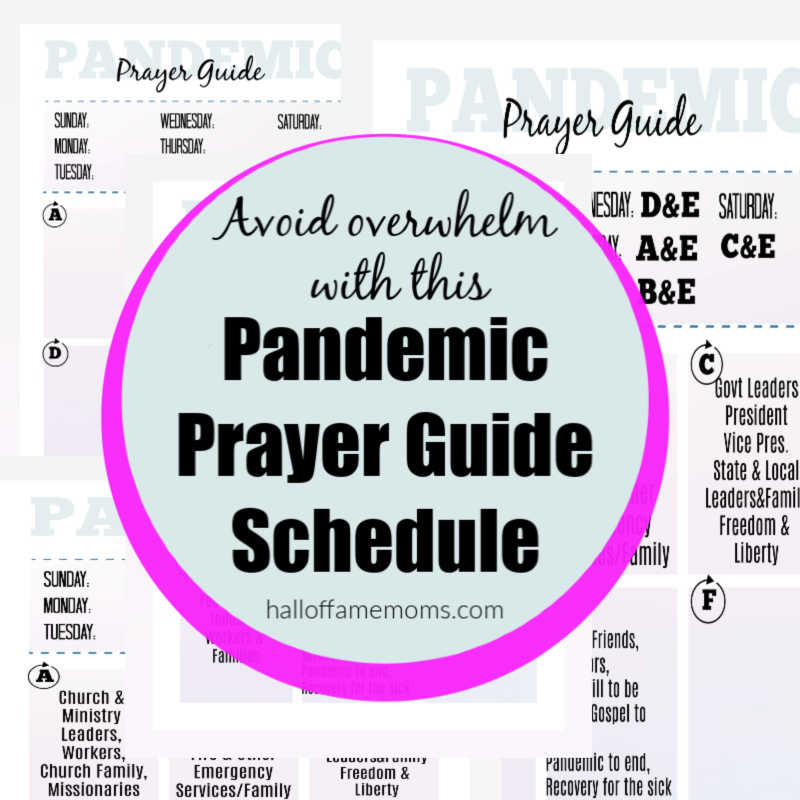 1. You'll find two versions of the same prayer schedule.
Both of these are completely filled in with who to pray for and what days to pray for them with the exception of one blank box to fill in your own additional requests. The only difference in these two forms is the font of the lettered boxes (A, B, C, etc). I was trying a couple fonts and just kept them both.
2. You'll also find two alternative prayer schedules with blanks to give you the ability to customize your own schedule.
One sheet let's you keep the prayer requests as I have them listed but you choose the days to pray for each box. The other form is blank for both the prayer lists and the days to pray for said box.
3. You can copy this in color or black and white!
I know color ink can get pricey and I'm running low on mine as I type. I printed out some of my copies in black and white and they look great. I made sure the color was faded and soft to give enough contrast without sucking a lot of ink.
I'm really looking forward to having this prayer guide for my own use and to use to instill, further, into my boys the need for us to pray!
Suggestions for Using this Prayer Printable Guide
You can do a few different things with this prayer guide after you print it off. You may want to…
hole punch it to use in a binder
hang it on the fridge
laminate it so it lasts longer (or use a page protector)
print off both the full version and the blank version to meet the needs of your own personal prayer life
Whatever works for you!
NOTE: This printable prayer guide is free to all my readers and blog visitors. Please do not share the pdf link with your friends, send them the direct url link to my post. Thanks!
———————————————————————————-
I also make EXCLUSIVE free printables for my newsletter subscribers. To get in on those be sure to subscribe below!
***I own a laminator and have loved using it. Here are eight things I've laminated at home any how easy it is to do!
The following two tabs change content below.
Owner/Editor
at
Hall of Fame Moms
Tracy writes about homeschooling and just about anything related to family life in Ohio here on the blog. Strong honest views will surface from time to time on topics related to truth, faith and freedom. **Check out my notebooks and Bible Memory Coloring Notebook workbooks for Adults & Teens by clicking my name.
Latest posts by Tracy Zdelar (see all)