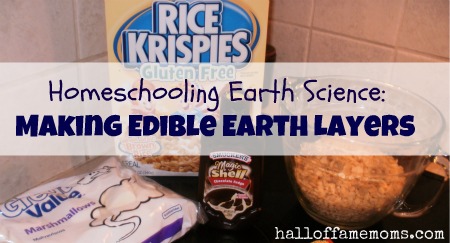 The other day I taught my boys the layers of the Earth by having them make these edible Earth layers. I got the idea from watching Ejahi's video of her kids making them. I had my husband video me and the boys making ours. This is really a tasty project too.

  Below the video you'll find a couple links to use while teaching on the subject of the Earth's layers as well as the directions for the edible Earth.
If you're reading this in email you will need to click the title of this post to get to my blog to see my video below.
 If you can't see my video, click here.
How to make the edible Earth layers:
Make a pan of Rice Krispy Treats (they come Gluten Free too) or buy the already made. I made my own with a few marshmallows and a little butter in the microwave, add the Rice Krispy's.  <—- this will be your Mantle.
Regular sized marshmallows <—- will be your Outer Core.
Raisins, M&M's or something else small  <—- will be your Inner Core.
After the you coat your Earth in the Magic Shell sauce stick it in the freezer (put a piece of wax paper under it) for maybe 10 min.. Till the shell/crust hardens. Then slice your Earth in half and look at the layers. Eat and Enjoy!
Online teaching aids:
GeoKids is an interactive website showing the Crust, Mantle, Core.
Sign up at Instructor Web here for a FREE "limited membership" that allows you to access a printable lesson plan on the Earth's layers.
Visit my Pinterest "Homeschooling board" for lots of ideas I collect from others online.
The following two tabs change content below.
Owner/Editor
at
Hall of Fame Moms
In addition to writing here at her blog, halloffamemoms.com, Tracy also owns and writes at 1000thingsOhio.com. Homeschooling her boys, a niece, teaching high school psychology at their homeschool co-op and hosting a Homeschool Lego Club ensures there is little time for boredom for this mom! Tracy loves Jesus, her family, and good coffee.
Latest posts by Tracy Zdelar (see all)