*Affiliate links are shared in this post.
Did you know how healthy and delicious cilantro can be? I know its got a strong, bitter taste, but it really makes spaghetti sauce good! I like to use it in my sauce. The other day I found it for .78 cents a bunch so I bought three that I prepped today for the freezer.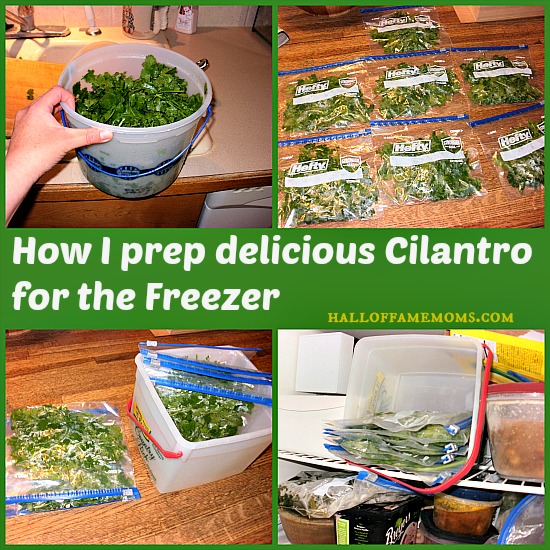 Since a friend asked me how I prepped it for the freezer I thought I'd do a post on it. It's really easy. I'm no expert and this is just what I did.
#1. –   After cutting off the stems that didn't have many leaves on them, I washed them in plain water and allowed them to drain/dry awhile.
#2. –  Then I separated them into small bunches, put them into quart size  Ziploc bags

and  flattened the bags while pushing the air out.
#3. –  I want them to freeze pretty flat so I can stack them side by side or a top each other.  Once they freeze I can store them in this ice cream container I saved.
Tip! Save those empty plastic ice cream containers. They are so useful. I've used them to store/freeze Christmas cookies and candy and even to stretch my roasts.  I'm using one to store a large salad in right now.
After freezing, I plan to just break off whatever I need while cooking and replace the bag back into the freezer. I may not need as much as I've put into each bag. And that's it – easy peasy!  
Cilantro Resources from Amazon (click image to access product info)
Cilantro: A Book of Recipes
Grow your own Cilantro with this Starter Kit:
Pineapple Cilantro Vinaigrette
*Affiliate links are shared in this post.   Sharing at: Joyful Homemaking, 
The following two tabs change content below.
Owner/Editor
at
Hall of Fame Moms
I like what Annie Oakley said, " For me, sitting still is harder than any kind of work." My days are filled with blogging, homeschooling, Jesus and coffee. (PR friendly)
Latest posts by Tracy Zdelar (see all)